The designer Agnés B says that she became politicised during student demonstrations against the Algerian war in the late 50s . And despite the huge success with her eponymous clothes chain (she says that "fashion" does not interest her, only "style"), she retains links to counterculture, albeit largely through its creative fringes rather than direct action. She set up a film production company, O'Salvation, with the hip American filmmaker Harmony Korine; another venture, Love Stream, has released films with directors like Gasper Noé and Claire Denis.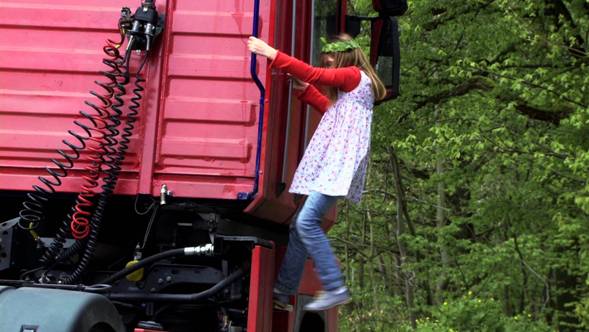 There's a similar thread, the one that makes the link between artistic creativity and social commentary, that wends its way around Je M'Appelle Hmmm, Agnés B's first film as director (and made under her maiden name, Agnés Trouble). A young girl runs away from a troubled and deprived home, because she can't find anyone who will listen to her and recognise her very real fear; she strikes up an unlikely but affecting friendship with a Scottish trucker, the two brought together despite the differences of age and language by a certain existential loneliness.
At a shade under 2 hours, Je M'Appelle Hmmm feels drawn out somewhat further than it need be; deliberate affectations such as unstable (not shaky) camerawork begin to grate after a while. But Ms B's artistic indulgences are balanced out by composed and understated performances from the two leads, Lou-Lélia Demerliac as the runaway Celine and Douglas Gordon (in another life, a Turner Prize-winning artist and filmmaker) as taciturn trucker Peter. The two share a chemistry which does not always extend to the rest of the film, but makes the film worth watching nonetheless.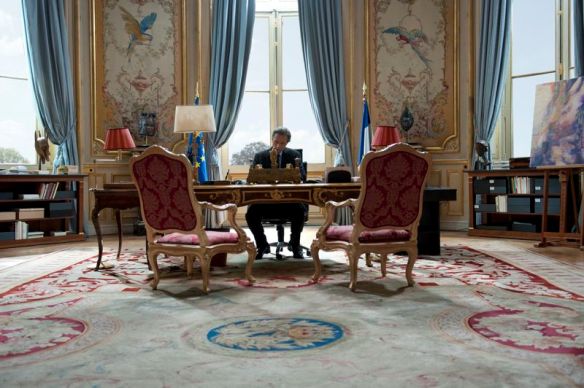 The veteran filmmaker Bertrand Tavernier's reputation rests largely on social observational pieces like the magnificent Round Midnight and Life and Nothing But. Quai d'Orsay is observational in outlook, but with a bleakly humorous edge. But then, given that the film is set in the eponymous headquarters of the French Foreign Ministry, this might be expected.
Vlaminck (Raphael Personnaz), a young Enarque takes up a post as a speechwriter in the Ministry of Foreign and European Affairs. Appearances are much more important than the actualité, as he discovers very quickly. His boss, Alexandre Taillard de Worms (Thierry Lhermitte) is a lethal balance of energy and inefficiency; the ministry's counsellors divide their time scoring points off each other and putting out fires, mainly of their own making. Vlaminck falls under the wing of the ministry's chief of staff, Maupas (a masterful performance by Niels Arestrup), and – as much to his surprise as anyone else's – finds himself making progress.
Quai d'Orsay fits neatly into the school of political satire distinguished by such gems as Yes Minister/Prime Minister, The Thick of It (and its feature length spin off, In The Loop) and last year's Viva La Liberta. But it also has a matter-of-factly cynical edge, and one gets the sense that Tavernier does not want this film played solely for laughs. Amidst the posturing and pomposity, Quai d'Orsay sometimes has the feel of a fly on the wall documentary. Which perhaps may be cause to hold one's head in one's hand rather than laugh out loud.
La Cour De Babel, on the other hand, is a proper documentary, skillfully composed with the emotion and pathos and occasional humour of a fictional drama. The reception class of the Grange aux Belles school, in Paris's 10th Arrondissement, is a crucible for the contemporary, multi-ethnic city. New students are placed in the class to improve their French before being integrated into mainstream schooling. It is a veritable Babel of nationality and language – Chile, Tunisia, Senegal, Serbia, China…likewise of experience. Many of the pupils have moved to France, with or without their families, in search of a better future. Many have had unpleasant experiences thrust upon them at an early age.
Part of the process of reception is finding space for the diversity that makes up the whole. Director Julie Bertuccelli, very wisely, resists the temptation to make a hero out of the homeroom teacher Madame Cervoni (she is a hero, by the way), but rather gives voice to the young people and their anxieties, past and future. A conversation about religion ("We leave God outside the classroom" Madame Cervoni cautions. Fat chance.) between the pupils asserts, in the simplest and most effective of manners, the cultural gulfs that the students must negotiate in the new world. Subtly revealing, La Cour de Babel sidesteps the clichés of immigration and integration and presents an unaffected portrait of everyday life that often passes unacknowledged.
In 2011, the French writer (and arch provocateur) Michel Houellebecq vanished for 3 days whilst on a book tour. Given his propensity for offending various sensibilities, there was a real fear that he might have been abducted or worse. In the event he turned up safe and well, explaining that he had merely forgotten about his commitments. The incident is the starting point for the bleakly funny L'Enlevement de Michel Houellebecq (The Kidnapping of Michel Houellebecq), a faux-documentary film made by Guillaume Nicloux and starring Houellebecq, as himself. (It should be noted that Houellebecq has a history of inserting vaguely unpleasant versions of himself into fictions. In his last book, the Prix Goncourt winner The Map and the Territory, a particularly unsettling version of Michel Houellebecq was the victim of a brutal murder.)
Essentially, Houellebecq is kidnapped by three brothers, with connections to the world of MMA fighting, and stowed away at their parents' rural home whilst they wait for a ransom. This isn't a good idea, as Houellebecq proves to be petulant, pedantic and perversely likeable. He drives one kidnapper to distraction by disowning a revelation that the kidnapper read in Houellebecq's biography of H.P. Lovecraft. (Why Houellebecq wrote a biography of the fantasy and horror writer is another matter altogether). He smokes on a truly industrial scale, all the more complicated because he is not allowed his own lighter. His captors' mother offers him a porno. And so on.
L'Enlevement…starts very slowly, and probably won't really work if you are not familiar with Houellebecq – or at least his public persona. But it is a diverting little film, and has moments of comic genius.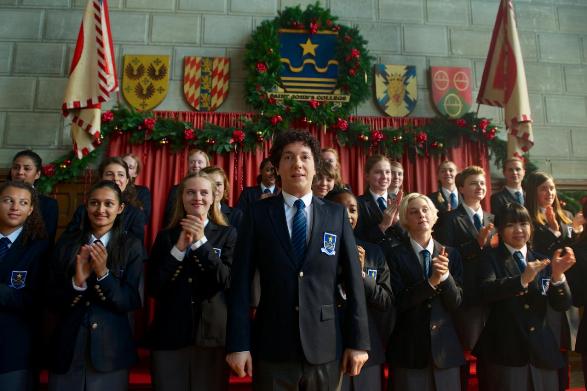 Les Garcons et Guillaume, a Table! (Me, Myself and Mum) is the touching and affecting story of one young boy's battle against his gender. Well it is, but at the same time it isn't, because it manages to extract both humour and pathos from what could be very difficult source material.
Guillaume's mother has decided that he is homosexual, and has determined to treat him thus for good or bad. (Mainly bad.) This is all the more problematic because Guillaume, for himself, has determined that in fact he is a girl but that no one has seen fit to recognise this yet. He adores his mother; she is brusque and impatient with him. His older brothers are both sporty types and his father despairs of his antics; he, like most teenage girls, just wants to be loved by a good looking bloke.
Les Garcons… works so well because it is completely ignores both the tricks and the tropes of contemporary cinema. True, the framing device is a solo stage performance by the grown-up Guillaume; he also plays both his teenage self and his mother. But these affectations serve to underline, rather than obscure, the turmoil and confusion of his teenage self, and make the denouement all the more affecting. Les Garcons…was the big winner at this year's Cesar Awards, with four awards (including Best Actor, Film and Adapted Screenplay) and is, I think, a showcase of the very best of French Cinema. One doesn't always need big budgets and flashy special effects to make a good film. Just great ideas, imagination and the awareness that film can both inform and entertain.
The French Film Festival 2014 will open on Saturday, March 22, 2014 through April 6, 2014, with screenings at the Tel Aviv, Jerusalem, Haifa, Sderot, Rosh Pina, Holon and Herzliya Cinematheques.
Je  M'appelle Hmmm (2013)
Directed by Agnes Trouble
Starring Sylvie Testud, Jacques Bonnaffe, Lou-Lelia Demerliac, Douglas Gordon
121 minutes, French w. English and Hebrew subtitles
Quai d'Orsay (2013)
Directed by Bertrand Tavernier
Starring Thierry Lhermitte, Raphael Personnaz, Niels Arestrup
113 minutes, French w. English and Hebrew subtitles
La Cour de Babel (2014)
Directed by Julie Bertuccelli
89 minutes, French w. English and Hebrew subtitles
L'Enlevement de Michel Houellebecq (2014)
Directed by Guillaume Nicloux
Starring Michel Houellebecq, Mathieu Nicourt, Maxime Lefrancois, Francoise Lebrun
93 minutes, French w. English and Hebrew subtitles
Les Garcons et Guillaume, a Table! (2013)
Directed by Guillaume Gallienne
Starring Guillaume Galliene, Andre Marcon, Francoise Fabian, Nanou Garcia
85 minutes, French w. English and Hebrew subtitles.