There are several narratives one might find and follow in Vivian Maier's story, the most compelling is the one without words: the photographs. The BBC documentary Vivian Maier: Who Took Nanny's Pictures?(winner of the 2014 RTS prize) is currently showing at the EPOS International Art Film Festival, and opens a view onto the life and work of a photographer who has generated much interest in the past few years with several exhibitions, a book and two films (the second is John Maloof's Finding Vivian Maier US, 2014). Yet she remained unknown to the world until after her death, and most of the photographs she took were never printed in her lifetime. There is a sense of mystery about Vivian Maier.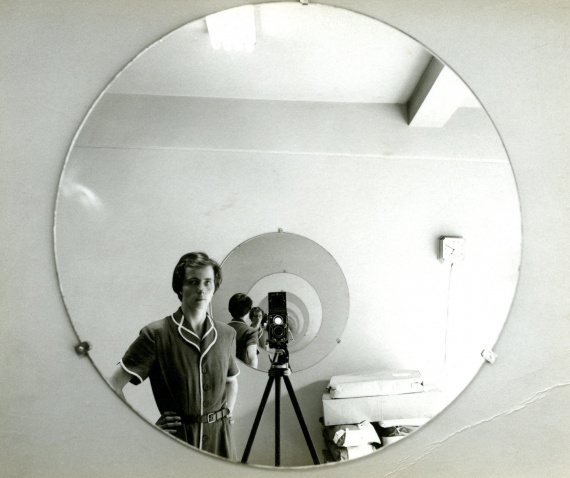 Maier's photos fill this film, and that alone is a source of pleasure and interest. Images of people on the streets of Chicago, capture not only the essence of an era, but a sense of the person, someone with a life communicated to us only through the curves and angles that make up a person, the way the body reflects light, the gesturing hand, the clothes, the walk, the gaze. Working as a nanny for many years on Chicago's North Shore, some of these photographs were taken in the course of her work, images of family life in the suburbs, and the lives of children.
The confirmed facts of Vivian Maier's life are few and simple: she worked as a nanny on the North Shore for over forty years, she took many photographs throughout her life and printed very few. Her vast collection was kept in storage for as long as she could afford the rent, once she couldn't pay, five lockers containing photographs, negatives and rolls of undeveloped film were put on auction.
Once you begin to delve into the mystery, conflicting versions of her life story emerge. Through the words of those who knew her – the owner of the local cinema, adults who were in her care as children, and others who came to know her through the photographs  – John Gunderson who bought the contents of the lockers, Ron Slattery and Jeff Goldstein who are two of the three current major owners of her work, Pamela Bonnas who is researching a book on Maier, and the sensitive response of street photographer Joel Meyerowitz, the film provides a perspective on Vivian Maier. Yet Vivian Maier's photographs and life story generate many questions.
There are questions of ownership and access: Maier's work is primarily in the hands of three people, a random division based on acquisitions that were made before anyone had a glimmer of what the artistic and financial value of this body of work might be. Competition and financial interest have a role in determining the extent to which her work may be examined and her life researched. There are some different versions of Maier's life story, different incentives, theories and thoughts.
Most interesting to me are the questions of gaze and regard. Looking at the photographs presented in the film, many are portraits, photographs of people that must (given her camera) have been taken at fairly close range, and several self-portraits. One meets the gaze of people, young and old, some aware that their picture is being taken, some appear to be unaware. There is the gaze of the photographer. At one point in the film Pamela Bonnas demonstrates the way that Maier would have looked through the viewfinder of her Rolleiflex camera which required one to look down. In other words, she viewed the people she photographed indirectly, literally through the camera.
Then there is the question of regard. Maier's photographs are currently held in high regard, one considers her an artist and her photographs have been exhibited at the Chicago Cultural Center, The London Street Photography Festival, and in many other countries, including: Denmark, Norway, Belgium, France and Italy. Yet all those years, as she took pictures while taking care of children, or while walking along the streets – how was she regarded? Did anyone take notice, and if they did, did they ever think: a work of art is coming into being now. It doesn't seem likely that anyone regarded her as an artist during her lifetime, how she regarded herself will remain to some extent forever a mystery.
Yet in the practice of photography and the effort to preserve her work as best she could under the circumstances, it is clear that Vivian Maier was in intense and dedicated pursuit of something, whether we call it art, or simply call it life.
Vivian Maier: Who Took Nanny's Pictures? will have a second screening on Friday, March 28th at 14:30 in Recanati Hall at the Tel Aviv Museum of Art. Tickets may be purchased online.