Time to take out your camping gear and head for the woods – the Yearot Menashe Festival will take place this year from May 15 – 17, 2014 in the hills of Menashe, roughly between Kibbutz Ein-Hashofet and Kibbutz Hazorea, in the Megiddo Regional Council.
Let's take a look at the line-up:
In the tradition of an abundance of great music from here and guests from everywhere, Great Mountain Fire, indie-rock band from Brussels, will be performing this year. I really enjoyed this song, Crooked Head, recorded live by a lake.

Lots of bands with new albums out, or almost there… among them The Angelcy whose "songs speak of angels, yet these angels are elusive, erotic, rebellious, lost, full of ambiguity and allure:  "Some folks, they call you angels and some say you are the beast." These are angels to contend with…There is a romanticism to the songs as well, but they speak of a love that does not pretend it does not hurt; pleasure and pain are as intimately connected as the divine and the profane." (read more here). They have recently released The Call, the first song from their upcoming album Exit Inside.

Acollective – the diversity of these musicians – Idan Rabinovici, Roy Rieck, Daniel Shoham, Joseph E-Shine, Roy Rabinovici, Emanuel Slonim, Nadav Luzia – serves up an electric banquet spiked with adrenalin. The wild diversity of Acollective shines like fireworks with carnivalesque keyboards, dives deep into dark distortion, sings into the lonely night, and makes the room shout out with drums, horns and rock guitars. (read more here)  Acollective will be hosting Shlomi Shaban in their concert at Yaarot Menashe, in the meantime, enjoy OTM – the first single from their upcoming album:

I can still feel the heat from the launch party for Lucille's debut album! Funk, soul, blues & hip hop – Lucille is an old soul, a meeting of extremes, an explosion of energy onstage that spills out into the universe. Lucille talks to the ancients of blues and then takes it out on the street, bleeding out rhymes to a city pulse. (read more here)  They will be hosting rapper Adi Ulmansky at their concert.

The closing concert at Yearot Menashe already has my heart beating faster – Ramzailech (How do you say hardcore in Yiddish? read more here) with Bemet and Shay Tsabari!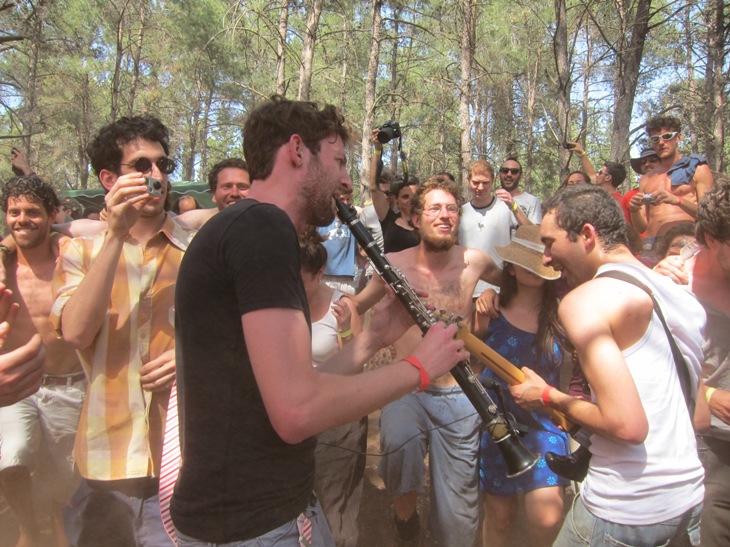 All this and more, more, more!
Mercedes Band  with Dr Kaspar's Rabbit Show; Yael Deckelbaum, Karni Postel, Lee Triffon, and Aya Feiglin sing Hava Alberstein; Amir Lev; Amit Erez and the Secret Sea; Bint El Funk; Last Monday of October; Nitzan Horesh and Cut Out Club; Maya Belzitsman and Matan Efrat; Echo and Tito; UBK; Bucharest and more…
There is nothing like listening to music – rock, jazz, funk, groove, electronic, acoustic and everything else you can imagine – within the serene woodland of Yearot Menashe. In addition to music on several stages there will be music workshops, activities for children, interdisciplinary performances and spontaneous music & mayhem. New this year the city will come to Yearot Menashe, with a stage dedicated to performances curated by: Radio EPGB, The Yellow Submarine, Levontin 7, Pasáž, Ashan Hazman, Hamila Theatre, Mashu-Mashu Theatre and the Givat Haim Club.
All information will be available on the Yearot Menashe website. Connect to the event page here.