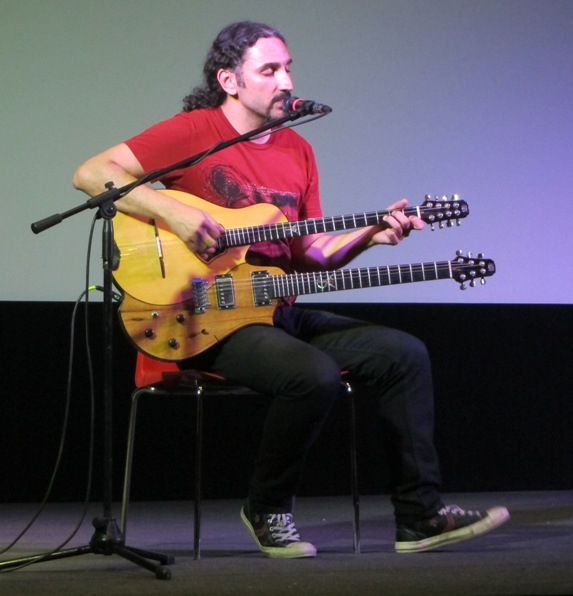 A guy and a guitar – it's about as far as you can get from heavy metal, but that is my first impression of Yossi Sassi. Not that the co-founder and former member of Orphaned Land is going acoustic, not at all, and that amazing instrument he's holding is a guitar and then some… He'll soon be launching Desert Butterflies, which looks to be a densely textured album, with layers of sound and some exciting collaborations (Marty Friedman, Ron 'Bumblefoot' Thal, Mariangela Demurtas & more). The album launch will take place on May 8th at Reading 3, but in the meantime, Yossi offered a first look at Capturing the Butterfly, a documentary on the making of the album, with a preview screening at the Tel Aviv Cinematheque.
But nothing can compare to live music, and after the screening Yossi took the stage with his Bouzoukitara (his own creation, merging an electric guitar and bouzouki) and sang a beautiful song from the new album – Cocoon.
Enjoy the official version!

Yossi Sassi will conduct a workshop on April 24th at the Port of Tel Aviv on merging roots with contemporary music – here's the link to the event with more details.
Desert Butterflies album launch – May 8th @Reading 3, here's the link to the event page.
A preview of "Capturing the Butterfly"