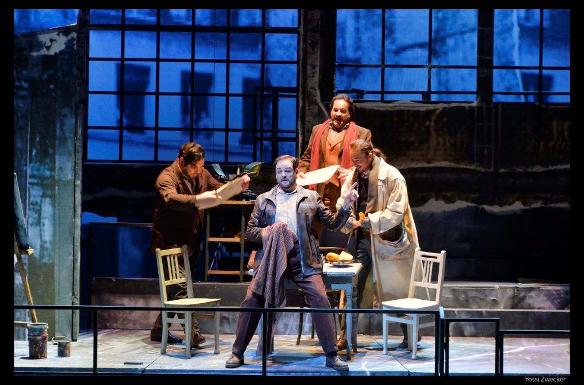 On a modern-day sitcom, they could have been a group of twentysomethings living in New York. In Puccini's opera La Bohème, the writer Rodolfo and his friends Marcello, Musetta, Schaunard and Colline are "Bohemians": starving artists who walk the road less traveled by in society. In their freezing apartments, they write, compose, and paint for their wages, and they spend most of those at the local coffee house, Café Momus. They deal with things known to some of us: angry landlords, dark staircases and writer's block. With every trouble that comes along they deal with humor, calm and a splash of deceit. At the garret, when the landlord shows up, they artfully distract him and then kick him out; later at Café Momus, when given a mile-long bill that should definitely not be figured out by a group of writers and artists without a calculator, Musetta simply puts the whole thing on her ex-boyfriend's tab and they merrily run off, leaving him sputtering in anger. Rodolfo, our protagonist, spends most of Act I in an entertaining mutual flirtation with Mimì, his neighbor, and the two fall in love.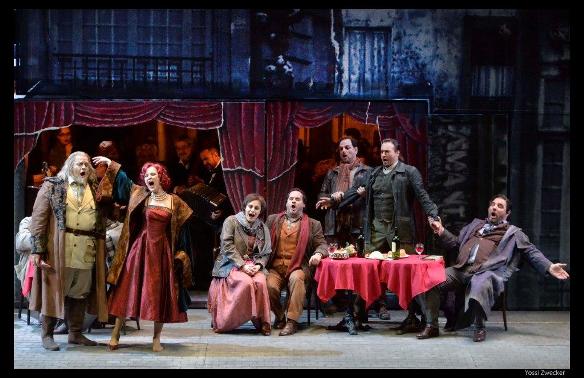 But this gaiety is not to last. If the first half of the opera presents to the audience a poor but altogether happy group, the second half shows the cruel and unstoppable harm which their no longer charming poverty can bring. Mimì is burdened by consumption, and even as Marcello and Colline are out pawning their belongings to bring her some last comforts, she dies in Rodolfo's cold garret – a fate we knew was coming, but which still manages, in those final moments, to shock.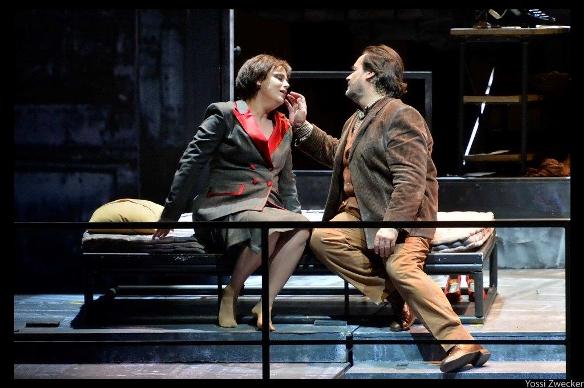 In his Israeli Opera debut, Spanish tenor Jose Bros is a good Rodolfo, with a smooth voice and even, beautiful pianos. Opposite, Ira Bertman, as Mimì, sounds better than ever, especially in the Act I aria "Sì, mi chiamano Mimì", in which she introduces herself to Rodolfo. Their voices blend well for the duet, "O soave fanciulla".
Alla Vasilevitsky is superbly in character as Musetta, issuing commands to her elderly companion Alcindoro and tormenting her former lover Marcello. She sings the Waltz ("Quando m'en vo'") magnificently, with the appearance of a cat slinking towards her prey and sinking her claws into it.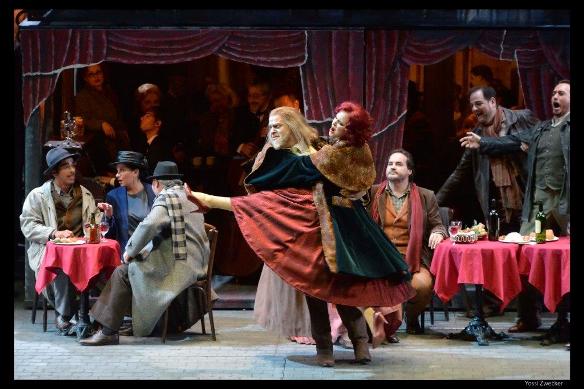 In the roles of Alcindoro and of Benoît, the landlord, Guy Mannheim continues to impress with his comic abilities. Carlo Striuli, another regular at the Israel Opera, beautifully delivers Colline's Coat Aria, a farewell to his old coat, which he pawns in order to pay for Mimì's medicine.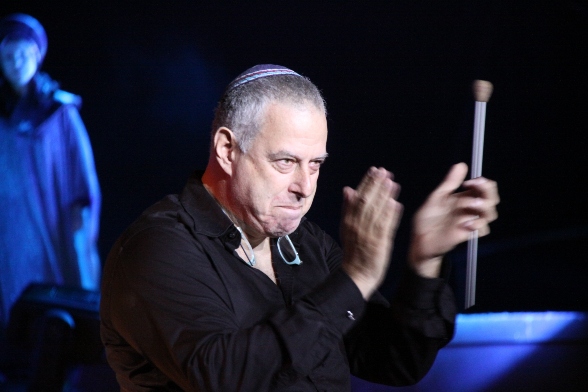 Daniel Oren is one of those conductors who can breathe new life into a score, and this performance is no exception – Puccini's little trills and long legato lines seem especially exciting under Maestro Oren's baton. He comes home to Israel for precious few performances, and it's always a memorable experience to listen (and, if you happen to be sitting close enough, watch!) a great master of music at work.
Director Stefano Mazzonis di Pralafera has become a household name in Israel. Just like his Otello and La Traviata, this production brings out the large chorus and concertato scenes with aplomb, though perhaps the stage is a bit too small to hold them. He places the garret on a rickety building covered with even less sturdy scaffolding, and we can see the grubby street below. This makes the Act I love scene somewhat less intimate, less warm, but the final scene of the opera is so poignantly staged that intimacy is restored: in a tableau following the libretto's last lines, we see the lifeless Mimì on her bed, Rodolfo grabbing the railing desperately as he looks away from her and out the window, and the rest of the group embraced in a circle.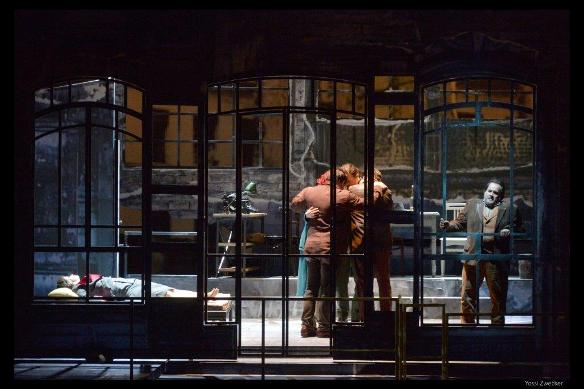 Performances of La Bohème at the Israel Opera will continue until May 10. A pre-performance lecture (in Hebrew) will be held one hour before every performance, and on selected evenings there will be an Opera Talkback session, in which you can discuss the performance with the singers.
For performance dates, times, additional details and tickets, call the Israel Opera at 03-692-7777 or visit www.israel-opera.co.il