Image credit: William Adjété Wilson, Flight and Exile from the Black Ocean series, installation, 2008-9
 By Angela Levine
Mysterious, exotic, unfathomable.  Most of us know so little about African art that we may be forgiven for applying these adjectives to describe its character. That is, before stepping inside A collective diary – An African Contemporary Journey, the recently opened exhibition at the Herzliya Museum of Art where one finds paintings, photographs, video pieces and installations on the cutting edge of international art. These works by 12 well known African artists, many of them now living in Europe, were selected by the Paris-based curators of this show: Simon Njami, a distinguished writer and editor; and Mikaela Zyss, a photo editor and exhibition coordinator.
In an introductory text pinned to the entrance wall, Njami writes that "the public shouldn't enter (this exhibition) thinking that they are going to explore a foreign space. The strength of an artwork lies in its ability to communicate universally no matter what its origin is". While appreciating Najma's viewpoint, it does needs challenging. Can one, for example, truly grasp the meaning of much of the art produced in this country without an awareness of our national 'story'?  Similarly, something of the sources of art coming out of Africa are vital to understanding of the content of this exhibition. At the very least, it is important to point out that all the participants in this show (either born in, or having family in, 10 different African countries,) are linked together by similar histories of slavery, genocide, colonization and racial persecution. .
This bitter saga is documented in this exhibition in many diverse ways. William Adjété Wilson (b. Tours, France, with family roots in Benin,) illustrates the history of the African-European relationship in a set of colorful tapestries whose naïve and whimsical imagery belies the seriousness of the subject-matter.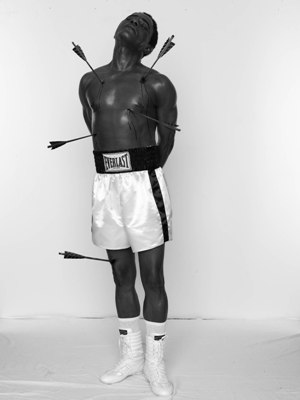 The transition of the new Africa into a modern, forward-looking society is imaginatively portrayed by two sets of staged self-portraits by Samuel Fosso (b. Cameroon.) In the one dating from the 1970s, we see him wearing shades, bell bottom trousers and jaunty headgear to project an image of liberated African youth. Most recently, in his American Spirit series, he is photographed in the guise of prominent African statesmen, as well as African heroes like Mohammad Ali. Fosso reprises a photo taken of the boxer by Carl Fischer in 1968 which was reproduced on the cover of Esquire magazine. A year previously, Mohammed Ali had refused to be inducted into the US army due to his religious convictions. As a result, he was stripped of his WBA title and his boxing license was taken away. In this photo Mohammad Ali is shown as St. Sebastian, patron saint of archers and athletes, his body pierced with arrows.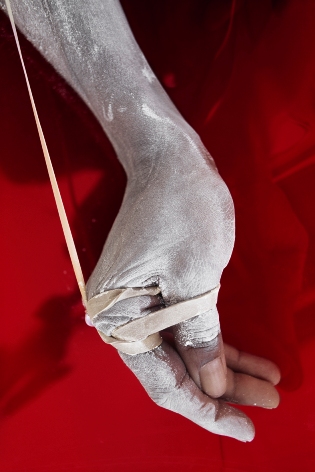 Suffering is the theme of several disturbing works by Myriam Mihindou (b. in Gabon), and Michèle Magema (b. Congo). Among them are Mihindou's photos of a hand pierced by pins, and strapped with tape and bandages; and Magema's video piece denouncing religious coercion, shown in a darkened room lit only by memorial candles. The screen is bisected. Seen on one half is the figure of a faceless nun holding a rosary in her hands; on the other are vanitas images – a skull, an empty bottle and tin, metaphors for the brevity of life. Rows of numbers flash across the screen, an apparent reference to the loss of life during colonial rule.
Perhaps in deference to a time when traditional art materials where hard to come by, many African artists, and quite a few exhibiting in this show, make a feature of utilizing materials found in their immediate environment. Recycling is not the end-aim, but rather the desire to illustrate that even the most mundane of objects can be transformed, with imagination and skill, into aesthetic works of art. 
Dilomprizulike (b. Nigeria,) the self-styled 'Junkman from Africa,' rummages in garbage dumps to find surplus clothing and other discarded objects to create installations featuring life-sized figures in everyday situations.  For example, in one critically acclaimed piece, he showed men and women in African dress waiting in line for a bus, a metaphor for life in his home country where people are still waiting for the promise of better lives and economic prosperity to be fulfilled. For the Herzliya show Dilom has created a new figural installation. A visit to the flea market in Jaffa provided him with a bizarre assortment of objects, from pots and pans to toasters and sunshades. With these items in hand, he has made a spirited and witty attempt to characterize Israel's consumer society.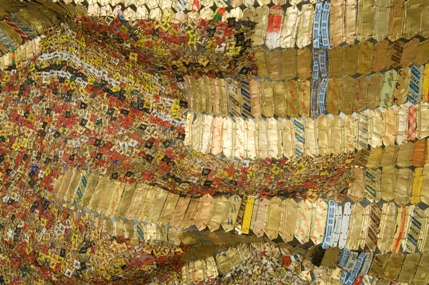 The silver wrappings of cigarette packs are the raw material for All that goes up in Smoke, one of six beautiful abstractions on a canvas or paper matrix by Joël  Andrianomearisoa (b.Madagascar.); while thousands of flattened liquor bottle tops threaded together with wire were used to create a stunning yellow, gold and red wall hanging by El Anatsui (b. Ghana). Its colors and design recalling kente, a ceremonial silk fabric cloth native to his homeland. In addition, the use of bottle tops may be meant to evoke memories of a time when alcohol was brought into Africa by European colonizers and traded for slaves.
El Anatsui is also exhibiting Crumbling Wall, a 4 meter high construction built entirely from rusted metal graters, discarded utensils which might once have been used to make gari,  a staple African flour. This structure towers above the viewer, but nevertheless gives an impression of instability, a metaphor, perhaps, for a people with a history too weighty to bear.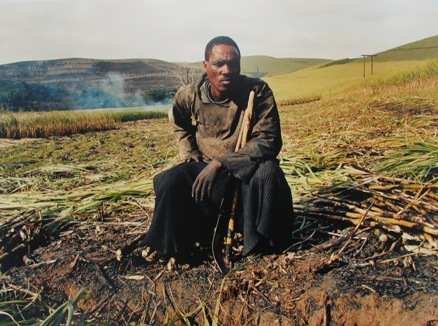 Sited on the wall opposite, and forming a kind of mirror image, is a photo by Zwelethu Mthethwa (b. South Africa) of a rusted tin shack, serving as a permanent or temporary home in some unspecified shanty town. Mthethwa also shows a portrait series of workers in a sugar cane field; each man standing or sitting, machete in hand looking directly at the camera. Captured here, according to the expressions and stance of the men, are a wide range of emotions and moods. 
A final memory to take away from this show is provided by two collages projecting a yearning for solitude and tranquility. They are Enigma 1 & 11, by Bili Bidjocka (b.Cameroon), comprising tiny gold beads laid over digitally printed night scenes where rays of lights from a distant shore are reflected on water. These beads spell out letters in a language invented by Bidjocka, maybe inspired by Nsibid, a set of ideographic symbols native to West Africa, and used there by a secret society. So, yes, there is after all, some mystery, and some unfathomable elements in this captivating show.
An excellent illustrated catalogue in English and some Hebrew accompanies this exhibition which will be open until April.
Herzliya Museum of Contemporary Art,
4 Habanim St., Herzliya
Tel: 09.9551011