"How much do I love you? I'll tell you no lie. How deep is the ocean? How high is the sky?" Irving Berlin
Love is a tangle of hyperbole and contradictions, I don't know why, but it's so. The pleasures of love are almost inevitably linked to pain, the most tender feeling known to humanity has, in history as well as fiction, led people to lie, cheat, steal and kill. One of the intriguing contradictions enfolded within this all-powerful feeling, is the strange connection between private and public. Social media is overflowing with news bulletins and photographs of intimate moments: a quick glance at the "After Sex Selfies" page shows 20,295 "likes." Yes, you might argue sex and love are not the same, but still, my point remains – there is an undeniable tendency to document and make public events that one might think the people involved would want to remain private.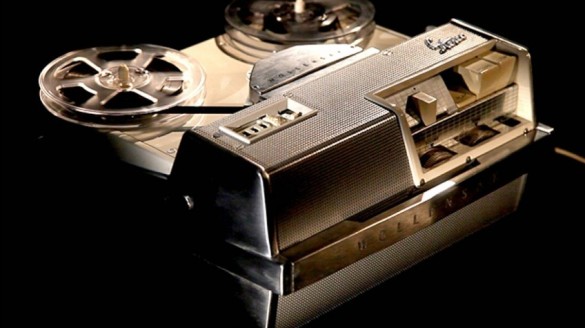 Some would argue that people today have a different sense of privacy than previous generations and feel comfortable with a greater level of disclosure, others would argue that technology and social media are eroding the quality of our relationships, not to mention our morals. Jane Gillooly's documentary film The Suitcase of Love and Shame touches on all these questions, in a provocative and artistic way. The suitcase in question was purchased on that altar of digital consumption, eBay. It contained 60 hours of tape recordings made in the mid-1960s by Jeanne, a young widow, and her married lover Tom, a veterinarian. Living in different cities in the Midwest, long before the internet, text messaging and all the communication resources we have literally at our fingertips today, carrying on an illicit affair was no easy matter. Phone calls were very expensive, and to keep the flame of their love burning bright, Jeanne and Tom made tape recordings for one another and sent them in the mail.
Gillooly has crafted a fascinating narrative from these tapes, combined with compelling visual choices. The film is episodic, with Jeanne and Tom's recordings alternating. While not necessarily in chronological order, and without revealing all the details of their years long relationship, there is a certain story arc to be discerned. Gillooly has chosen not to illustrate the narrative, but rather to evoke an atmosphere through the use of images from the time and place of the story. In one scene, a wonderful dissonance is effected as Tom talks about nude photos of Jeanne, while the images on the screen are of suburban placidity, photographs of tidy Midwestern homes with flowers in the front yard. Sometimes archival footage in black and white sets the tone, at other times, all one sees on the screen is a tape recorder, circa 1965, set against a black background.
Jeanne and Tom confess their love, longing, loneliness and fears to one another – and we listen. Yes, at times it feels voyeuristic, after all, these recordings were not made for us. And yet… the extent of the documentation raises some questions. Most of the recordings were made as a correspondence between lovers, their way of being together while apart, but some were made when the two were together. Yes, just like teenagers recording themselves on their smartphones. What drove the need to document and record those moments of sex and intimacy? The film conveys the sense that Jeanne is the one who is most insistent on documenting the relationship. Is this because she senses that it will not last, and wants to have a vivid memento of this time? Perhaps, yet I feel that there is more to it.
Love is unpredictable, ephemeral, there is no way to be certain that love will last. Love keeps us doubting, wondering, and there is something about declaring one's love in public that makes it real, suggesting permanence. Telling people about a relationship is often a crucial step in a relationship, one that is denied to all those who, for whatever reason, conduct a hidden relationship. The internet merely facilitates these desires and compulsions, people and emotions haven't changed all that much in the past 50 years, we just have better technology. Perhaps, for Jeanne, making these recordings was a substitute for declaring their love in public, for all the things she could not do – hold hands in the street, go dancing – that proclaim "we are a couple" which translated, means "he loves me."
It is a poignant, touching document, and an evocative record of its time, a reminder of how much our lives and culture have changed, how much we remain the same.
The Suitcase of Love and Shame will be shown at Docaviv 2014, consult the Docaviv website for dates and times of screenings, as well as tickets. More hidden suitcase discoveries may be seen in the film Finding Vivian Maier, and more forbidden love in Ibtisam Mara'ana-Menuhin's Write Down, I am an Arab.
Suitcase of Love and Shame (USA, 70 min, 2013, English with Hebrew subtitles)
Director / Producer: Jane Gillooly; Editors: Jane Gillooly, Pam Larson; Director of Photography: Beth Cloutier; Creative Collaborator: S.A. Bachman; Additional Camera: Kamau Bilal, Jane Gillooly; Consulting Editor: Carolyn Kaylor; Sound Designer: Rob Todd; Consulting Producer: Jocelyn Glatzer; Set Design / Props: Marcy Goldberg Sacks; Original materials discovered by: Albert Steg