Choreographer Palle Granhøj will be celebrating with Suzanne Dellal – his company, Granhøj Dans, is also marking its 25th anniversary!
"I'm very much looking forward to come back to performing in Tel Aviv," said Granhøj, whose company performed No Woman No Cry here in 2004. They will be returning with two works that are also related to music: Dance Me To The End On/Off Love and Men and Mahler. In a conversation with Midnight East, Granhøj shared his thoughts and offered insights to the unique way in which he creates dance.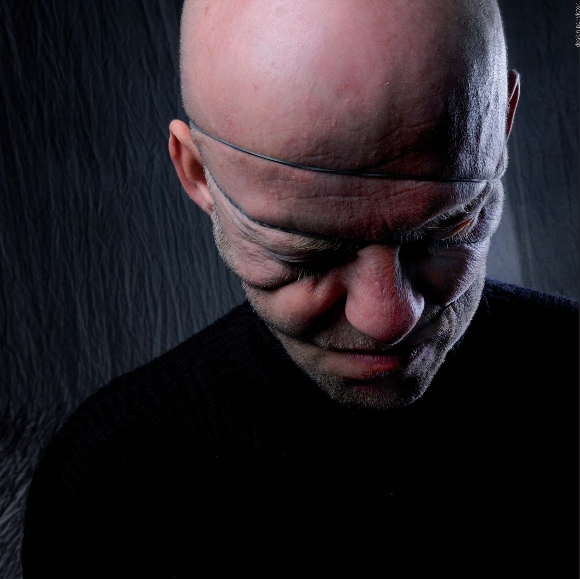 "We are still existing as a project, we never know if we exist next year," said Granhøj, adding, "you always get so happy when you find out that you can continue working if you get your grant.It's still a struggle and struggle is exactly what it's about, I base all my work on the obstruction technique."
For Granhøj, contending with difficulty is not merely a challenge to overcome, it is part of the creative process itself, a way of working that he calls "Obstruction Technique." In his early years as a choreographer, Granhøj was invited as a dancer to a theatre project, and there he met Nancy Spanier, an American choreographer. Watching her teach the students her way of obstructing, Granhøj  recalled, "I felt that there is something here that is fascinating and exciting."
Granhøj described the process, which is one of composition and deconstruction: "If you ask a dancer to do a piece of physical material or dance phrase, another dancer would be asked to obstruct that movement, and that could be just holding the hand. And when the first person then will repeat the movement it will be changed because another one is holding the hand."
The dance phrase is changed as a result of the "obstruction," yet traces remain, as Granhøj described: "You can imagine a movement where the left arm is swinging around and the obstructor takes that hand, but there is still a little swing in the elbow or movement in the shoulder, so you see an obstruction of the original. Then another one can start obstructing the other arm and the other hand. This is how you can go deeper into what movement is about and where it comes from."
"Obstruction Technique" is not just a working method, it is a philosophy. Sometimes the obstructions are physical: in one piece it was the costume selected for the dancers, a rubber wetsuit; in another piece it was the lighting which was set low so that there was little room for the dancer and in that case the 'space' was the obstruction. Yet as he discusses his work, it becomes clear that Granhøj thinks of choreography in terms of conceptual obstructions as well.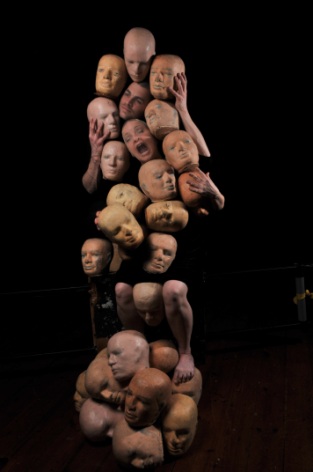 Dance Me To The End On/Off Love is a piece that has a long and poignant history for Granhøj. A dancer he had worked with called him after an absence of many years with the sad news that he was ill with brain cancer, and a request: to create a last dance for him with Leonard Cohen's song Dance Me To The End of Love. This experience generated a process for Granhøj, who recalled, "I found that in Cohen music and lyrics there is some similarity to my way of thinking with obstruction technique, and that is – he feels longing."
"If you see a dancer that is being obstructed – why will they continue struggling to be able to do the movement, even though they are obstructed? I guess and I'm still searching for the answer, I guess because they are longing to do what they originally did, the full movement."
The parallel he found between his way of thinking and Cohen's lyrics led the choreographer to consider creating a full length piece. Yet then he encountered another sort of obstruction. "I started researching," said Granhøj, "and found out he's huge! He's so famous and I was not aware of that, so when I found out I said – oh, no, do not touch this! It's too dangerous to go into that one. So I left the idea for half a year or even more, and then I started longing so much to go back to exactly that atmosphere and that world of his, that I said I have to do this. I found out it could be considered a self-portrait of myself and my company."
Leonard Cohen's lyrics were an inspiration, but also an obstruction. "Before working with this piece, I think I was afraid of words," he said, "words are always very specific and clear and with words you can express so clearly, words and dance are two different worlds. So I said I have to go into the words of this man and find out how I can navigate that – on one hand dangerous, and also deeply fascinating place, and find my way to use those words…and the only way to use the words is with the music. In dance, you have an arabesque, the word 'desire' is the word 'desire', one tone in music is one tone – the work of art is how you put them together. If I deconstruct them and I build them up in the way I did the movement, maybe I'll be allowed to use them."
Regarding the dancers as co-creators in his process, Granhøj further commented, "This way of working is serendipitous, you look for something and you find something else. I have no idea what the dancer will bring to the rehearsal that day…sometimes fantastic things show up."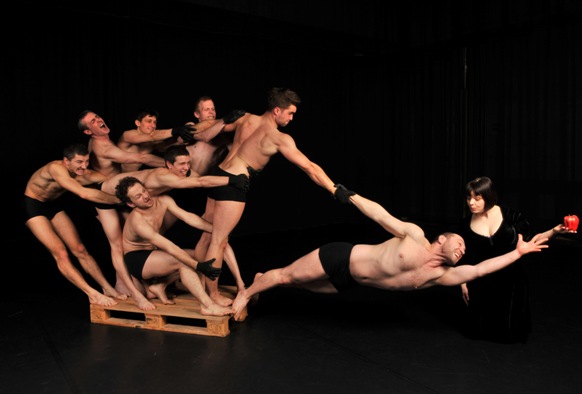 Men and Mahler, the second piece that will be performed at Suzanne Dellal, is more recent, and it too makes use of song and text, as Granhøj said, "Now I like words more."
This work was a DNA (Development of New Art) project, and it has eight dancers from five different countries, and different backgrounds – all men.
The "opening obstruction" for Granhøj as a choreographer was the music of Mahler, once he began work on the piece, his purpose was "to research how male power, in terms of muscles, how will that give another obstruction. They use a lot of male strength. You will also see some very clear obstructions, they use rubber bands to lengthen their arms."
Finding that "this man's world is difficult to show" Granhøj said, "a good way to show it is if there was a visitor, and of course it must be a woman." He compares this woman visitor to "a female David Attenborough who looks into this world of men… a modern facebook woman who needs to tell the audience about what she sees."
His most recent work, created for the 100th anniversary of Stravinsky's Rite of Spring, was choreographed with the same group of male dancers as Men and Mahler. Here, the obstruction was rather obvious and daunting – so many choreographers have created dances to this piece and so many, as Granhøj said, have "broken their leg on it."
Undaunted by the challenge, he delved into the piece. "I found the music too strong for me," he said, yet this obstruction led to something new. Granhøj became the first person to receive permission to add pauses to the work, and his Rite of Spring Extended is not 33 minutes, but an hour long piece. What is the next 'obstruction' for Palle Granhøj? He plans to take Rite of Spring Extended and explore the piece working with an all female cast of dancers.
Dance Me To The End On/Off Love will be performed on May 10th, and Men and Mahler May 11th & 12th. Performance dates, times and ticket information may be found on the Suzanne Dellal website.