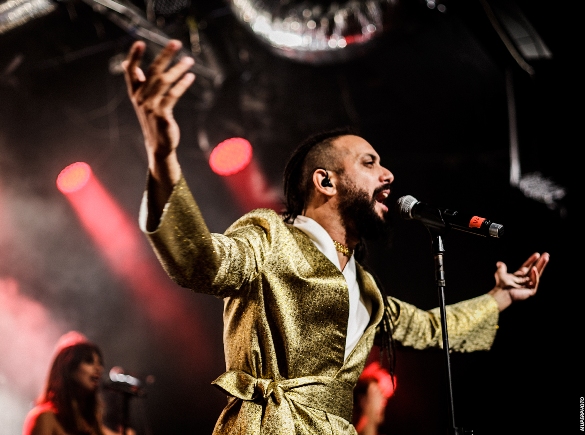 Ravid Kahalani is a Prince of Song, and wherever he goes, he makes the room his tribe. He's an intense performer of many talents, and it all came together on Saturday night, May 10th at Reading 3 as Yemen Blues launched their new show, Insaniya (a word that I have been told means 'people' in Yemenite). Kahalani came onto the stage in a gold turban and robe belted over a white galabiya, a multitude of braids gathered up high on his head, his presence charging the club with energy.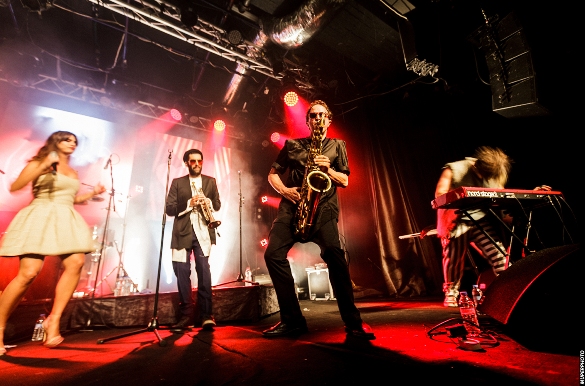 Yemen Blues is a power ensemble of talented musicians, that has recently added some new members. Saturday night's show featured: Ravid Kahalani – Vocals, Percussion, Gimbri; Shanir Blumenkranz – Oud, Bass, Vocals; Itamar Borochov – Trumpet; Rony Iwryn – Latin Percussion; Itamar Doari – Middle East Percussion; Hod Moshonov – Keytar; Matan Chapnitsky – saxophone; Gal Lugasy – Vocals. Whether he sings in Yemenite, Hebrew or French, Kahalani brings an emotional depth to his singing, from the most quiet ballad, to a heart-rending wail or whoops of joy. Opening for Yemen Blues was Luna Abu Nassar, (System Ali) whose clear, delicate vocals  were accompanied by acoustic guitar and percussion, with songs in Arabic and Hebrew.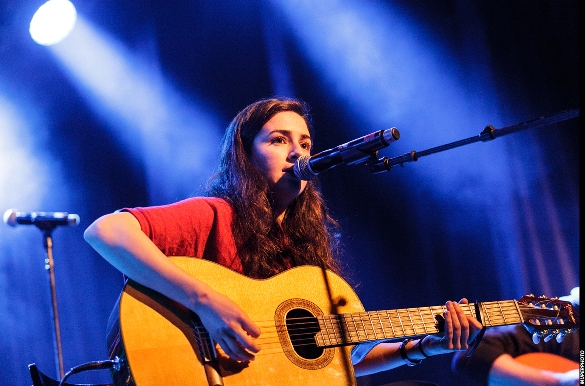 Many, many, beautiful moments: guitars starting up a rhythm and then Iwryn and Doari sending out another layer of percussion on a different path, the raw energy of Hod Moshonov, the lovely Gal Lugassy, the sax solo on Gnawa that brought the energy level way up, hearing the words of a traditional Hebrew song from the Bible in a different melody transformed into a joyous tribal dance, Rony Iwryn and Itamar Doari dancing on the instruments in a percussion solo, the dancers of Maria Kong setting the stage on fire with their passionate moves, Itamar Borochov making the trumpet sing into every cell of the body and even dancing with Ravid, Shanir Blumenkrantz and Ravid Kahalani's moving duet of oud and vocals, new songs, familiar songs with everyone in the room singing along, and that magical moment when Ravid took off his shoes and danced the music braids flying and body flying on rhythm and song.
It was the kind of night that went from one peak to another, climbing higher and higher, finally coming to a place where you feel as though you are floating on song and your body can dance forever.
MuperPhoto was there to capture these moments – Enjoy!