*Update* The festival has been postponed, organizers are trying to schedule a new date. Ticket purchasers can get their money back via the Eventim company, call *9066.
The Song of the Dove festival dates back to 1980 when the future looked a lot brighter in this part of the world. Peace activist and radio broadcaster Abie Nathan, together with Hemi Sal and Ethan Gafni initiated a 24 hour marathon for peace just a year after the signing of the Peace Treaty between Israel and Egypt, and thousands gathered at the Yarkon singing a "Song for Peace."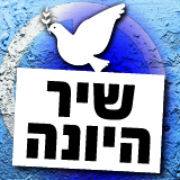 The festival has returned several times since then, each time in a different location, always retaining its cultural, a-political message of hope for peace between Israel and its neighbors, and within Israeli society. This summer, a decade after the last festival, Hemi Sal is producing the 5th Song of the Dove Festival, which will take place in Haifa, on July 3, 2014. In a statement to the press, Sal said, "Lately it seems as though the possibility of peace is being crushed while we look on, and that is why we felt the need to act. Most Israeli artists and citizens want peace, and that is how we succeeded in gathering many friends to support this event. We want to send a message to anyone who needs to hear it, that Israeli society – all its many sectors – wants peace. This is not a protest action, this is a happening of hope."
Broadcasters Slutzki and Domingez will host the event, participating musicians include: Berry Sakharof; Hadag Nachash; Ethnix; Orphaned Land; Mooke; Johnathan Geffen and special guests ; Khalas; and System Ali. Adding to the fun will be more events and participants, check the event page for updates.
The festival venue will be set up next to the International Convention Center in Haifa (2 Kdoshei Yassi Street), within walking distance of the Hof HaCarmel train station. The Israeli Railway will support the event by adding trains along the route that will operate into the small hours of the night. Haifa Mayor Yona Yahav voices his support in a statement to the press: "It's only natural that the only place where there exists real peace between all sectors of the population, and has been this way for decades, will host this wonderful concert. Whoever would like to enjoy culture and peace must see his or her natural place in the city of Haifa. I'll close with a quote from the legendary band Kiss – 'God gave rock 'n roll to you/put it in the soul of everyone."
Admission to the music festival is 159 NIS, 99 NIS for Haifa residents, and is for the purpose of covering production costs. In addition to music, there will be other outdoor events free of charge.  Tickets may be ordered online via this link: http://www.eventim.co.il/peace