Some people might dream of performing in a huge stadium, for an audience of thousands. Others dream of taking their music elsewhere, dancing to the beat of a different drummer. That's where you'll find Balu, taking his music from the clubs, concert halls and stadiums out onto the streets, where the people are.
Walking into the unknown, you never know what you may find, and as for Balu aka Dov Rosen (formerly of The Angelcy), it has taken the musician in an entirely new direction: producing his first solo album, Street Kit Project, which will have a festive launch at the Tachles Bar on Thursday, June 19, 2014, at 21:30.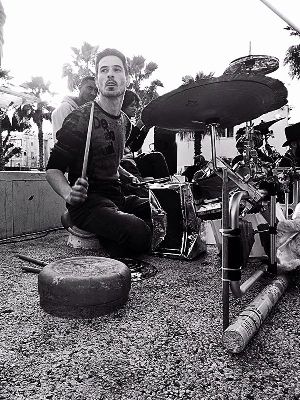 I first met Dov Rosen at InDNegev in the fall of 2011, after hearing him play with The Angelcy, and had a longer chat some time down the road when that band was gearing up for their debut album. So it was with some surprise and great curiosity that I came across a video of Dov performing on the streets of Europe this past winter. Last week we sat down on a park bench in North Tel Aviv, and I finally heard the story of this journey.
"I left the Angelcy a year ago, last summer, and for the first time since I was 15 years old, I found myself without a band," said Dov, who has been a member of several well known bands on the alternative scene, and played with many  more – Redband, Gilliam, Lo Dubim and The Angelcy, just to name a few. "I went out to play on the street with my drum set. It was an old dream of mine, but it's an unusual experience for a drummer, because drums are very much an indoor instrument."
A good friend gave him the push to realize the dream, and even pitched in one Saturday to help build a portable drum set – the Street Kit. Dov took his show on the road, literally, and began playing on Rothschild Blvd in Tel Aviv. "It was fun, people stopped to listen, friends came… so I did it more and more and at some point I thought I'd try it abroad and spent a month and a half in London and Berlin. It was the beginning of winter, it's a little late for Europe, but I really wanted to… it was cold, but I decided to go for it, take my life in that direction."

"I love the freedom, you can perform whenever you feel like it, and I stop performing whenever I feel like it. You don't have to deal with… as a musician in a band, 90% of what you do is not playing music: it's bringing people to concerts, writing press releases, interviews, facebook, accounting, being in touch with a million people. When you're onstage you feel it's worth it all, but there is a lot of effort that is not creative. Each world has its advantages and disadvantages."
"On the street you meet people you never would have spoken to otherwise, and if you perform for an audience of 2000, these are people you will never meet. You can fly out to another city the next morning and perform there, you can travel wherever you want without spending a month on facebook [organizing a tour]… it's not for me…I'm tired of it. I'm a musician, I want to make music, I want to create, I want to play."
Some might find Dov Rosen's choice to take his music to the streets surprising, especially in light of the fact that he was one of the first members of the Angelcy, joining Rotem Bar Or at the very beginning, only to leave a year before the band released its first album (on which Dov is featured). The relationships remain good and strong, Rotem Bar Or and Udi Marom will be performing at the launch concert for Dov's album. Dov commented on this question in his characteristic blend of oblique honesty:
"Luckily I found a hole in the fence… there's a lot of honey in being a musician and creative artist and there is also a sting. The Angelcy work hard and they get a lot of love and that's very important. But they are one band, there are many bands in Israel that are really wonderful.. you see them and wonder how can it be… they don't get that recognition… the difficulty in selling CDs, getting people to come to shows – it doesn't feel good. I don't want to be in that place, saying: please come to my show. I'll do my thing. I found out that in the street there are people who will come and listen and enjoy: it's  a win-win situation from my perspective."
"I can go down to the street and play. I don't need to invite anyone… People walk by and whoever is having a good time will stay and if not, they just move on. I can do whatever I want, play with recorded music, open a looper, I can invite a friend to jam with me, I can prepare something at home,  there's a lot of freedom. It's part stage, part rehearsal room. I can try out new things on an audience, and no one has expectations."
Dov Rosen is a musician's musican, he really is all about the music, all music – not just his own. He's an enthusiastic supporter of other musicians, and when I mentioned that I hadn't heard a lot of drummers on the street, was quick to recommend other street drummers worth a listen: Oded Kafri, Ben Ametofef, and Chopstick Abuser (Ori Lavi). Which brings us to the story behind the album.
Making music depends on the ability to make a living as a musician, and that was the initial impetus for the album, which then turned into an adventure of its own. Dov recalled, "In Berlin I saw a street performer with lots of bills. I had coins and he had bills. I saw he had a CD. So I decided to come home and record an album. Now, I don't know how to play any other instrument, just drums. But I have a lot of ideas in my head many musical ideas that I can sing to someone who will play them and I thought that was enough because I have a lot of friends who are musicians."
"I organized a recording session in a studio that was half jam and part recording some of my ideas, simple ideas, very rhythmic, and that became the canvas on which this album was created… I also paint and the process of making the album was very similar to the way I paint. It's like when God created the world, first there was chaos (tohu vavohu) and then it was put in order … here's the sky…"
"This album was supposed to be a show-off, all built around the street kit. Anything goes as long as it has drums and the drums are going wild. To show off my talent. And I failed utterly."
"In time I found that I was enjoying showing off the talents of other musicians, and revealing that side that  they usually don't show the world. Many musicians show one side of their personality when they are performing, and in other situations, jams, even phone conversations, you see another side of them that is also very musical but they don't bring that to the stage. Onstage musicians tend to be more deep and serious. You can't always – and perhaps you don't want to  – bring all that you are to the stage. My goal in this album is to bring out the dark side… laughter. My reputation as a serious musician is at risk, because if you hear the album you'll think I'm a clown."
I've heard a few tracks from the album by now, and it is funny and fun, with wild drums and songs in gibberish, but it's also something more. Balu/Dov has got hold of something here, something hard to capture in recorded music. You know that feeling when you're with friends, and whether you're making music or making conversation, the air is electric and everything flows, and amazing things start to happen in a surge of creative energy? That's the feeling Balu is going for in the Street Kit Project:
"Recorded music has many advantages, endless options, but I feel that something is lost in the studio. You get to the studio and you can't bring with you the magic of the first time…when you write a song there is this magic – something that came out of your belly, your mind, your body  – and from that point on, something is lost. It's rare that something whole makes it to the studio. There's the pressure, the tensions, studio time costs money, you're wearing earphones, it's limiting in the physical sense… On this album, there was a layer recorded in the studio, and the rest was made at home; and you can hear the freedom."
Here's Lidia, a first release from the album – enjoy!

For the past several months while making the album, Dov has not been a drummer as much as a producer/director/curator,  a captain with an amazing crew. Joining him on the journey are musicians, some who have never before performed professionally, and others whose names are well known, like Dutch producer Shroom (who's worked with Busta Rhymes and Wu Tang Clan), Sousaphone player Udi Raz (Marsh Dondurma) and extreme bassist/producer Yossi Fine.
"It's the creation of my life, made here, made with my friends here," said Dov, "I'm experiencing everything differently. This is my baby, even though it belongs to so many people. It's my movie with many writers and actors…I'm a traveler… I travel in music. I'm a musical nomad, I have no home. There are places where I've spent a long time and I feel at home in them… maybe rock is my home. I like to discover new things. Above all, I must, I need to discover new things to enjoy life. If I don't have something new in my ears then something inside me is extinguished, and that leads me to look for new challenges."
Links: Balu Beats page; Street Kit Project album launch concert event page