No Man's Land is the title of a fine show, more relevant to our lives today than the usual run of feel-good group exhibitions whose common bond might be landscape or portraiture. Paintings, drawings, photos and installations by nine artists are on display. Mostly of high quality, they feature diverse 'readings' of the theme of this show.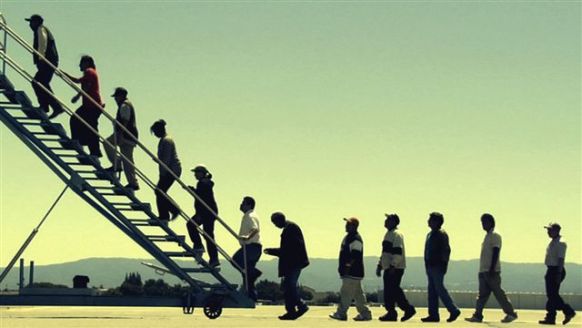 The status of the 'other' is given critical expression through excellent video pieces by both Assaf Shoshan and Adrian Paci.
Albanian born Adrian Paci who fled his home country in 1997 to take refuge in Italy is represented by Centro di permanenza temporanea, a 5.30 mins video projection that accords to themes of migration and displacement that are relevant to his own biography. As he once stated: "The fact of being at a crossroads, at the frontier of two separate identities, underlies all my work on film."
Paci's camera documents the slow passage of grim-faced men and women, would- be emigrants, who are ascending a ladder to take a plane out of their country to where they believe they will find a safer and more prosperous home. But when the line of people eventually reach the top of the ladder and stand on a platform they discover that no plane awaits them. They are stuck in No Man's Land, between earth and sky.
Shoshan, an Israeli who lives and works in Paris is showing Unknown Village, a 8.32 min. video filmed in a remote location in the Negev desert where men, women and children are seen converging on foot towards a solitary black tent and then disappearing inside. The viewer waits for someone to emerge, but no one does. This  story line is seemingly an imaginative metaphor for the fate of some Israeli Bedouin who are obliged to live in places not of their choosing; places of no escape. Shoshan's film is given extra impact by its deliberately grainy quality that seems to slow down time so that it has no meaning.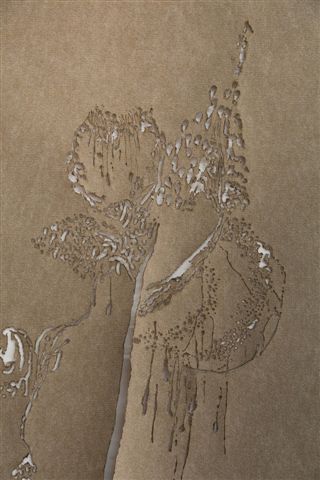 Self-destruction is the topic referred to, in metaphorical terms, by Chasing the Dragon, Living Apart, a set of drawings by Sagit Mezamer, a clinical physiologist who has made a special study of the history and horrors of the drug trade. Her artistic response brings to mind a set of paintings of cacti on canvas or wood made by the late Palestinian-Israeli artist Asim Abu Shakra that represented his fading strength during a terminal illness.  Mezamer employs felt sheeting as her matrix which she scores and perforates to produce semi-abstract imagery allied to the appearance of plants and flowers. The result: a delicate and effective metaphor for a person whose lifeline is petering out.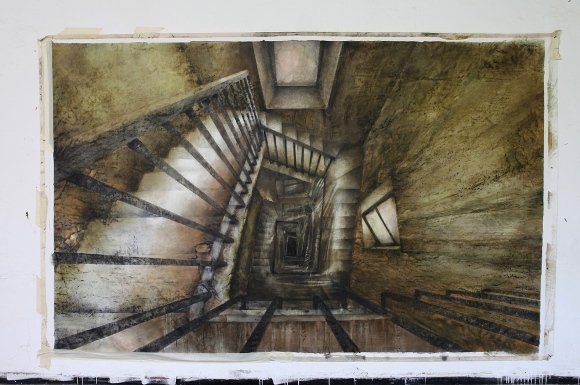 Two works, one by Lihi Turgeman, the other by Dina Shenhav, relate to memories of now uninhabited spaces. Turgeman's darkly striking canvases depicting the deep stairwell of a house date from the time that she made her home and studio in a grand building in the heart of Tel Aviv, slated for demolition. Her technique of working is unusually expressive. First exposing layers of paint and plaster that made up a portion of its walls, she then affixed her canvases to this area, carving, etching and painting on them scenes of empty interior spaces. Allowed writer's license, one might conclude that the memories wrapped up this house (what the walls have 'seen') have found refuge in Turgeman's paintings.
After Dark, a floor installation by Shenhav, a second-generation Holocaust survivor, consists of a carpet or field contrived from lumps of coal, or perhaps stones or wood painted black.  Sited deep in its midst is some kind of small sanctuary, maybe a pool of green water. Questions arise.  Is the blackened patch a metaphor for the Holocaust?  Is the presence of some sort of (unidentified) oasis, the artist's way of proposing that despite her family's history there is still hope for the future?  This writer usually refrains from criticizing Holocaust-linked works of art, but on this occasion, she has to conclude that this work fails to get its message across.
Spaces – in his case appropriated spaces – are the subject of Tsahi Hacmon's unusual installation which relates to the artist's concern that our lives are increasingly subject to authoritarian rule. To this end he has turned a gallery into his personal fiefdom giving it the appearance of an underground parking space. Anyone wishing to enter is subject to his laws; the entrance barrier only being raised when the would-be visitor has negotiated a check-post.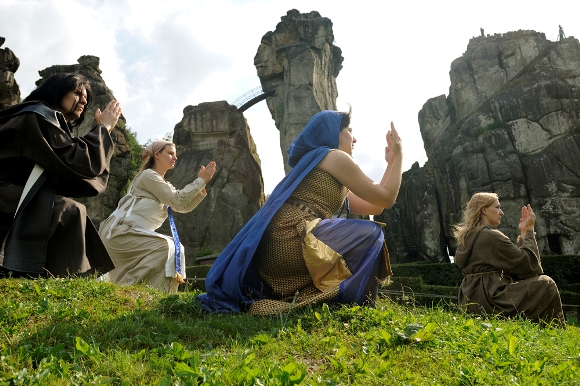 A number of works focus on mysterious places or situations. Karen Russo's entrancing video piece documents activity at Externsteine , an extraordinary rock formation in North-West Germany, a site deemed sacred by Himmler, and revered today by neo-Pagans and German Nationalist movements. Here, Russo interviewed elderly Germans who still believe in the magic powers of this site, and also filmed some of the strange ceremonies enacted there.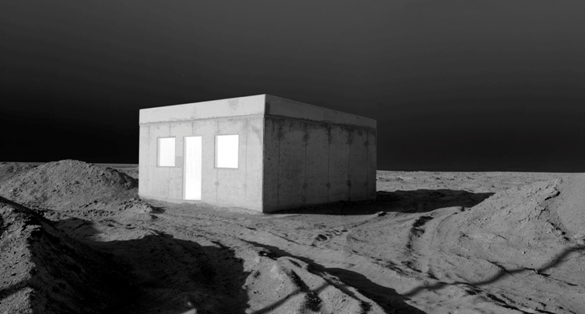 Ohad Matalon displays photos of mystifying installations located 'somewhere' in the South of Israel. Using a positive/negative technique, he produces eerie effects. His lens dwells on an isolated building where lights burn from within, or sweeps the horizon to settle on a complex of buildings whose components include forms resembling minarets, domes and mosques.
Blazing Shield is the apt title of Ariane Littman's set of astonishing photos (digital cymbolic light jet prints.): blinding sheets of color behind which the figure of man, face hidden by a welding mask, can just be perceived. What is the origin of her imagery? The catalog text tells us that in 2005,,when Littman was working as a freelance photographer, she visited a factory manufacturing protective gear for US forces fighting in Iraq. While there she spied a figure working behind an orange curtain in what was apparently a restricted access zone. Her photos perfectly convey both the heat of the furnace (where the man was working), the curtain hiding him, and a sense of having glimpsed forbidden territory.  No Mans Land.
. This exhibition, curated by Marie Shek, is open till August 2014.
Jerusalem Artists House, 12 Shmuel Hanagid, Jerusalem , Tel. 02–6253653