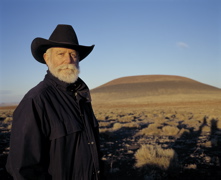 American artist James Turrell comes to the Israel Museum with Light Spaces, a magical show, based on a large retrospective of his work mounted at the Los Angeles County Museum for Art in honor of his 70th birthday.
While this exhibition also features prints, drawings and models, it is his installations that are a cause for wonder and speculation. For it is here that light is employed so unusually as a sculptural material, making this an extraordinary viewing experience. Since light,  beyond what we see, also alludes to the metaphysical and the mystical.
Displayed are pieces selected from all the major series that Turrell created following his early experiments with light in the mid-1960s in Santa Monica, California. There, he set up his studio in the Mendota Hotel, covering the windows so that only prescribed amounts of light could enter the room from the street. The appearance and quality of this light was dependent on external factors, such as traffic lights or the headlights of cars, or atmospheric conditions.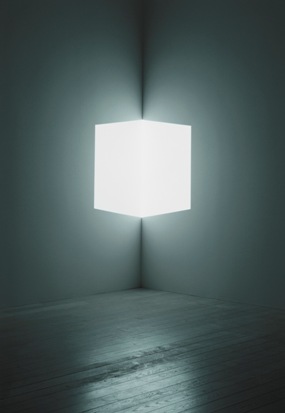 Turrell's earliest light construction Afrum (White) is on view in the Israel Museum exhibition. Like all the works that followed it challenges our perception of what we perceive vs. what is truly there. Set up in a darkened room, this cross corner projection appears to be a glowing  white form floating in space.  But is this true? Is it in fact cut into the wall or projecting out of it? These are the type of questions that are continually posed when viewing Turrell's work.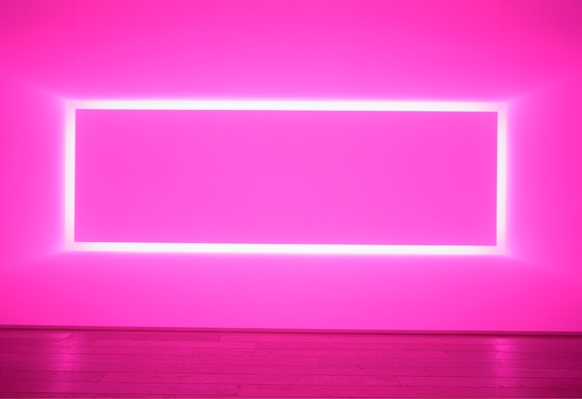 Out of many intense visual experiences, my eye was held in particular by Raemar Pink White, another early work, and by St Elmo' Breath, from his more recent Space Division Constructions series.
Although Ramear Pink was created over 45 years ago it comes over as a contemporary, even futuristic piece. A shallow panel of luminous pink, with a rectangle of white light outlined at center, it is set in a shallow space, seemingly held in place by white walls which have slightly curved edges. Don't just glance at this work and move on, because, as with all Turrell's work, time is needed to adjust one's eyes to what one is seeing whether it is to gauge the changing reality of the colored forms, or fluctuations in color intensity.
There are similarities between Turrell's light constructions, such as this one, with the abstract 'light-filled' canvases of the late American artist Mark Rothko. Rothko, who once said about his paintings: "if people want sacred experiences they will find them here. If they want profane experience they'll find them too. I take no sides."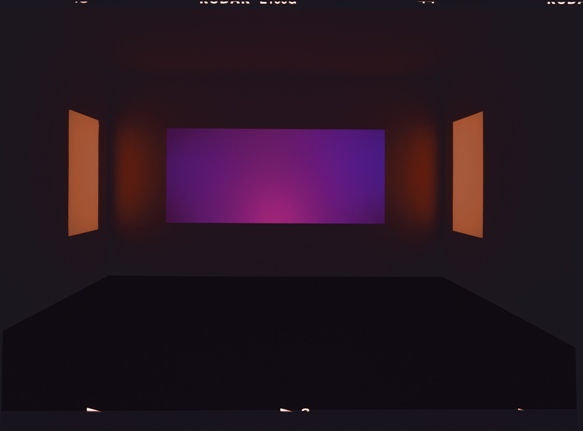 Indeed, there is something of a religious aura surrounding Turrell's installation St. Elmo's Breath (St. Elmo is the name of Colorado's best preserved ghost town). Entrance to this installation is by way of a darkened hallway and black curtains. Finally one comes to a room with the air of a holy sanctum: its 'ark' or 'altar' on the far wall, is a large purple rectangle of light edged by, and seeming to vibrate with, two yellow spotlights. The impression is of a two dimensional painting but in fact what we are seeing is a rectangular aperture in the wall, behind which is a room flooded with light.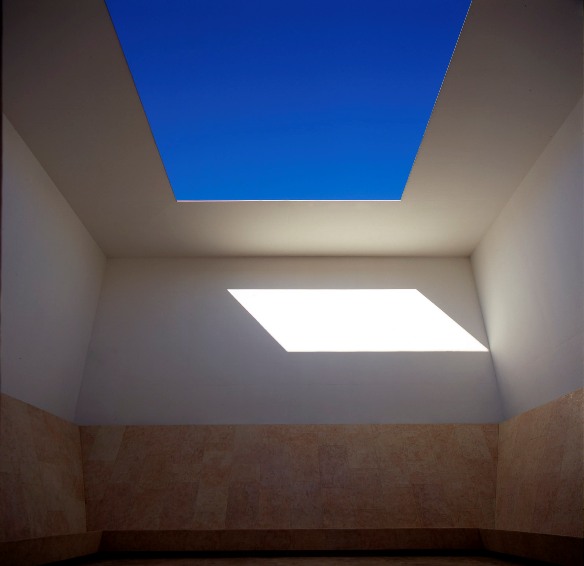 Completing this exhibition is a permanent outdoor construction Space that Sees (1992) by Turrell located in the Billy Rose Sculpture Garden in the grounds of the Museum. This piece is part of a series of buildings with openings in their roofs that he has  constructed in different parts of the world. The Jerusalem version sited below ground has been compared to an archeological find. It comprises a chamber with a square opening in the roof that frames an ever-changing view of the sky and the passage of light from daybreak to darkness.
Turrell's exploration of atmospheric fluctuations and environmental conditions has reached its peak in a work not to be found in this exhibition. I refer to the Roden Crater, an extinct volcanic cone in the Northern Arizona desert which he has been transforming since the 1980s into a magnificent celestial observatory. Its design incorporating light projecting and receiving chambers is influenced by that of ancient buildings that were dedicated to the study of the stars and other natural phenomena. To get a good idea of the scope and grandeur of this project go to the final gallery where Turrell speaks on film about this, his masterwork.
Israel Museum, Jerusalem. Till December 2014