Skin is a new dance work by choreographer Noa Dar, a visceral, intense work that explores the human skin as a vessel for all that we contain –  physically and emotionally, and as the border between people, the place-marker of our separation from the world and others, and the place where we connect to others, touching skin to skin. Skin will premiere on July 17th at Warehouse 2 in Jaffa Port in a weekend under the artistic direction of Noa Dar, part of the Yotzer-Otzer (artist as curator) project, a collaboration between the Choreographers' Association and the Bistritzky Foundation.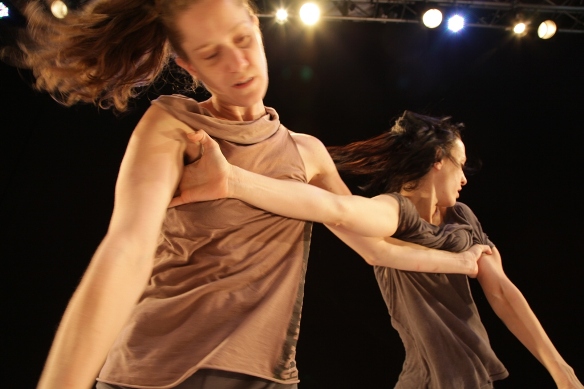 The staging of Skin is unusual: the audience will be seated on the stage in a circle, and the performance will take place within that perimeter. Physically grueling and intensely emotional, the work is relentlessly demanding of the dancers, who dive into the dance with lethal grace and savage dedication. The immediacy and intimacy heighten the impact of this work, which places demands on the audience, as well as the performers.
Skin was inspired in part by Sh'at HaKe'ev HaHadash (The Hour of the New Pain), a poem by Hezi Leskly (1952 – 1994), dance critic and poet. I've included my own very rough translation to convey a rudimentary sense of the poem:
The Hour of the New Pain
(The Mice and Leah Goldberg, Bitan 1992)
The pain is within you but you want to be
within it. That is why you must
take out the pain, place it by your side
and later
enter it as one enters
a room.
now, all that is left to do
is
turn on the light
kiss one of the new walls
one of the sides of the new pain.
kiss and smile,
talk to the wall in a precise voice
and bow down, in small bows of uncompromising politeness.
The program for each evening will feature an installation and performance by visual artist Nati Shamia-Opher in the  lobby, a performance of Skin, and a concert by musician Uri Frost in an intimate space in the Warehouse. Dar previously collaborated with Shamia-Ofer on Tetris, a thrilling dance-art-architectural experience with explosive energy, winner of an award for innovation in the 2006 Acco Festival. Uri Frost has composed music for several of Noa Dar's works: In a Black Black Land (Israel Festival 2003), Tetris (Acco Festival 2006), Arnica (Israel Festival 2007) and the play The Switched Heads (The Multi Disciplined Arena, 2008).
Performances will take place: Thursday, July 17th, at 21:00; Friday, July 18th at 22:00; Saturday, July 19th at 21:00. Tickets may be ordered via the Warehouse 2 box office: 03-9021563. Due to the unique seating arrangement, space is limited and advance reservations are recommended.
Skin by Noa Dar
Performers and co-creators: Noa Shavit, Mor Nardimon, Alon Shtoyer and Efrat Levy.
Original music: Uri Frost
Stage design and objects: Nati Shamia-Ofer
Costumes: Michal Basad
Dramaturgy and lighting design: Yair Vardi
Video creation: Ran Slavin
Graphic design: Dorit Talpaz
Photography: Tamar Lam
Producer: Shiran Shveka & Hadas Binder