Masha Zusman, Israeli artist born in the former Soviet Union: Michel Kikoïne (1892-1968), a prominent member of the early 20th century Jewish School of Paris.  What is the connection between these two painters whose works are concurrently showing at the Art Gallery of Tel Aviv University?  Zusman is the 2013 recipient of the Michel Kikoïne Foundation prize, donated in memory of this Jewish-French artist whose work is on permanently displayed at this venue; while her award entitles her to the fully funded exhibition on view here.
Stylistic and thematically, Kikoïne and Zusman's oeuvre is separated by a century of huge changes in the art world. For purpose of comparison (and for other reasons as well) it is beneficiary to first take a look at the Kikoïne collection. Here it becomes clear that while most of his colleagues were experimenting with new Modernist styles ranging from Cubism to Fauvism, he was still opting to paint traditional, albeit strongly stroked, renderings of landscape, still life, portraits and nudes.

In contrast, Crosswind, an aptly named show, reveals Zusman from an artistic point of view as a child of her times. In line with contemporary practice she can freely make of use of any materials and styles she desires. As in her previous exhibitions, found slabs of wood are her chosen matrix, their irregularities sometimes exposed to become part of well-crafted designs. Ballpoint pens and industrial paints are her working tools.
Ballpoint pens come in only four colors – black, red, blue and green. For her exhibition at the Tel Aviv Museum in 2005, black was Zusman's primary choice. Now, reds predominate. Given her birthplace, this color which signifies beauty may well be associated in her mind with religious icons.
As shown here, these paintings bring together a variety of styles: realistic images that have undergone stylization, abstract color fields and floral or geometric patterning. A central image or images generally dominates, among them a Tree of Life, plant foliage and the blossoms of flowers. In some cases these objects glisten dimly behind a dark veil of color.
Many of these images are culled from art and artifacts of Western or East European origin. The ease with which Zusman seems to move freely between different cultures may be due to her own history of emigration and relocation. Among her sources are ornamental elements found on ancient ceramic tiles, medieval carpets and the textiles of William Morris and the English Arts and Crafts movement.
In some instances the main images are flanked by bands of patterning that recall, for example, Islamic ornament; or, as in one case, the  weaved ribbons bordering the pages of Ireland's Book of Kells. References to Israeli art are not apparent, although the presence of (stylized) cypress trees in some of he paintings may refer to this symbol of mourning particular to Israeli art.
There is a certain magic to some of her paintings; in her friezes of running and battling animals, for instance. Looking at them makes one think of the stags and bisons incised or painted on the walls of Prehistoric caves. Their function is unknown, but it is thought that they had acted as talismans for a successful hunt.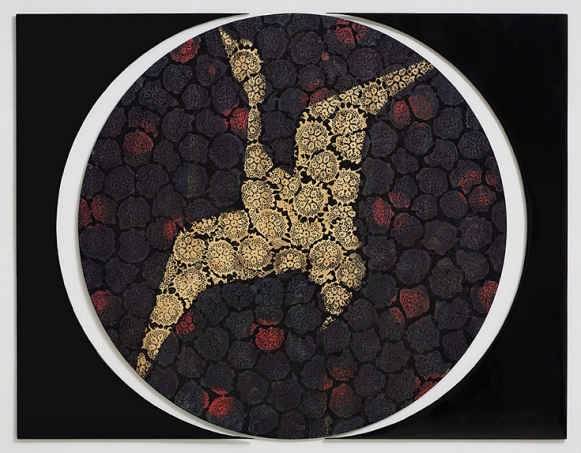 Particularly engaging are her recent depictions of birds. In one instance a pair is presented in the form of identical black cut-outs; in another a single creature is featured, resting on a pallet of plants and flowers. Its pale body, made up of tiny flower-heads, is caged by a circle of light produced by excising a round of wood to reveal white wall.
Matisse-influenced Pattern painting had its heyday in the 1970s, first in North America and then in Europe before sinking into oblivion. Then, the focus was on all-over surface designs. Now, Zusman, with her ease of movement between East and West, past and present, coupled with intriguing combinations of imagery and pattern, brings something new to this genre, and, indeed, to the evolving history of Israeli painting.
On Friday, July 25th at 12:00, there will be a gallery talk with the artist Masha Zusman and the exhibition curator Irit Tal. Admission free.
Till October 17th 2014
The Genia Schreiber University Art Gallery, Yolanda and David Faculty of Art,
Tel-Aviv University, Ramat Aviv