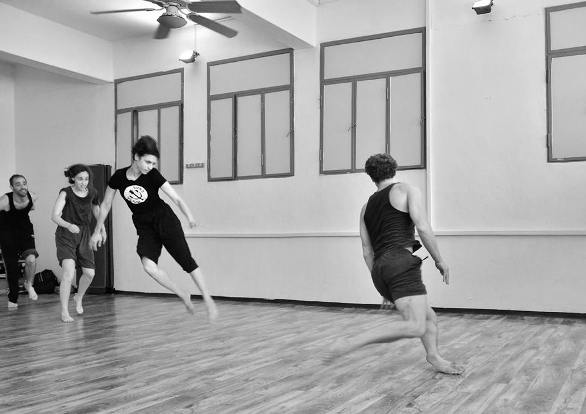 It's risky and exhilarating: Project 48 Dance teams choreographers and dancers to create short dance pieces, working 'round the clock from idea to performance in 24 hours. It's a format that has been popular in film and theatre in recent years, and was initiated in this dance format by choreographer Dana Ruttenberg in June 2013. Now in its 2nd edition, Project 48 Dance will take place again this coming weekend, with performances on September 19th and 20th.
How does it work?
Artistic Director Ruttenberg invites choreographers, dancers and dramaturgs to take part. A lottery determines the number and gender of performers in the work for each choreographer, who then assembles the appropriate number of male and female dancers, drawing names at random from a hat. Then the dramaturgs each draw the name of a choreographer, and the teams are in place. They have 24 hours to create and rehearse a dance piece, complete with music, costumes, set and lighting – it's a trip.
Come along for the ride: rehearsals will be streamed live online, and can be viewed in real time from any location. The channel will open on Thursday, September 18th at 21:00 (TLV time) on the Dana Ruttenberg Dance Group facebook page and the streaming channel.
There will be 10 short dance works performed in two rounds of 24 hour creation. Participating this year are: Eyal Bromberg, Gilad Goral, Matan Daskal, Neil Harris, Eyal Weiser, Ofir Yudilevitch, Moran Zilberberg, Amit Zamir, Ariel Cohen, Nitzan Lederman, Avshalom Latucha, Ori Lenkinski, Niv Melamed, Noa Mark-Ofer, Rosalind Noctor, Marija Slavec, Stav Struz, Ofer Amram, Anat Cederbaum, Nataly Zukerman, Ofri Celniker, Zohar Ralt, Lotem Regev, Efrat Rubin, Uri Rubinstein, Yarden Raz, Renana Raz, Oz Shoshan, Reut Shatz, Rotem Tashach.
Performances will take place on September 19th at 21:00 and September 20th at 22:00, Warehouse 2, Jaffa Port. Tickets are 50 NIS, and may be ordered online www.tixwise.co.il/drdg or call: 03-9021563.