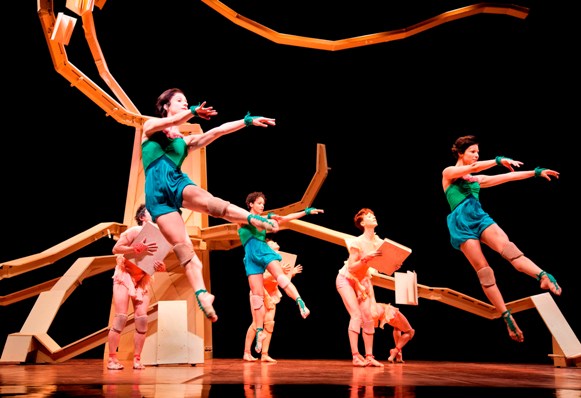 Companhia de Dança Deborah Colker will be returning to Israel with Tatyana, based on Alexander Pushkin's Eugene Onegin, and artistic director/choreographer Deborah Colker herself will be performing with her company. Performances will take place from October 29 – November 1, 2014 at the New Israeli Opera/TAPAC in Tel Aviv, and November 4th and 5th at the  Jerusalem Theatre.
It is no simple task to take a masterpiece such as Pushkin's Onegin (we're talking about nearly 400 stanzas of iambic tetrameter verse in a complex rhyme scheme). Sometimes I think the secret to a good adaptation is to focus on those elements of the original to which one feels most connected, and take off from there. Eugene Onegin is a tale of attraction, rejection, jealousy, love, betrayal, and loss. While the particulars of the social milieu are dramatically different from those of the mid-19th century, human emotions remain very much the same. Colker's version tends more to the abstract than narrative, and some acquaintance with Pushkin's story might be beneficial.


The aristocratic dandy Eugene Onegin spends time in the country and befriends a young poet, Vladimir Lensky. When Lensky invites Onegin to dinner with the family of his fiancée, Olga Larina. Tatyana, the younger daughter in the family, is instantly smitten with Onegin and writes him a romantic letter, which he ignores. Onegin later rejects her advances in a cold, patronizing manner, wounding Tatyana's feelings. Invited once more by Lensky to a party in celebration of Tatyana's name day, Onegin callously flirts with Olga, leading Lensky to challenge him to a duel. Onegin kills Lensky, and in his remorse, decides to leave the country. Returning after a sojourn of several years abroad, Onegin sees a beautiful woman at a ball. Upon closer look he realizes that it is none other than Tatyana, whose affections he spurned. Onegin professes his love to her, but she responds that although they might have been happy once, it is now too late, she is married and she will remain faithful to her husband.
A pianist and professional handball player before she turned to dance, Colker had the opportunity to express her musical interests in OVO, a work that she wrote, choreographed and directed for Cirque du Soleil in 2009. She is the first woman to create choreography for Cirque du Soleil. Colker is the recipient of the Laurence Olivier Award for Outstanding Achievement in Dance for her work MIX.
Performances
Israeli Opera/Tel Aviv Performing Arts Center: October 29th & 30th at 20:00; October 31st at 13:00; November 1 at 21:00.
Jerusalem Theatre: November 4th & 5th at 20:30.
Tickets are 149 – 299 NIS; and may be ordered from the Israeli Opera via the website www.israel-opera.co.il, or call: 03-6927777; Bimot via the website www.bimot.co.il, or call *6226; and the Jerusalem Theatre via the website www.jerusalem-theatre.co.il, or call: 02-5605755.