It doesn't matter if you are lesbian, gay, straight, young, old, male, female or transgender. Whether you are a parent, or never plan to be one. If you had a close relationship with your own parents, or no relationship to speak of at all. Every once in a while, a movie comes along that is just as captivating as it is significant, Sophie Hyde's 52 Tuesdays is that kind of movie. I first saw it at the TLVFest 2014 screening, and was very glad to hear that it will be shown at the Tel Aviv Cinematheque starting October 23, 2014. I strongly recommend this film, and can do no better than re-post my own first impressions of the film:
52 Tuesdays, directed by Sophie Hyde, takes on tough issues with honesty and verve, delivering a film that is socially relevant while deftly avoiding both the didactic doldrums and the titillation of teen porn.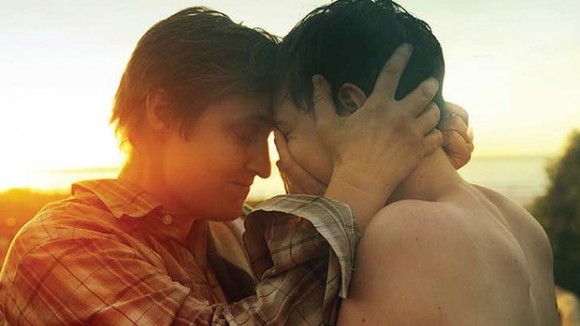 16 year old Billie (Tilda Cobham-Hervey) comes home from school one day to find out that her mother Jane (Del Herbert-Jane) plans to transition into life as a man. While going through this change, Jane feels the need for some time to herself, and the plan is for Billie to live with Tom( Beau Travis Williams), the father who's always been at a distance from the intimate mother-daughter dyad. During this time, Jane and Billie decide that they will meet every Tuesday, to spend some quality time together, and give both of them the breathing space to adjust to the changes taking place.
Transgender is a word that invariably raises difficulty: some people don't want to talk about it at all, others just don't know how to talk about it. We humans tend to like things to be as simple as possible, well-defined, with neat borders. Identity is a huge issue in our brief lives and we try our best to get these questions settled as soon as possible. Politics, religion, sexual preferences, career – there are so many things to figure out as we grow into adulthood, it's much simpler to think of gender identity as something that is a given, coded into our DNA. Girl or boy, it's made clear at birth, or with the aid of technology, in utero. There's only one problem: it's not that simple.
For many of us, our gender has been something that has shaped so much of our life experience and outlook; through all the vicissitudes of life, it is the one thing we have always known about ourselves, that remains immutable, at the core of our very being. Thinking of gender in flux tends to get people flustered. No one likes ambiguity.
As Jane takes on the name James, and other gender markers, Billie is in the throes of adolescence, that ultimate age of uncertainty and experimentation. Now on top of that, she has to deal with questions like: am I supposed to call my Mom "Dad"? Billie and her mother navigate the shaky terrain of their lives, as suddenly everything is questioned, including that post-modern confection: the close, open, honest, family.
"Once upon a time I had a mother who told me everything," Billie says in the opening scene, as she records a video diary. Each generation that suffers through the pain of adolescence and contemplates reproducing, vows to be different, to be better. Parents of the post "Free to Be You and Me" era, indulge in their own myths of perfection: We'll be better than our suffocating, narrow-minded, hypocritical parents. The families we create will have honest and open communication between parents and children, freedom of choice, total acceptance. But the relationship between parents and children can never be entirely egalitarian, and if previous generations made the mistake of holding their kids back with too many rules, conventions and restrictions, today's youth are let loose in a world where, without guidance, they may all too easily get lost.
The film deals with time in a fascinating manner. 52 Tuesdays was filmed over the course of a year, once a week at the same time, corresponding to Billie's meetings with her mother Jane, as she makes the female to male transition to become James. Director Sophie Hyde chose to work with non-professional actors, and the results are impressive. Del Herbert-Jane gives a stand-out performance. James' search to find his place and sense of self, while struggling not to lose his relationship with his daughter, is incredibly moving. The young Tilda Cobham-Hervey literally grows up in front of the camera, and as one watches the small traces of time and changes in all the characters, the film acquires a certain heft and depth. The rhythm is mesmerizing: one event follows another in short scenes, moods shift, and the viewer, like the characters is swept away with the flow. There is the electricity of the moment, the perspective gained in retrospect, and the realization that some things, like understanding, take time.
52 Tuesdays will be shown at the Tel Aviv Cinematheque beginning on October 23, 2014. Tickets are available online via the cinematheque website.
52 Tuesdays (Australia, 2013, 114 min, English with Hebrew subtitles)
Directed by Sophie Hyde; Written by Sophie Hyde and Matthew Cormack; Screenplay by Matthew Cormack; Cast: Tilda Cobham-Hervey, Del Herbert-Jane, Beau Travis Williams, Sam Althuzien, Imogen Archer, Mario Spate, Danica Moors.
52 Tuesdays won the Directing Award for World Cinema, Sundance Film Festival 2014; and the Crystal Bear, Berlin International Film Festival, Generations 2014.