Terrorism opens with a scene that has become so common, it verges on the banal: a group of tired passengers waiting at the airport, their flights delayed indefinitely due to a bomb scare. This is the terrorism with which we have become all too familiar. Yet the frequency of such scenes, the soporific cocktail of anxiety, uncertainty, and boredom, does not in any way diminish the violent intentions and their impact.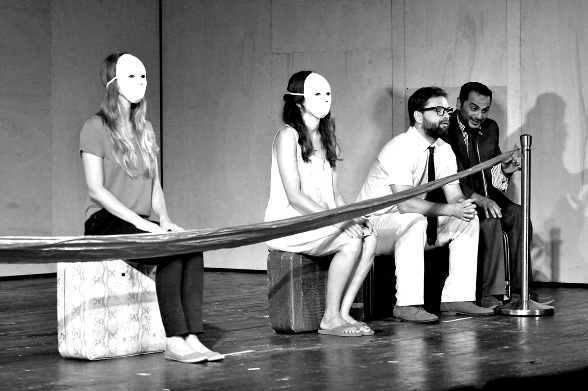 Written by the Presnyakov Brothers, Terrorism premiered at the Chekhov Moscow Art Theatre in 2002, and concerns itself not so much with terrorism in public sphere, usually with political overtones, but in something more insidious and intimate. The Gesher Theatre production, translated by Anna Shulik, is the directing debut of Michael Kremenko, the theatre's house designer.
What is terrorism? Various dictionaries definitions concur that it is the systematic use of violence and intimidation to induce a general atmosphere of fear in order to achieve a particular, usually political, objective.  The extent to which the trope of terrorism has become part of contemporary daily life, our capacity not only to inflict violence, but to accept the inevitability of its presence, repulses and horrifies me. Our culture's acceptance of violence is perhaps as or more frightening than the violence itself. In a series of vignettes with recurring characters, Terrorism is an observation of contemporary life as dystopia, investigating the concept of terrorism, depicted as an internal, rather than external force.
In designing the set, Kremenko makes good use of movable panels, painted in a neutral color that easily transform the look of each scene, while providing a unifying visual theme that enhances the play's ultimate message. This set also serves as a canvas for video projections that are an integral part of the play, taking on different roles and functions in each scene. In this production, the play is framed by a non-speaking role: a drummer boy dressed in a sailor shirt and overall shorts, a white mask covering his features. His presence insinuates a distance from the events to be presented as he conducts the music that introduces the play, reminding us that after all, we are in the theatre.
The short vignettes are compelling, revealing a wider story within a fragment briefly glimpsed. As the tales accumulate, and characters recur, once soon discerns a common, and deeply disturbing theme: a violence, a cruelty that erupts almost at random, coming unexpectedly in the middle of a conversation between two elderly women, a lover's tryst, an ordinary day at the office. The ensemble of actors perform impeccably, striking just the right tone in this difficult play. My favorite scene is the one set in an office. A brief sequence of choreography (Miri Lazar) conveys so much about the nature of the place and the people in it, without a single word spoken. The workers (all women) move as if they are part of an assembly line, just another cog in the machine. An unsettling discovery brings to light all that usually remains hidden beneath the facade of collegial manners: the competitiveness, the lies, the loneliness.
Kremenko arouses interest with this directing debut, yet despite the accolades they have received, I find I lack enthusiasm for the Presnyakov Brothers. The picture they paint with words is too bleak, too cruel, and while it is labeled a "black comedy" I do not find the humor in this text. Perhaps it is a question of language and its relationship to culture, the nuances that strike a comic chord in one culture/language may not translate directly to another; perhaps it is a question of personal preference. Oleg and Vladimir Presnyakov write together under the joint nom de plume of The Presnyakov Brothers. Educated at the M. Gorky Urals State University, they were formerly faculty members there, Oleg in literary theory and philology, and Vladimir in literary theory and psychology.
Terrorism
Written by the Presnyakov Brothers; Translated by Anna Shulik; Directed and Set Design by Michael Kremenko; Costumes: Aline Lazarov; Lighting: Alexander Sikirin; Choreography: Miri Lazar; Multimedia: Stanislav Levor; Line Producer: Roman Kvetner; Cast: Lilian Ruth, Svetlana Demidov, Vitaly Fux, Naomi Levov, Alexander Senderovich, Paulo A. Moara, Karin Seroya, Daniel Styopin.