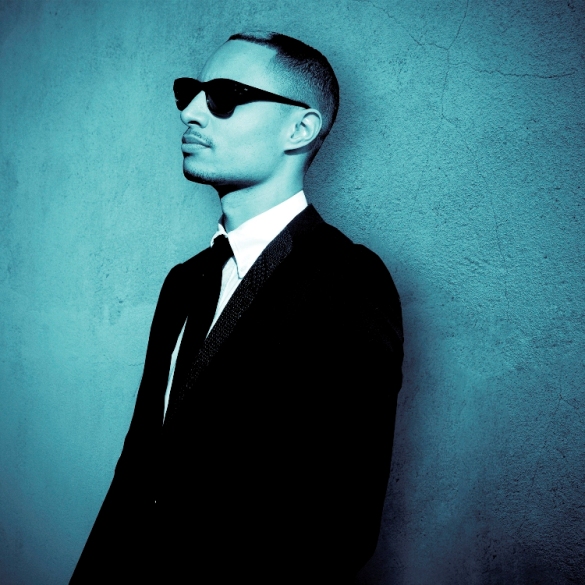 I am listening to José James and liking every little thing I hear from this genre-mixing jazz vocalist. James will be opening this season's Jazz Series at the Israeli Opera/Tel Aviv Performing Arts Center with a performance on October 10, 2014, this will be his first visit to Israel.

Defining the singer-songwriter with the warm baritone is a challenge, I think José James himself said it best in an interview with pianist Robert Glasper for Blue Note, "I love hip hop, indie, rock, soul, whatever I want to do it's just music. That's the spirit I'm working in, no limit."
Whether he's flying on the electro-groove of his original Every Little Thing, or finding an indie-intimate tone deep within George and Ira Gershwin's classic Embraceable You, he's making it his own and it's pure pleasure.

James was born in Minneapolis in 1978, drawing on musical influences from home (his father is a jazz saxophonist and multi-instrumentalist) and everywhere, he was already performing locally in his teens. He attended The New School for Jazz and Contemporary Music, where he studied with pianist Junior Mance and drummer Chico Hamilton, both musicians invited him to perform on their recordings. His first big break came in London in 2006, when he participated in a vocal competition and met Gilles Peterson who signed him to the Brownswood label. There he debuted his first album, The Dreamer, in 2008, followed by Blackmagic in 2010. In that same year, For All We Know, a collaboration with pianist Jef Neve, came out on the Impulse! label. The album is a collection of jazz and pop standards in new interpretations, and won the Edison Award and L'Académie du Jazz Grand Prix for best Vocal Jazz Album of 2010. After signing with the Blue Note label, he released the albums No Beginning No End (2013) and While You Were Sleeping (2014).
José James will perform on Friday, October 10, 2014 at 22:00 at the Israeli Opera/Tel Aviv Performing Arts Center. To reserve tickets call: 03-6927777. On Saturday, October 11, 2014 he will perform at the Zappa Club in Jerusalem at 21:30, to reserve tickets call: 03-7626666 or *9080.
Mark your calendars for these upcoming performances in the Jazz Series:
Saxophonist Eli Degibri on November 5, 2014.
Trumpet player Christian Scott on January 23, 2015.
Jazz singer Gregory Porter on March 20, 2015.