The Israel Ballet's new version of Madame Butterfly, merging opera, ballet and live music onstage will make its world premiere at the Israeli Opera, October 9 – 11, 2014. Based on Giacomo Puccini's beloved opera, with music arranged by John Longstaff and choreography by Marianna Ryzhkina, the work was commissioned by the Israeli Opera in celebration of its 30th anniversary.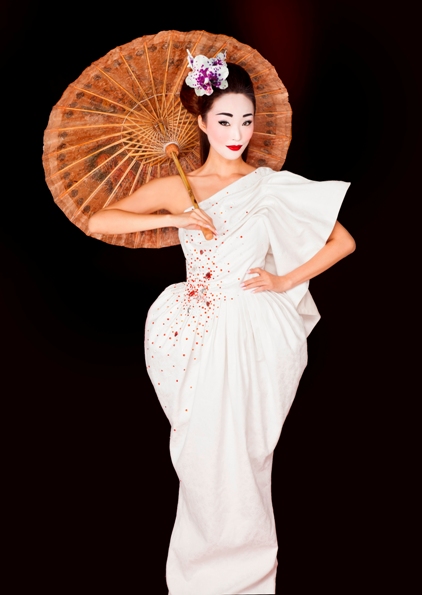 Madame Butterfly is a harsh story of love and betrayal, conveyed with beauty and passion in Puccini's music. The original short story by John Luther Long, published in 1898, is based on the memories of his sister's soujourn in Japan, and was also influenced by Pierre Loti's novel Madame Chrysanthème (1887). Ciocio San is Madame Butterfly, a naive Japanese maiden who marries U.S. naval officer Pinkerton, essentially under false pretenses. She believes it is a sincere union and loving marriage, and even converts to Christianity for his sake, which forces an estrangement from her family. Yet for Pinkerton it is a marriage of convenience, a temporary arrangement, taking advantage of the flexibility of Japanese divorce laws to make his tour of duty more pleasurable while maintaining a dignified facade. When Pinkerton leaves for the U.S., Butterfly remains faithful and yearns for him, even though her skeptical maid Suzuki warns her that he has no intention of continuing his relationship with her. Guess who's right?
The Israel Ballet's production of Madame Butterfly boasts an impressive international creative team. Choreographer Marianna Ryzhkina is a principal dancer of the Bolshoi Ballet. She joined the company following her graduation from the Moscow Academic Choreography College in 1989, and her repertoire includes principal roles in the classic ballets The Nutcracker, Don Quixote, La Sylphide, The Sleeping Beauty and many more. In 2002 she was awarded "Honored Artist of the Russian Federation." The Israel Symphony Orchestra Rishon LeZion will perform, conducted by Ethan Schmeisser, with soloist Efrat Ashkenazi, soprano. In the role of Butterly is Tomoko Takahashi. Born in Japan, she has been a member of the Columbia Classical Ballet, Singapore Dance Theatre and the dance company of the Budapest Opera before joining the Israel Ballet as a principal dancer.
Performances will take place: Thursday, October 9th at 21:00; Friday, October 10th at 13:00; Saturday, October 11th at 21:00. Tickets prices range from 149 – 299 NIS, and may be ordered online www.israel-opera.co.il or call: 03-6927777. Duration: approximately two hours.