I am not your typical ICON participant. I'm a mom over the age of 50 (okay, okay – nearly 60).  There were some people over 50 at ICON – but not many.
Which is a shame, because ICON is really fun.  I confess right here in the beginning that I didn't go to a single workshop, or lecture, or movie. I spent the day, as I have at the previous three ICONs that I've been to, people-watching and browsing the stalls. Since there were so many things for sale this year, going around to each stall twice (especially the book sellers!) took the entire afternoon.
The costume parade is always interesting. The level of costume making is amazing – everyone goes to great lengths that to get his or her costume just right. Most of the costumes were characters from games I've never played or movies I haven't seen – but it didn't matter, I enjoyed the experience all the same.
I spoke with quite a number of people there about what the attraction of ICON is, and their answers were all basically similar.
Adi Zilka (below) was dressed like a character from an online game, League of Legends (no, I had never heard of it, but her costume was amazing!). When asked why she comes to ICON she replied, "I come to see merchandise, to meet friends from all over the country, and it's a good reason to dress up!! You can be whatever you want to be – a Goth, or an Orc, you can do it – nobody cares."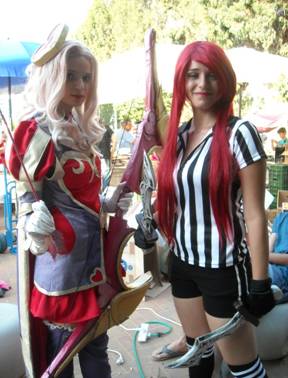 Tehila Brooks and her sister Avigayil (below) were dressed as Jedi from Star Wars. They have each been to ICON five times. Tehila says, "It is so awesome to be here and to talk to people who understand. Ever tried to talk to someone about Dr Who? It's refreshing to be able to say something and everyone knows what you are talking about."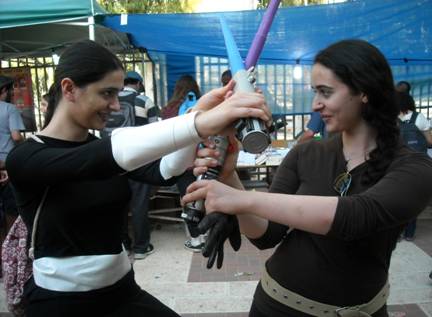 Dana Venkert (below) was dressed like a character from Brave, Merida. It took her a few weekends to make her costume.  This is only her second time at ICON.  She says, "It's not only that I like what is here; fantasy, anime, science fiction, etc. People who come here are proud to like this stuff."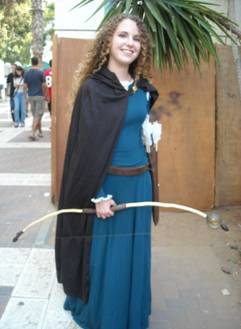 Hoshen Gruman (below), dressed like Queen Cercei from Game of Thrones, has been at ICON 5 times. She says she comes to ICON "mostly because of the people. It's weird people together, it's fun, it's good vibes! The lectures are interesting and you can't find anything like it anywhere else."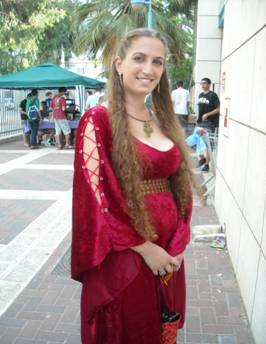 So if you have geeky kids or are a science fiction/fantasy lover, this is a perfect place to spend an afternoon or several afternoons. They have famous authors speak, and a costume parade and much more. And it is simple to get to – just a short walk from the HaShalom train station in central Tel Aviv. Which makes it easy even for old people like me to get there…
ICON took place from October 12 – 14, 2014 this year. For information on future events, check out the ICON website  and ICON facebook page.