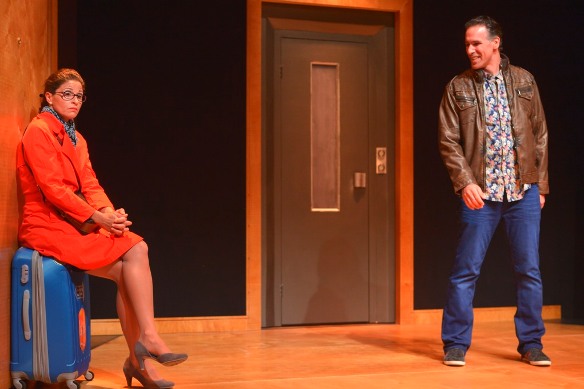 You don't have to be single in the city to enjoy the sexy verbal sparring of Liron Baraness and Carmit Mesilati-Kaplan in the Khan Theatre production of Fabrice Roger-Lacan's The Next Door (La Porte à côté). The play marks Erez Shafrir's directing debut and it is a tasty confection, with just the right proportions of salty and sweet.
The premise is simple: the two are neighbors in an apartment building, living opposite one another. Mesilati-Kaplan plays a tightly wound psychologist, nothing like the "girl next door" American archetype. With her black plastic frame glasses, pulled-back hair, and meticulous outfits that reveal nary a curve, she is well in control of her looks and life, but watch those red shoes, obviously there's more to this neighbor than meets the eye. Just across the hall, her neighbor is worlds away. Baraness plays an easy-going guy, relaxed and confident, a product manager for a yogurt company who has a way with air guitar. They meet as city neighbors often do, he is playing really loud music and she is trying to work.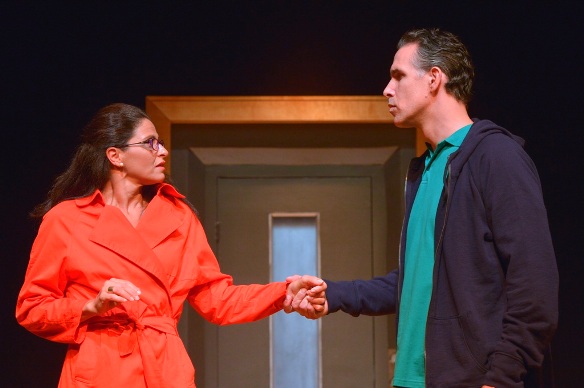 The dialogue is very keyed to our self-aware, self-absorbed, contemporary culture, and all the defensive tropes that mask loneliness. They are about as different as two people can be, and even though somewhat predictable (she loves foreign films, he is into self-help workshops), it is fun to watch these two collide and bounce witty repartee off one another. Both Baraness and Mesilati-Kaplan embody their characters with vivacity and comic timing, imbuing them with charm as they surf the internet looking for what we, the all-knowing audience, know is right within reach. It's a fun, funny, sweet, assertion that despite our intellectual prowess and complicated algorithms, love and attraction remain mysterious.
La Porte à côté/The Next Door
by Fabrice Roger-Lacan; Translation: Menachem Carmi, Daniella Carmi; Directed by: Erez Shafrir; Set Design: Lily Ben Nachshon; Music: Itamar Gross; Lighting Design: Roni Cohen; Costume Design: Elinor Zilbermann; Editing: Dori Parnes; Cast: Liron Baraness, Carmit Mesilati-Kaplan.