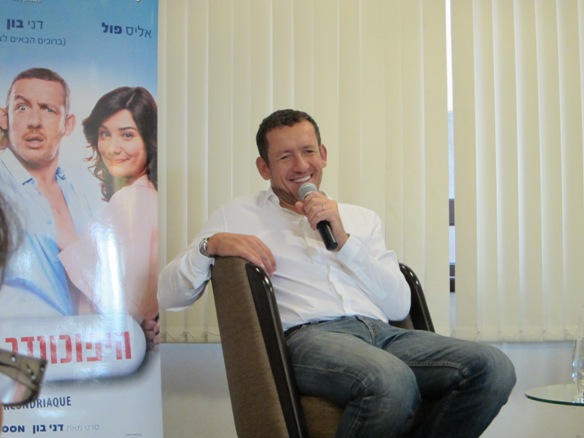 Comedian and filmmaker Dany Boon is in Israel and held a press meeting at the French Insitute in Tel Aviv this week to talk about his new film Superchondriac, comedy, and being Jewish. This is not Boon's first visit to Israel, he's been here several times before, but this is the first time he's taken time out from visits with family (in Ramat Aviv and Ramat Gan, in case you're curious).
Superchondriac will open in Israeli theatres on December 25, 2014. The film was written and directed by Boon, who also stars as Romain, a man whose life is so overtaken by his hypochondria that his doctor (Kad Merad) is his only friend. The chemistry between Boon and Merad is great, as are the sparks between Boon and the doctor's sister, played by Alice Pol. Into the mix of lovelorn hypochondria add a bit of mistaken identity, and there's a recipe for lots of laughs.
Boon chatted easily with the press in a very friendly conversation that took place in French, with translation into Hebrew. He's a very funny guy, but definitely has his serious side as well. When asked whether his new film has an autobiographical aspect, Boon readily acknowledged, "Oh yes, I am rather a hypochondriac." But according to Boon, we're all becoming hypochondriacs with our easy access to the stores of medical information on the internet: "As soon as we have any kind of symptom, we check the internet on our phone or computer, and we open a kind of Pandora's box."
Describing laughter as a form of acceptance, Boon said, "When you want to make people laugh, it's important to laugh at yourself. I always saw laughter as a kind of tikkun, an acceptance of our human foolishness. I don't like political satire… I think that laughter has to be free. I can't do political satire. I make portraits of people who are unknown, human stories that are timeless."
Making the film has apparently not cured Boon of his own hypochondriac tendencies, he said that a recent tremble in his eyelid sent him rushing to the doctor, worried that he had Parkinson's disease. However, fear does not prevent Boon from helping others. As a teenager of 17, Boon trained in first aid, and on several occasions assisted in life-threatening medical situations, in one instance applying pressure to the neck of a man whose jugular vein had been punctured.
Boon converted to Judaism 13 years ago, and inevitably the topic of anti-Semitism came up in the conversation. Describing his family background, Boon told the press that his mother came from a Catholic family in the North, while his father was from an Algerian Kabyle background, saying, "Her family rejected us. My grandfather lived a kilometer away from us, and I never saw him…I am accustomed to this hatred, common to all minorities." Perhaps as a result, his close family circle was very tolerant, open and accepting. When Boon converted and married a Jewish woman, his Catholic mother crocheted all 100 kippot for the wedding ceremony.
Since his conversion, he has encountered some anti-Semitic comments from journalists in France, but most poignant was Boon's description of the years he lived in Los Angeles, attending services at the synagogue there: "there were no police or barricades at the synagogue, and after services, people could stand outside the building and talk, which one cannot do in France. The 21st century has not gotten off to a good start in this sense."