Sex is everywhere – in movies, television, advertising, music, and of course, on the internet. One might think that the omnipresence of sex in the public sphere would make it easier to talk about sex, but no, not really. The discourse of sex is still problematic, a muddy minefield of desires, taboos, prejudice, pressure, ignorance, and shame. The rampant commercialization of sex has not made it any easier for the individual to negotiate this treacherous terrain, the opposite might be even be true. Where once it might have been socially acceptable to lack knowledge or experience, inexperience itself has been added to the list of social and sexual faux pas. As for a more open and tolerant attitude, the proliferation of sex in the public sphere often perpetuates and reinforces stereotypes and prejudice. That is why, when something different comes along, I stand up and take notice.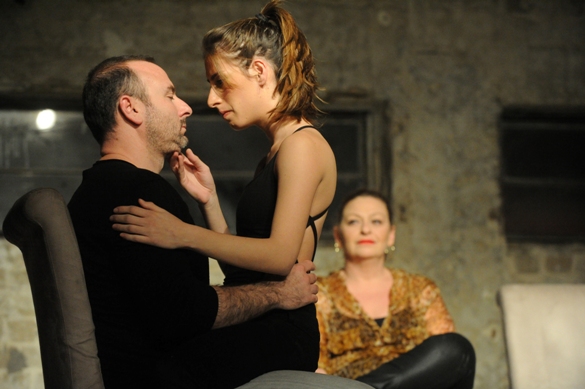 Project S, written by Ido Bornstein and directed by Shlomo Plessner, is a funny, groovy, fast-paced and tender theatrical exploration of sex in our contemporary culture. The play is written as a series of vignettes, revealing scenes in the lives of several characters, with an excellent ensemble cast performing different roles throughout the evening. It's a research-based play, yet with none of the didactic or moralistic markers often typical of the genre. Bornstein and Plessner interviewed women and men, asking questions about body image, fantasies, orgasms, taboos and what you will. These provided the raw material from which dialogues and monologues were created. Project S does not have one narrative arc, or viewpoint, it has many.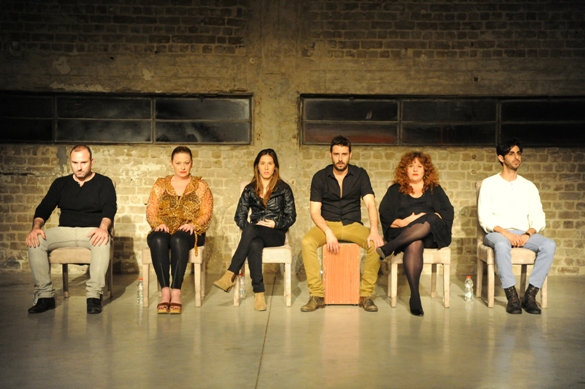 There are no agendas or judgment, just people with their stories and experiences.
The staging at once accentuates the theatricality and artifice, and at the same time, dissolves the barriers between actors and audience. When I saw the play at the Jaffa Theatre, the six cast members – Hai Maor, Talya Menashe, Nadav Nir, Rami Kashy, Esti Zakhem, Odelia Segal – were already seated in simple chairs on the stage as the audience entered, and the atmosphere was friendly and casual, almost as if they had invited us into their living rooms. They moved in and out of different characters with ease and when not in character, viewed the action from their stage chairs, enhancing the feeling that we had all gathered here to talk about sex and even though some of us were sharing stories and others were listening – we were all in this together.
Yet there is a deliberate and very entertaining theatricality to this piece, which begins with a brief wordless interlude of choreographed seduction. The movement throughout is performed with skill and humor, the pace is fast, and there is an engaging rhythm to the delivery, accompanied at times by drumming. Each scene is a different story, a different experience brought to life through words and movement. One swiftly moves from the joys sexual indulgence with strangers in Berlin – "everything is allowed, no one will judge you," to the ambiguity pleasures of random sex in the city, from the bittersweet moments of an extramarital affair, to a weary, middle-aged married couple seeking, searching and not quite connecting, from the confused musings of a man – "something bad has happened between women and men, and no one talks about it," to a woman's shy whisper: "I love sex."
The stories are presented in the form of individuals sharing their intimate stories with a group, in this case, with the group created by actors and audience. There is no agenda, no judgment, no summarizing conclusion – it's just all out there to see, hear and feel. The creators are to be commended by the wide span of their gaze, they've put a great deal of human sexual experience into a very entertaining show. Way to be inclusive! Rarely have I heard the clitoris, that joyful body part, mentioned so often in one evening (onstage), and this is the first time I've seen the experience of a person who is asexual portrayed onstage. They even include that infamous four letter word – love – in this crazy mix. Lesbians appeared to be missing from this party, but since the dialogue (in Hebrew) was indeed very fast, it is possible I may have missed some references along the way.
Project S had me deeply involved and often laughing all the way through, and when the lights dimmed and the show was over, it left me with a lot to think about. Project S puts it all out there, it's a really fun evening and a terrific opening for conversations about sex.
Project S
Written by Ido Bornstein; Directed by Shlomo Plessner; Set design: Eitan Levi; Costumes: Aya Tzeiger; Lighting : Hani Vardi; Music consultant: Kobi Vitman; Photography: Gadi Dagon; Asst. director: Saar Shrifi; Production: Ella Barda; Ensemble Can CEO: Yohai Barak; Poster: Carmel Abuzzlef; Cast: Hai Maor, Talya Menashe, Nadav Nir, Rami Kashy, Esti Zakhem, Odelia Segal