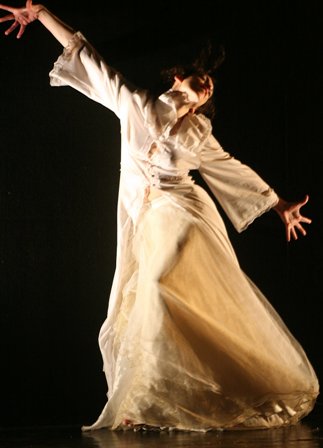 Beauty and controversy, love and loss marked the life and career of opera singer Maria Callas (1923 – 1977). Choreographer Shlomit Fundaminsky's La Divina is a striking solo piece inspired by the woman, her exceptional voice, character and life. The dramatic and intimate work, set to the immortal voice of Callas, will be performed by the choreographer at the Israel Museum on January 6, 2015.

This will be the third in a series of special performances in the museum, concurrent with the exhibition Out of the Circle: The Art of Dance in Israel.  The exhibition celebrates Israeli dance and choreography with photographs, video, posters, drawings, giving a sense of the history and development of dance since the 1920s, and a look at the diverse spectrum of contemporary dance. (Read more about the exhibition here). The performance series brings a selection of cutting edge Israeli choreography into the unique setting of the museum, offering viewers an opportunity to see dance in an intimate, alternative setting.
The full program:
January 6: Shlomit Fundaminsky – Mantra and La Divina
January 13: Niv Sheinfeld & Oren Laor – Two Room Apartment (Read more here)
January 20: Avi Kaiser & Sergio Antonino – At Your Place
January 27: Idan Sharabi – Makom
February 3: Noa Zuk – Doom Doom Land
February 3: Hillel Kogan – We Love Arabs (Read more here)
February 10: Yasmeen Godder – Lie Like a Lion
February 17: Dafi Altabeb – Sensitivity to Heat
February 24: Renana Raz – Pictures at an Exhibition (a special evening with highlights of past works performed throughout the museum, featuring Ilayah Shalit, Ran Ben Dror, Ofer Amram and Renana Raz)
All performances will take place at 21:00 in the exhibition gallery. Tickets are 65 NIS adults/50 NIS for members, students and soldiers; they may be purchased online at www.imj.org.il. Admission to the performance includes entrance to the museum after 20:00.