In the midst of the Tel Aviv winter, on one of the rainiest, coldest nights of the year, I found myself braving the elements to see Sharon Kirschner's comedy cabaret Single, Jewish and Thirty – Oy Vey! I know that it's only January, but as I make my 'best of 2015' list, this show is right at the top, and there it is sure to stay. Sharon Kirschner is an amazingly talented performing artist. Not only does she have a vibrant stage presence, wonderful voice, great moves, warm rapport with the audience, meticulous comic timing and yes, she is beautiful, but she also writes her own material, and it is edgy, funny, moving and wise.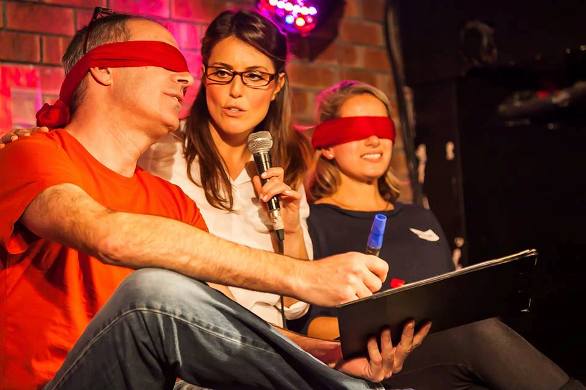 To be honest, it was not without some trepidation that I approached Single, Jewish and Thirty – Oy Vey! The subject matter is tricky to work with, precisely because it is so emotionally charged and almost too relevant. So much has been said on this topic, in earnest and in jest, that it is very hard to say something new, even more difficult to avoid the pitfalls of cliché. Kirschner embraces the familiar tropes of contemporary single-and-searching, co-opting the corny and clichéd to make them work for her – and it works brilliantly! The show is set within the narrative frame of a singles conference, with Kirschner as the motivational speaker/host, and the audience as participants. In evangelical, relationship specialist mode, she calls out to the audience: "Are you ready to be loved?"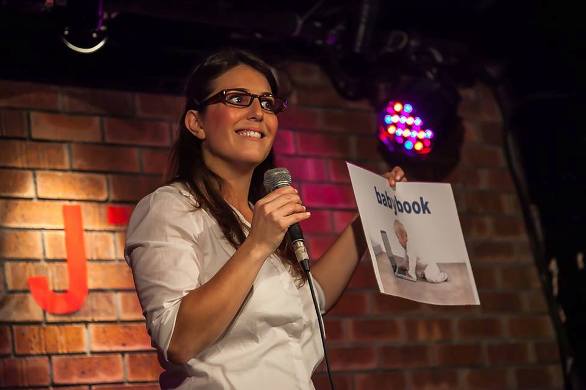 Kirschner aims an honest and accurate gaze at all aspects of dating, relationships, love, sex and beyond, and she hits the mark every time. She had me laughing out loud with her unique perspective on Jewish angst, internet dating, cyber sex, weddings, cyber stalking, and love in unexpected places. Not only an actress, but a practicing psychologist, it is perhaps no surprise that when it comes to the treacherous terrain of the emotions – Kirschner knows her stuff. Single, Jewish and Thirty – Oy Vey, is hilariously entertaining, and perhaps even educational for the sexually timid, but I also found it very moving, and at the risk of jargon abuse, even empowering.
Following two sold out shows, an additional show will take place at Cafe Bialik (2 Bialik Street, corner of Allenby, TLV) on Wednesday, January 7, 2015 at 22:00. Please note: even though Cafe Bialik's  listed hours show that they are open before the show, they clear everyone out in preparation for the show, and theatre goers must wait outside until the doors officially open – half an hour before the show starts. Please check the facebook event page for exact times and updates. The performance is in English.