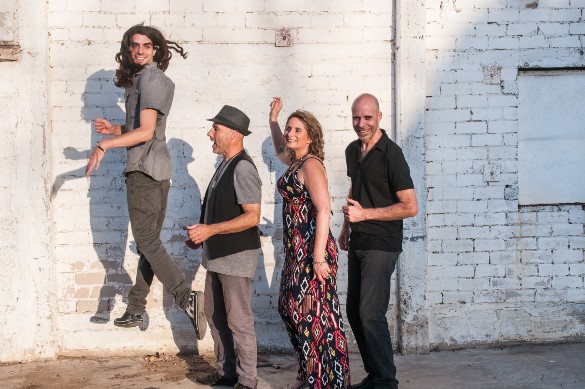 Oud, darbuka and electric guitar – the studio fills with an Oriental rock sound and words dance in the air with a Middle Eastern arabesque: "Sha'alu oti, sha'alu oti." The song is at once familiar and new, a Hebrew version of Sa'alouni El Nas, sung by Fairouz, the Jewel of Lebanon. The band is Turquoise, and they will be launching their first EP at The Zone on January 14, 2015, a tribute album to the beloved Lebanese singer, whose stage name means turquoise in Arabic. Performing will be: Dalit Friedman – vocals, flute; Oren Eliezri – guitars; Oded Adar – bass guitar; Yaniv Teichman – oud, saz; Asaf Zinger – keyboards; Roni Ben Ezra – drums; Roy Friedman – percussion; with special guests George Sama'an and Salem Darwish. Turquoise was founded by Oren Eliezri (formerly a founding member of Mashina) and Dalit Friedman, partners in music and in life who welcomed me into their rehearsal room at Keoss studios in Tel Aviv, to hear their first full ensemble run for the upcoming concert.
The music drew me in with its seductive rhythms, the kind of music that makes the body dance. Merging Arabic instruments and scales with diverse musical influences, the arrangements are richly textured. The words flow easily in Hebrew, with touches of Arabic to convey the sound of the original. It's a musician's translation, attuned so well to sound and rhythm that I felt as though I could sing along.

Why is an Israeli band performing a tribute to Lebanese singer Fairouz? Oren and Dalit shared their musical journey with me.
Music brought this couple together, then came love. As for the Turquoise ensemble, it is a relatively new project, founded in 2012, but its roots are deep. Oren described himself as a musician who has always been on the border of rock and folk, saying:
"Our folk is not the same as that of the U.S. We work with different materials. As an Israeli Jew, the musical scales within my soul are not the same as those that sound in the Irish or Scottish soul, or someone born in the U.S. In Israel we consume a lot of Western culture, but I don't always feel connected to that music, even though I've listened to a lot of blues over the years. I searched for a local musical folklore, I just don't connect to other scales in the same way. I heard a pair of musicians in the Galilee, George Sama'an and Salem Darwish (who will be guest performers at the concert) and I leaned that they were singing songs of Fairouz, written by the Rahbani brothers. I played it for Dalit. I loved the sound."
Dalit, a Sabra from Kibbutz Negba in the South, comes from a very different musical background, having studied Bel Canto with Ellen Faull (1918 – 2008, operatic soprano and voice teacher at Julliard) in the U.S.
"I grew up on everything but Arabic music," Dalit told me, "Arabic music was something I heard in the background, or associated with Friday afternoon movies on television, visiting my  grandmother before going to the collective dining room. I grew up on Israeli music, [Western] pop, rock, and classical music. I'm a pure Polaniya, as they say, but I always felt drawn to discover 'more.' More worlds, more cultures… I'm also a sort of folklorist, but my research is of experiences, not so much an intellectual investigation. It's about feelings. When I hear something that speaks to my heart, it lights a fire within me."
Hearing Dalit sing, one feels she is at one with these songs, this emotional landscape and its rhythms, but as she recounts, the connection was not immediate or obvious.
"I came to know Middle Eastern and Arabic music through Oren," she said, "but it took me some time. I didn't have the same 'folklore bug.' I became acquainted with it slowly, through knowing George and Salem and listening to their album with songs by the Rahbani brothers. It was hard for me at first –  the language, the scales – it took time to connect. Through this process of listening I discovered a Jewish feel in the scales, there is something of this region with which I could fall in love. The songs enchanted me,  they are written like a story or movie. They come from the landscape of this region – you can see the autumn, the river, a letter floating in the air. I fell in love."
The songs were translated by Oren Eliezri. Some are not strictly translations, but Hebrew versions of the original song. The arrangements were made by Oren, Dalit and musical producer Amit Amrami, through a process of listening to Fairouz and learning the originals, finding their own place in these songs. The intimate, authentic feel of Oren's translation is no coincidence, his connection to Arabic culture runs deep.
"I read and write Arabic," Oren told me, "I study Arabic, I hear it around me. I made great efforts to learn the language.  I've studied Arabic all along, over the years. I feel that we are in a cultural ghetto here, we Jews, and it's a shame not to open ourselves up more.. we are in a certain space, among Arab people and culture in Israel, Jews who speak Arabic, and our neighboring countries. It draws down a curtain and closes us off, in my opinion."
When asked if they had considered performing the songs in Arabic, Oren replied: "Who would be our audience? Who would listen? And it's not our native language. Arabic culture is closed off to those who do not understand Arabic, you can't listen to a song by Fairouz, the sounds may be foreign to you, it's not so accessible, and you have no idea what she is singing about… it needs to be translated into Hebrew then people can understand what the 'enemy' is singing about, what he feels, what is within him, what he's thinking about. You see him as a human being."
"There is art here," Oren continued, "there is a powerful culture, very ancient, its roots are deep and ancient like ours, but for them it is very connected to the geography here. We dragged our culture around to different places…"
Will Israeli audiences be open to the music of Fairouz? Dalit and Oren say: Yes!
"Israeli audiences are curious and open," Oren said, "Over the past 40 or 50 years music from all over the world has become part of Israeli culture."
Dalit commented, "Israeli music is a fusion of many genres, and people are open to hear new things. We wanted to bring pure art, for people to enjoy. These songs are part of this place. We come with love."

Turquoise will be performing with songs from their EP and many more, at The Zone, on Wednesday, January 14, 2015 at 22:00, doors open at 21:00. Turquoise are: Dalit Friedman – vocals, flute; Oren Eliezri – guitars; Oded Adar – bass guitar; Yaniv Teichman – oud, saz; Asaf Zinger – keyboards; Roni Ben Ezra – drums; Roy Friedman – percussion; Musical production – Amit Amrami.