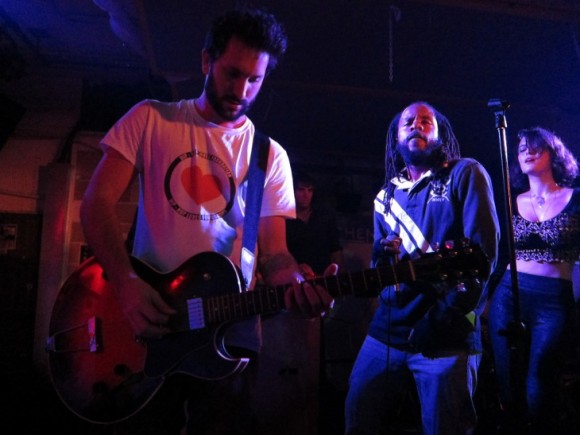 Almost midnight on a Saturday, the streets are dark, storefronts shut down, but down below, the secret life of the city is just getting ready to wake up… Lucille is the kind of band that takes over your body with their funk, hip hop, searing soul sound and rhymes that take the grit, the dirt, the pain, the sensuality and rhythms of the city and tattoo them on your brain. If you haven't heard them yet, hear them now. Now.
Lucille is an old soul, a meeting of extremes, an explosion of energy onstage that spills out into the universe. Lucille talks to the ancients of blues and then takes it out on the street, bleeding out rhymes to a city pulse. The first time I heard them, I thought my heart might break through my rib cage and fly.
I've been following the band since InDNegev 2012, and had the pleasure of sitting in on a recording session for their debut album with photographer Muperphoto. Lucille are: Rhythm n' Rhymes – Rebel Sun; Vocals: Gal De Paz (Goldie); Guitar – Isgav Dotan; Bass – Roey Paradny; Drums – Yossi Adi; Trumpet – Barak Hener; Sax – Ilan Adiri; Sampler – Ilan Levi; Keys – Naaman Shadmi; with Isgav Dotan in charge of production. Their music is powered by the merging of different genres, performed by a super-group of musicians. A minute and a half before their debut album goes international, they've released a signature single – Big City.
Whether you live in Tel Aviv, New York or Berlin, you know these words, because you're living them:
cause its a place where you feel alone/cause everybody is your friend/i know the streets never end/cause the worries never end/how you living/big city where the towers are so high/how high/sky high/cause the high never end/cause the streets never end/
So there we were Saturday night, in one of those literally underground places, the Pasáž on Allenby. This basement commercial area converted into a music club has lots of floor space for dancing, and when Lucille are playing – you need that space. The heat from this band is so amazing, that there's no need to warm up the room – from the moment they start playing, it's hot. It's an easy heat, something very relaxed and casual about the way the band moves onstage – we're all just hanging, making music.
They started off with Pull Through, one of my favorites from the album. Gal De Paz was all late night glamour – she has a really beautiful, sensual, graceful voice that moves from a whisper to a shout without losing clarity or nuance. Feminine, petite and with a decadent fragility, the contrast and chemistry onstage with Rebel Sun is explosive. He's all beats and rhymes, eyes almost closed like a man in a trance, moving easy on the stage, he's at home everywhere.
The band is dancing and everyone is dancing from the first song all the way through.  The woman next to me was hearing Lucille for the first time – her eyes lit up like sparklers all night, and her smile was beautiful to behold.  Lucille has a lot to give, and they gave it their all on Saturday night, with songs from the album and as Rebel Sun put it: "let's do some new shit."  Lucille starts out high, and goes higher and higher. Saturday night Tel Aviv, next stop: the world.
Next gig: Wednesday, January 21st at the Sifriya, Kfar Vitkin
Links: Lucille website, facebook page, soundcloud