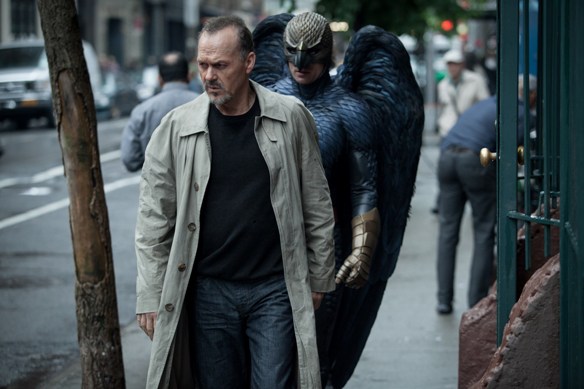 Birdman is one of the most entertaining and excruciatingly painful films I've seen recently. Michael Keaton is insanely good, and I use the word advisedly, as an actor edging ever closer to his expiration date, trying for artistic redemption one last time.
Directed by Alejandro G. Iñárritu, the film is a very quirky and compelling look at relationships – between art and life, parents and children, lovers, ex-lovers, truth and reality. Keaton plays Riggan, an actor who used to be popular, and once was rich, by playing the action hero Birdman in a series of movies. Any resemblance of this superhero's name to Batman must be incidental. Now he wants to have his last hurrah and prove his worth by adapting, directing and starring in a stage version of Raymond Carver's short story "What We Talk About When We Talk About Love." In this endeavor, Riggan is surrounded by the significant people in his life, both past and present.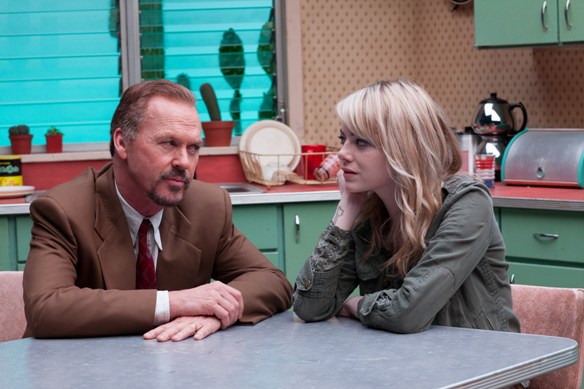 Emma Stone is an almost-lost girl, emaciated, jaded, and brutally honest, she gives a striking performance as Riggan's daughter Sam. A recovered (recovering?) addict, she is trying to rehabilitate her relationship with a father who was mostly absent, working as his assistant while she works on staying drug free. Naomi Watts plays Lesley, an old friend of Riggan's, grateful to finally get her big break on Broadway. The other female lead in the onstage love quartet is Riggan's current young lover Laura (Andrea Riseborough). Coming to encourage and admonish is Sylvia (Amy Ryan), Riggan's ex-wife and Sam's mother. Into this familiar, if not entirely comfortable crew, comes Mike Shiner (Edward Norton), an experienced method actor (and Lesley's lover) brought in as a replacement when an unfortunate accident befalls the other male lead. Complications, intense rivalry, sex, violence and other hilarity ensues.
It's a fascinating look at the behind-the-scenes drama of the acting world, with its rivalries and peculiar relationship to truth and reality. The film announces its intentions from the outset with a dramatic shot of a fiery star falling from the sky, then cuts to Riggan levitating in his dressing room, clad only in his underwear. This will be no ordinary film. Taking full advantage of all that the medium has to offer, Birdman is beautifully shot and edited so that almost the entire film looks like one long shot. Far more than artistic affectation, this perspective takes the viewer in close, and at the same time gives a sense of the limitations of vision, the unexpected view around a corner, through the window, behind the wall. One is far more aware than usual of what is not seen. Moreover, the way the camera moves, moves the action, so that despite being a very conversation oriented film, there is a sense of urgency and energy.
The line between reality and illusion is blurred and crossed time and time again. Riggan is in an unusual state of mind, and Keaton makes it very absorbing and thought provoking, if not precisely pleasurable, to observe his inner struggles and outrageous actions. It's an unsettling film, revealing some of the less appealing aspects of the human psyche. Is he deluded, suffering from hallucinations? Is he possessed by some unusual powers? So much depends on the audience, and what one wishes to believe.
As is true for the question of quality. What makes the better actor, what makes the better film, what makes the better person? It's not a film that offers answers, but rather one that makes the contemplation fun and full of drama. Reality shows, twitter, and superhero action movies all come in for their share of denigration, yet at the same time, the film makes use of all these and more, to create a film that entertains as well as provokes. Bravo!
Birdman has been nominated in several categories in the upcoming Academy Awards, including: Best Film, Director, Screenplay, Sound mixing and sound editing, Keaton for Best Actor, Emma Stone for Best Supporting Actress, Edward Norton for Best Supporting Actor, and Emmanuel Lubezki for cinematography. I'm not always a fan of the Oscars, but occasionally they get some things right.
Birdman or (The Unexpected Virtue of Ignorance) will open in Israeli theatres on Thursday, January 29, 2015.
Birdman or (The Unexpected Virtue of Ignorance)
Directed by Alejandro G. Inarritu; Screenplay: Inarritu, Nicolas Giacobone, Alexander Dinelaris Jr., Armando Bo; play based on the story "What We Talk About When We Talk About Love" by Raymond Carver; Cinematography: Emmanuel Lubezki; Editors: Douglas Crise, Stephen Mirrione; Music, Antonio Sanchez; Cast: Michael Keaton, Zach Galifianakis, Edward Norton, Andrea Riseborough, Amy Ryan, Emma Stone, Naomi Watts, Lindsay Duncan, Merritt Wever, Jeremy Shamos, Bill Camp, Damian Young.