If Anton Chekhov is not one of your favorite authors and playwrights yet, now is the time to become better acquainted. The Cameri Theatre will host a Chekhov marathon from February 1 – 7, 2015, with performances of his plays in Israeli productions from the repertory and fringe theatres; staged readings, and discussions of Chekov's work.
Program Highlights: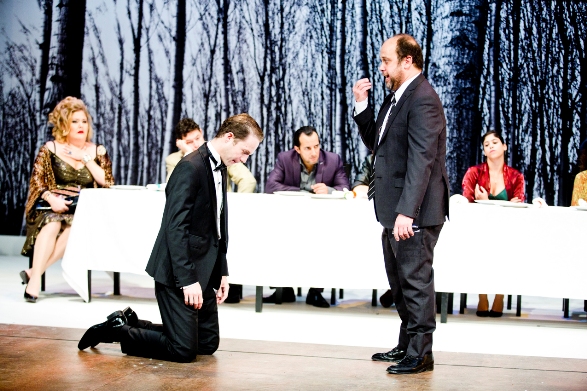 Ivanov
Ivanov may be seen as an older, Russian version of Hamlet. The Cameri Theatre production is adapted and translated from the original Russian by director Arthur Kogan and Itay Tiran. Even before a single word is spoken, the first scene reveals so much. Ivanov's face is hidden, buried beneath a book. Surrounded by beauty, he is asleep on a lawn chair, insensible to it. The sights and sounds of the country, evoked with subtlety by Michael Kramenko's set design, the gentle notes of Mozart on the piano – he cannot see or hear any of it in the depths of his slumber; just as all that weighs upon him prevents him from taking pleasure in life. What weighs upon Ivanov's spirit? His woes are easily apparent: he is heavily in debt, and his wife Sara is seriously ill. Yet Chekhov would have us focus on what we cannot see: the inner workings of Ivanov's heart and mind. (Read the full review here)
The play features excellent performances, from the tragic to the comic, and often both at once. Notably Itay Tiran as Ivanov, Helena Yaralova as his wife Sara, Dudu Niv as his friend the affable drunk Lebedyev, and Irit Kaplan as Lebedyev's wife and master, Zuzushka.
Performances will take place from February 5 – 7, 2015.
Ivanov – By Anton Chekhov, Adapted and Translated by Arthur Kogan and Itay Tiran; Directed by Arthur Kogan; Set desigin: Michael Kramenko; Costume design: Moni Mednik; Lighting design: Uri Morag; Assistant to director: Asaf Friedman; Cast: Itay Tiran – Ivanov, Yoav Levi – Misha Borkin; Gadi Yagil – Count Shabelsky, Helena Yaralova – Sara, Uri Rawitz  – Dr. Lvov, Irit Kaplan – Zuzushka, Osnat Ben Yehuda – Marfoosha, Dudu Niv – Lebedyev, Dana Meinrath – Sasha, Techia Danon – Avdotya, Simcha Barbiro – Kossych, Gil Weinberg – Dudkin, Tal Weiss – Budkin, Khamis Elshaik – Gavrilla, Barak Fridman – Guest 1, Lion Barzilai – Guest 2.
Requiem
The Cameri Theatre's exquisitely beautiful and profoundly moving production of Hanoch Levin's Requiem will be performed in the context of the Chekhov marathon. Levin's play is based on three short stories by Anton Chekov. Levin's work encompasses a multitude of themes and contradictions, with its harsh, and even vulgar, comic contemplation of human vanities and weakness, its unswerving honesty, its preoccupation with death, the playful, biting wit and moving poetry of its language. Requiem is Levin at his finest. One of the plays performed in Levin's brief lifetime, the current production is performed as it was originally directed by Hanoch Levin.
The performance will take place on February 5, 2015.
Recommended – Hanoch Levin Reads Chekhov. Professor Nurit Yaari (Tel Aviv University) will discuss Levin's play Requiem, as it relates to its sources, three short stories by Anton Chekov: Rothschild's Fiddle, Sorrow, and Sleepy. The lecture will take place on Thursday, February 5, 2015 at 19:00, in the Cameri Cafe, tickets are 20 NIS.
Requiem – Written and directed by Hanoch Levin based on three short stories by Anton Chekhov; Costumes and set design: Rakefet Levi; Music: Yossi Bin Nun; Lighting: Shay Yehudai; Cast: Esti Kosovitsky, Rami Baruch, Yitzhak Hezkiah/Yossi Toledo; Dror Keren/Yuval Segal, Gabi Amrani, Avi Termin, Dina Blay, Nadav Asoulin, Shimon Mimran, Roman Krichely, Simon Krichely, Yossi Rachmani, Shay Fineberg, Tal Ben Bina, Shani Triesman, Ronit Zlutin, Irit Bashan, Florence Bloch/Anat Slonim, Sandra Shonwald, Sigalit Fuchs/Osnat Ben Yehuda; Musicians: Yossi Bin Nun, Shmuel Elbaz, Shuky Valfus, Avner Ifat; vocalist: Yael Tzvi.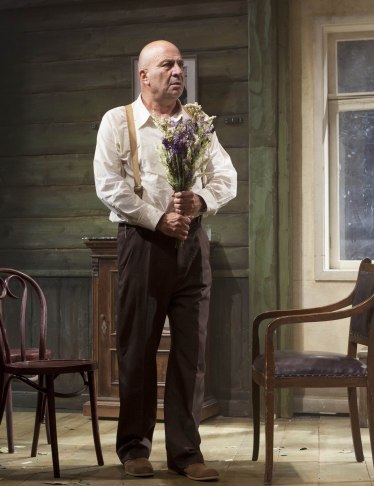 Uncle Vanya
The Khan Theatre's production of Uncle Vanya is luminous, with the quiet clarity of sun breaking through the clouds after a storm. Anton Chekhov's play, translated by Rivka Meshulah and directed by Michael Gurevitch, is presented with lucid simplicity, rich color and warmth. The arrival of Professor Serbiakov (Yehoyahin Friedlander) and his lovely second wife Yelena (Daniel Gal) to his country estate one cloudy afternoon, is the harbinger of storms and change. Uncle Vanya (Arie Tcherner), the brother of the professor's late first wife, and Sonia (Natalie Eliezerov), the daughter of that first marriage, have been managing the estate, providing Serbiakov with the funds to support his life in the city; yet the sustainability of this arrangement is in question.
The entire ensemble of actors deliver an excellent performance…Yet it is Arie Tcherner who carries the emotional weight of this play. From Uncle Vanya's jovial blind pursuit of Yelena and mocking envy of the professor to his awakening to the truth, Tcherner takes a harrowing emotional journey and one cannot help but feel his pain. His eyes burn with passion, blaze with fury, and finally, gazing into an endless abyss of the question: how to endure. (Read the full review here)
Performances will take place February 1 and 2, 2015.
Uncle Vanya – By Anton Chekhov; Translation: Rivka Meshulach; Directed by Michael Gurevitch; Set Design: Svetlana Breger; Costume Design: Maor Zabar; Lighting Design: Roni Cohen: Music: Josef Bardanashvili; Dialogue Coach: Noga Yetomi; Cast: Nir Ron (Doctor Astrov), Odelya Moreh-Matalon (Marine, Old Nurse) Arie Tcherner (Uncle Vanya), Yehoyachin Friedlander (Professor Serbriakov), Natalie Eliezerov (Sonia), Yoav Hyman (Ilia Teleygin), Daniel Gal (Yelena), Irit Pashtan (Maria).
Loving Chekhov – a cohort of talented actors will perform monologues and dialogues from Chekov's plays, including: The Cherry Orchard, Three Sisters, Uncle Vanya, The Seagull, Ivanov and more. Performers include: Yevgenya Dodina, Itay Tiran, Gita Munte, Leora Rivlin, Oded Teomi, Shiri Gandi, Ido Museri, Dana Meinart, and Vitaly Friedland.
The performance will take place on Friday, February 6, 2015 at 11:00.
All performances and talks will take place in Hebrew. For the full program and tickets, consult the Cameri Theatre website.