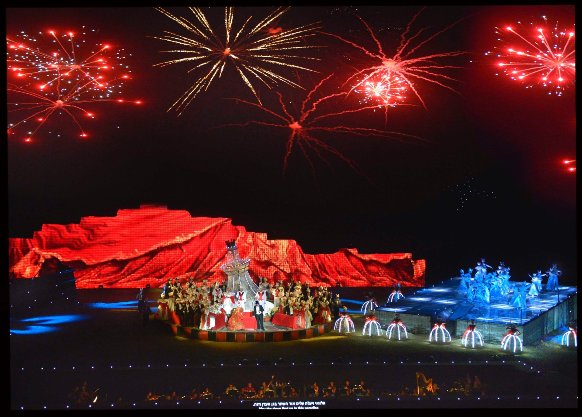 Once a year the desert is transformed into a fantasy vista, with the Masada Opera Festival at the Dead Sea. The open sky and the stark historic grandeur of Masada provide the dramatic backdrop for a unique opera experience. The Israeli Opera, currently celebrating its 30th season, will present two operas this year: Tosca by Giacomo Puccini, conducted by Daniel Oren and Carmina Burana by Carl Orff, conducted by James Judd. Performances will take place on two successive weekends: June 4 – 6, and June 11 – 13, 2015, with four performances of Tosca, and two of Carmina Burana.
The convergence of nature, culture and history draws many annual visitors to the opera festival. Hanna Munitz, Israeli Opera General Director said, in a press conference held this morning, "We see almost 40,000 people, about 10% are tourists, who come to participate in a huge spectacle in the middle of the desert. Now tell me, isn't that a miracle?"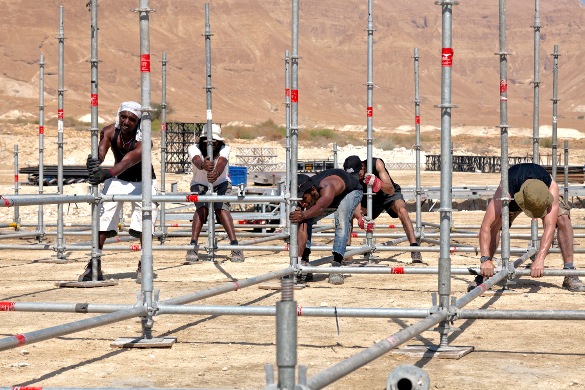 Producing the festival is, if not miraculous, certainly an impressive feat of creativity, technology and old-school hard work. The reception area for the opera is like a small city, erected almost overnight in the desert, and designed according to a unifying theme. Last June, Masada opera visitors enjoyed the Parisian scene that accompanied La Traviata. This year, in honor of Tosca, the setting will be Roman. Plans include a fountain at the center of the venue, à la Trevi, a version of the famous Spanish steps, and a projection of the Coliseum. The opera will be performed at the foot of Mount Masada, which will be illuminated by special artistic lighting; the infrastructures include a stage measuring 35 meters deep and 64 meters wide, bleachers with some 6,500 comfortable seats, parking areas for hundreds of buses and private vehicles, media and Internet infrastructures, and a reception area featuring thousands of seats and some 160 ecological restrooms.
Advances in technology have helped make this feat of production somewhat more feasible. Munitz recalled that when they were planning Aida in 2012, "We wanted to hang lights on the mountain to create a canopy of stars that will look like a continuation of the sky." In 2012, they had to find special climbers to hang the lights, today, Munitz said, "All these effects can be created by technological means. You don't need special mountain climbers and it's amazing to see what can be done."
Michael Eisenstadt, Israeli Opera Artistic Director, discussed this year's program, saying, "Tosca and Carmina Burana are two great pieces, greatest hits that are on the top 5 playlist of radio stations worldwide. Tosca is one of the few operas that refer to a specific place and time. If we land in Rome today we can visit the places mentioned in the opera."
Opera is always very theatrical, verging on excess, but with Tosca, said Eisenstadt, audiences get even more than is usually expected: "Two and a half hours of intensive music, with murder, execution, suicide, and a police officer who demands sexual favors in exchange for judicial leniency… Opera has everything."
"Carmina Burana," said Eisenstadt, "was originally written for the stage by Carl Orff, but these days is more performed in concert halls. The work is composed from a collection of songs found in monasteries, ancient poems that celebrate life, love, nature and rebirth. Carmina Burana at Masada will be a fully staged production."
Directing Carmina Burana will be Michał Znaniecki,  who directed La Traviata at Masada in 2014, as well as other memorable works at the Israeli Opera, including  Guiseppe Verdi's Un Ballo In Maschera in 2014, and Ernani  in 2011. Michał Znaniecki  and Carmina Burana set designer Luigi Scoglio talk about their vision for the performance.

Tosca will be conducted by Daniel Oren, and performed by a cast of international and Israeli soloists, including: Bulgarian soprano Svetla Vassileva in the role of Tosca, Italian tenor Fabio Sartori together with Argentinian tenor Gustavo Porta in the role of Cavaradossi, American baritone Scott Hendricks together with Russian baritone Sergei Murzaev as Scarpia, Italian bass Carlo Striuli as Angelotti, along with Israeli Opera soloists, including Vladimir Braun as the Sacristan, Joseph Aridan as Spoletta, Oded Reich as Sciarrone, Noah Briger as the Jailer and others. Also participating are the Israeli Opera Chorus conducted by Eitan Schmeisser, the Moran Children Choir and the Opera orchestra – the Israel Symphony Orchestra Rishon LeZion.
The Israeli Opera's summer festivals also include performances of L'elisir d'amore in Jerusalem. The full program, as well as ticket and vacation package information, is available on the opera website.
Tosca will be performed: June 4, 6, 11 & 13, 2015. All performances are at 21:30. The opera is sung in Italian with surtitles projected in Hebrew and English. Length of performance: approximately 3 hours. Ticket prices are: 400, 500, 750, 950, 1300 NIS.
Carmina Burana will be performed: June 5 and 12, 2015. Both performances are at 22:00. Length of performance: approximately 1 hour. Ticket prices are: 300, 440, 660, 825, 1100 NIS.
Individual tickets and vacation packages are available online at the Israeli Opera website, as well as from Bimot – to order call *6226, and Arkia – to order call *5758.