Join the parade in Holon this Purim – the Adloyada will be back on Thursday, March 5, 2015, starting at 12:00. This year's festivities will celebrate Holon's 75th anniversary, with Queen Elizabeth as guest of honor, well – a reasonable facsimile of – as a giant float! The first neighborhoods of Holon were gathered together into a regional council under the auspices of the British Mandate, and the anniversary finds the city flourishing as a center of culture and activities for children – with the Comics and Caricature Museum, theme story parks, a very active Mediatheque, dance center and more. The Queen will be accompanied by an entourage of 100 guards in uniform, youth groups decked out in the colors of the British flag, dressed up as princes and princesses, dancers and some in British school uniforms.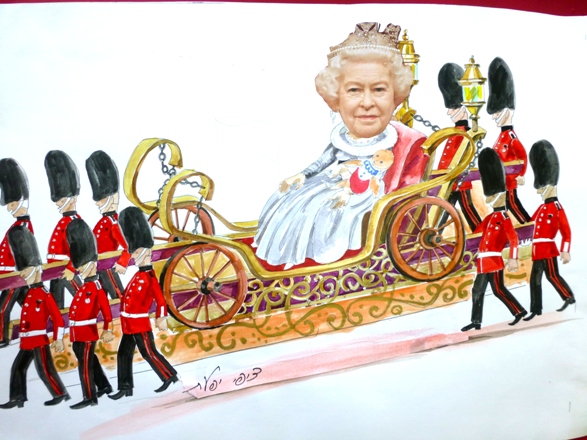 The parade will open very tastefully with a giant birthday cake that opens up into slices – gotta see that! Robert Edward Harold Crosbie, an official of the British Mandate who signed the official founding papers for Holon. Birthday party style will prevail with marchers costumes as surprise birthday favors, colorful candies and 75 wrapped gifts!
Holon's Mayor Motti Sasson will be riding in the parade on the Blue Bird, accompanied by his predecessors: Haim Kugel, Pinhas Eylon, Haim Sharon, and Moshe Rom.
Holon's many attractions will be featured in the parade: a float with characters from the "story parks," the story of how the city of Holon rose from the desert with an array of creatures from lizards to desert fox and more. The Mediatheque library will be represented by a huge book, with beloved storybook characters popping out: The Little Prince, Pippi Longstocking, Pinocchio, Harry Potter and more, following the float will be paraders dressed as storybook characters.
The future will be represented by a train circa 2030 flying high over the city, while the past will rumble along in an ancient Egged bus accompanied by dancers, acrobats, gymnasts, musicians and other merry makers dressed as Paula and David Ben Gurion, teachers and students of the 1950s, and the residents of Holon's original five neighborhoods.
The parade will march along Sokolov, HaNessi'im and Weitzman streets, ending at the corner of HaHistadrut Street. The parade will end with a street party at the plaza right opposite City Hall, featuring a DJ and a performance by Dana International, accompanied by costumed dancers.
The exhibits from this year's Purim Parade will be on display in the Mediatheque Square from the end of the parade until Sunday, March 8th. The Holon Adloyada is produced by Doron Shalom, of the Holon Municipality Events Department;  Artistic Director: Eran Fisher "Rosh Hutzot;" Parade designer: Zipi Ifat.