The Cameri Theatre currently has five plays in rehearsal, all scheduled to premiere in the coming months, including an enticing musical offerings: a production of West Side Story in Hebrew, directed by Tzedi Tzarfati, is scheduled to premiere in February 2016.
Cameri Theatre General Director Noam Semel, Artistic Director Omri Nitzan, directors and actors, met with the press this week to talk about the new productions. Let's take a look at what's cooking: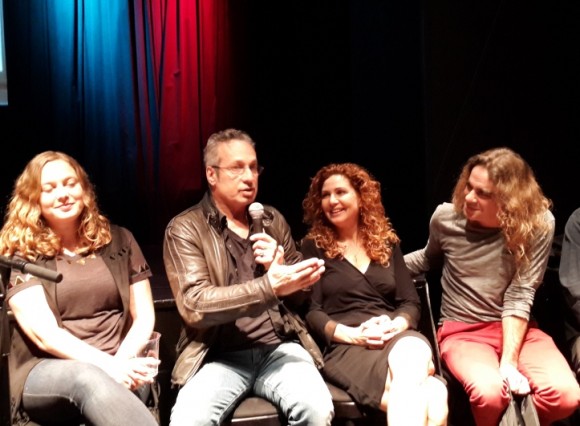 Run For Your Wife by Ray Cooney, directed by Alon Ofir, will open on April 12, 2015.
This comedy centers on John Smith, a London cab driver with a secret. When a minor accident sends him to the emergency room, strange things come to light – such as the fact that he has two home addresses… his attempts to hide the truth only make him look more suspect and hilarity ensues.
Alon Ofir reports that the production will have a vintage, early 70s look, a choice of era that enhances the comic effect. How? Very simple: in the 70s, no one had cell phones, and the only way to reach a person was to call him at home. Which complicates things for a cab driver who has a secret reason for having two home addresses…
Samuel Vilozny sounded quite pleased to be playing the part of Mr. Smith, saying: "I am very lucky, I go to work in the morning, where I have two wives (Limor Goldstein and Andrea Shvartz), I get to do everything that's forbidden, my wife is cool with it, and I get paid."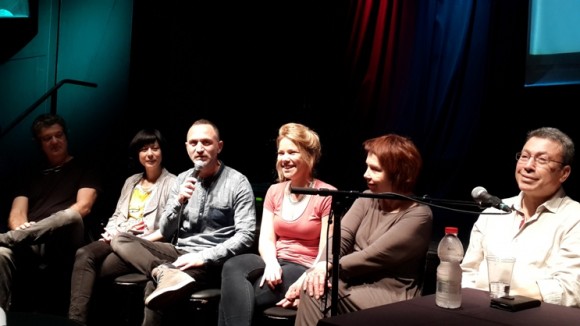 Lovesick on Nana Street by Sabi Gabizon, directed by Edna Mazya, will open on April 24, 2015.  This is a stage adaptation of Gabizon's 1995 film Hole Ahava B'Shikun Gimel.
Victor is the owner of a pirate cable station, living a gray life in an ordinary neighborhood. He falls hard for the new girl in town, beautiful blonde Michaela from Tel Aviv. She is not interested, but Victor can't let go of the fantasy, and uses his cable station to send her messages… to which the entire neighborhood is privy.
Edna Mazya describes the production as "stylized and minimalist," saying that it will eschew the portrayal of working class neighborhoods with laundry hanging on the line and poor-but-happy-folk singing and clapping. Shalom Michaelshvili plays the role of Victor,  and Ola Schur Selektar will play Levana.
Discussing the play, Mazya said, "It's something very unusual and rare, it's not a social-issues play. Victor is surrounded by good people who care about him, there are no evil intentions or manipulations. The play locates the problem within the individual. It's not a play about discrimination against one group or another… it's about what happens to a man who falls so deeply, desperately in love, and everyone tries to support him, but his wounds are too deep."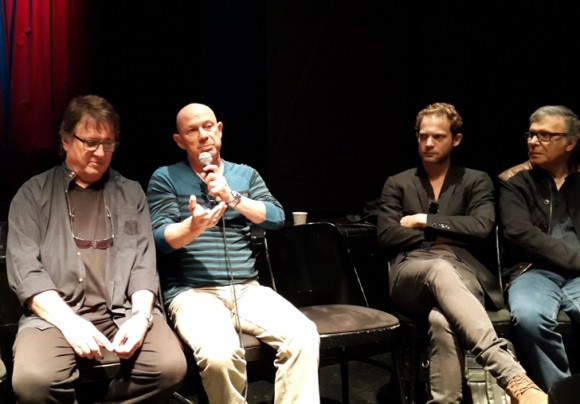 Dear Brother by Gadi Inbar, directed by Oded Kotler, will open on May 15, 2015.
Dear Brother is a play that deals directly with a critical, problematic and painful political issue: the myth of heroism. "This issue, the myth of heroism," said Kotler, "has been part of our existence, part of the Israeli experience for many years, from the beginning." He further noted that the play was in part based on the personal experiences of the playwright Gadi Inbar.
The play is centered on a family with three sons, one of whom was killed in the Yom Kippur War. His loss is deeply felt and mourned, but the parents take comfort in the knowledge of his heroism and sacrifice for his country. As the memorial day of his death approaches, their estranged son who lives abroad, returns to mark this day with the family. Yet he comes with a different purpose, one that disrupts the family harmony. Currently in rehearsal, Kotler said that the process is more like a lab, in which they examine every aspect of the play, reflecting, and changing.
"It's a play that is entering the actors' veins and arteries," said Kotler, "it's entering the chambers of their hearts." He further noted an affinity between this play and Arthur Miller's All My Sons.
"We're touching something very sensitive, and potentially explosive," said Rami Baruch.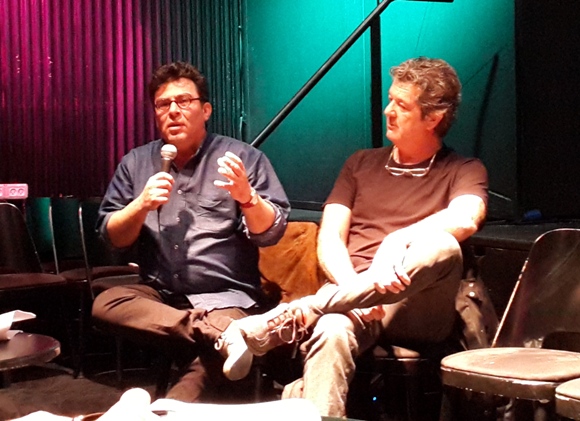 Le Bourgeois by Moliere, directed by Udi Ben Moshe, will open on June 4, 2015.
Moliere's play was written during a time when only one born to a noble family was considered a 'gentleman,' it was not a title to which one might aspire or achieve either through wealth, power, or education. Thus the efforts of M. Jourdain, whose clothing merchant father became rich, to shed his middle-class origins are doomed from the start, and in this case, can only result in considerable merriment.
Udi Ben Moshe said that the play is "funny yet also poignant, because Jourdain nurtures these aspirations, hires all these teachers and wants to marry his daughter to a nobleman because he does not love himself, and that is the sad part." Audiences will enjoy Avi Kushnir in the role of the would-be gentleman, and Kushnir said, "He's a man who wants to be something that he is not and cannot be, and the more miserable he is, the funnier he becomes."
The Threepenny Opera, by Bertolt Brecht and Kurt Weill, directed by Gilad Kimchi, will open on July 11, 2015.
The play with its satiric social critique was adapted from John Gay's The Beggar's Opera, a parody of opera written in the 18th century. It's opening song, "The Ballad of Mackie Messer," translated into English by Marc Blitzstein as "Mack the Knife" became an immensely popular jazz standard, covered by Louis Armstrong, Ella Fitzgerald, Frank Sinatra and many, many more. Itay Tiran was on hand to represent the production, of which he said, "The hidden is greater than that which is known, the production is still in its initial stages." Then he quoted from the play: "Food first, then morality."
The Cameri Theatre presents plays in Hebrew, with English surtitles on select dates, consult their website for dates and times.