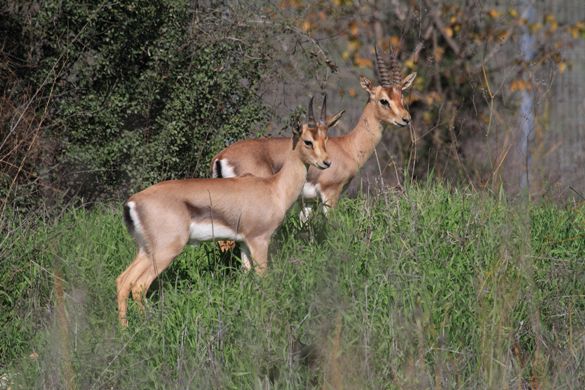 Gazelle Valley, Israel's first urban wildlife reserve, opened yesterday, March 30, 2015 in Jerusalem. The park is a green oasis in the midst of urban bustle and buildings, a story of environmental and urban activism with a happy denouement. Extending over an area of 250 dunam (64 acres) in the midst of the city, between the Pat intersection and the Begin Highway, the area was called Gazelle Valley for a herd of gazelles that made their home there. As time went by the city grew, and the herd diminished.
The joint efforts of all those who care succeeded not only in protecting the area from construction, and having it designated as a nature reserve, but in planning and funding a unique urban park. Plans for the park were designed by the Society for the Protection of Nature in Israel (SPNI) with funding from the Bracha Foundation, who supported the struggle from its inception, and the process of renovation and replenishing the herd is supported by the Jerusalem Municipality.
The reserve features natural and artificial ponds, streams, and many natural habitats for small creatures, as well as a separate area for the gazelles to wander freely, a park area with bike and walking paths for human visitors, and a buffer area between the two, to ensure the serenity of the gazelles.
The park will be open and accessible to all, throughout the year. Entrance is free.