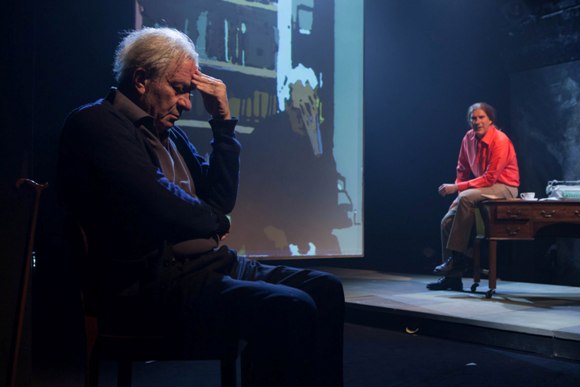 Ezekiel is a portrait in image, song, and word. The portrait of an aging poet and his relationships with his family, his writing, and his past. It is an unusual play, adapted from the graphic novel Ezekiel's World by Michael Kovner. Kovner, a painter who has primarily focused on landscape paintings in oils, embarked on the project of a novel told through pictures as a form of dialogue with his father, the poet Abba Kovner, 25 years after the latter's death. The fictional character of Ezekiel is based on that of Abba Kovner, while the historic figure of the poet is present in this conversation through his poems, set to music by Avi Benjamin.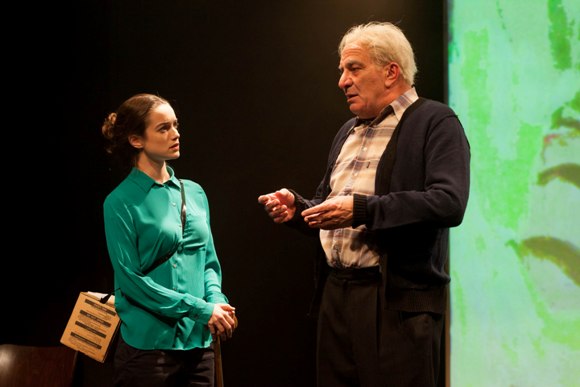 Viewing the play is a rich visual, musical and emotional experience. Very well-crafted and designed, the performance makes use of Michael Kovner's images as part of the narrative construct, the story is told and mood conveyed as much through the images as through dialogue. Designer Svetlana Breger has generated a wonderful synergy between the costumes and vivid colors of Kovner's paintings. At times this offers a dual perspective on the action, as when Ezekiel's grandson Noni comes to visit from San Francisco. Onstage, Noni (Philip Dolev) eagerly greeted his grandfather with smiles and warmth, while the painting projected on the back board revealed a boy with an apprehensive look in his eyes as he met the grandfather he had not seen for some time.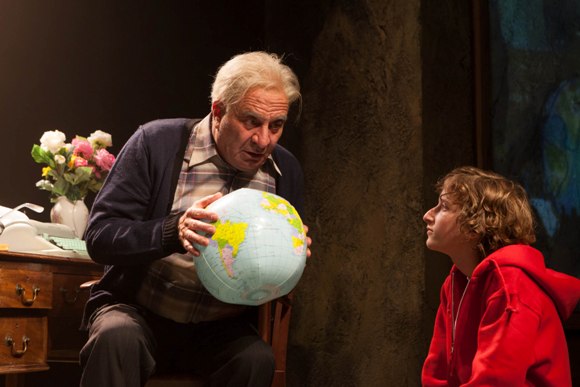 One encounters Ezekiel (Arie Tcherner) as a solitary, cantankerous old man, whose physical infirmities and lack of family nearby bring the physiotherapist Na'ama (Daniel Gal) into his life. Na'ama is a harbinger of warmth, energy and open affection who offers healing with her smile and easy touch, despite Ezekiel's resistance. Arie Tcherner gives a very candid and affecting portrait of old age with its aches and pains – literal, physical, figurative and emotional.  In the company of this grandson, Ezekiel is so joyful and spontaneous, one sees a different man entirely, a vision perhaps of what might have been, what might still be.
The colorful, expressive, presence of Michael Kovner's paintings and cinematic approach to direction let the different narrative threads unfold in parallel. Ezekiel's relationship with Na'ama, with his neighbor C'ella (Yael Toker), with his daughter-in-law Yvonne (Yael Toker) who has come to visit Ezekiel and Israel along with her son Noni, and with his son Amos (David Ben Ze'ev), who has remained in San Francisco. Ezekiel is estranged from his son Amos, who left the country following his experiences witnessing the consequences of the Israeli-Palestinian conflict. There is a legacy of pain and questions of conscience in this family, as the stories of Ezekiel and Amos are revealed in scenes that sketch out their individual histories and struggles, as well as the conflict between father and son.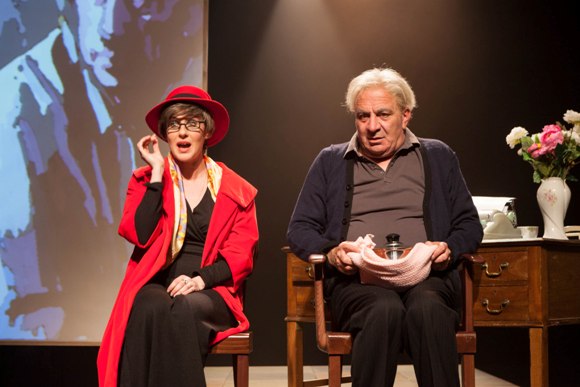 Each of these characters bears pain and loss, for some it is hidden in the depths of their past, for some perhaps the pain originates in the events of the drama, and the loss lies in the future. Yael Toker handles her dual role admirably, her portrayal of the neighbor C'ella offers some of the play's most poignant moments. In many ways, Ezekiel is not so much a drama, although there is a certain trajectory of plot, many questions remain unanswered. There is conflict, and some sense of acceptance and reconciliation, yet the reason for arriving at the particular resolution is unclear, leaving this viewer with a sense of something missing.  However, perhaps one ought to relinquish traditional expectations, and regard Ezekiel as a mood piece, a group portrait, of the characters in this place and time.
Ezekiel
A novel-play based upon paintings by Michael Kovner; adapted and directed by Ron Ninio; paintings: Michael Kovner; video art: Yoav Cohen, Adam Lewensohn; music: Avi Benjamin; set and costume design: Svetlana Breger; lighting design: Roni Cohen; Cast: Arie Tcherner (Ezekiel), Yael Toker (Yvonne, C'ella), Daniel Gal (Na'ama), David Ben Ze'ev (Amos, A stranger), Philip Dolev/Ruth Boumard (Noni).