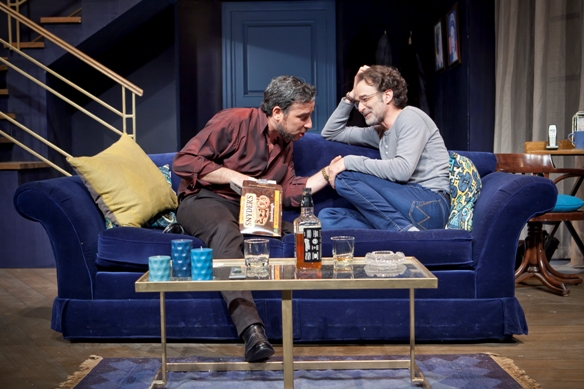 The wit and charm of Beer Sheva Theatre production of Neil Simon's Chapter Two is sure to result in smiles all around, lots of laughter, and perhaps a pang of recognition, at the human foibles and vulnerability it explores. Directed by Rafi Niv with sensitivity to the emotional themes within, it elicits the kind of laughter evoked through empathy with the characters, imbuing the comedy with warmth. Ido Ricklin's translation into contemporary, yet not overly trendy Hebrew, flows smoothly with the fast pace of this romantic comedy, the snappy one-liners delivered with spontaneity and ease by the accomplished quartet of actors. Originally written in the mid-70s, the play has been very subtly adjusted to our own time, with cell phones becoming the vehicle for the first, stumbling steps of romance.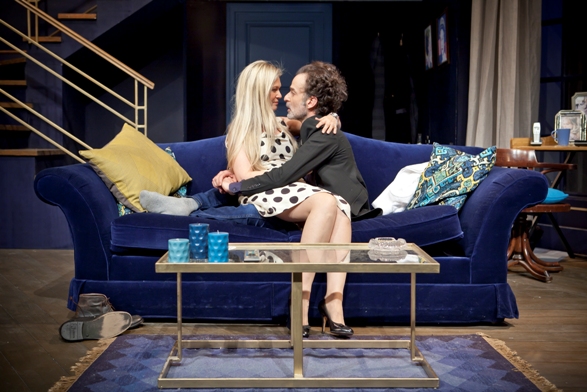 Inspired by Simon's personal experiences, the play centers on George Schneider (Amir Krief), a recently widowed writer, still grieving for his late wife Barbara, while trying to get back to the task of living. George is back home again, after some time off traveling, and although his intellect tells him, "I'm supposed to be OK," his emotions have not quite caught up. Cheering him on is his somewhat rough around the edges brother Leo (Moli Shulman), who is keen to get him out there and dating again. Neta Haker's set reflects the heart of the play: how can two people, each accessorized and encumbered by the experiences accumulated over the years,  take all the different elements that make up a life, and merge them together, to begin a shared future? The stage is split between the two worlds: George's apartment, steeped in dark, faded shades of navy and brown, with its wall of books and old fashioned furnishings, and that of Jennie Malone (Michal Yanai), an actress whose compact, modern, well lit apartment is very functional, but somehow doesn't have that lived-in feeling.
Jennie and George meet cute, brought together in a slightly roundabout way through Leo and his long-ago ex-girlfriend Faye (Adva Edni), who happens to be Jennie's best friend. The antics of Leo and Faye, individual and joint, are fun to watch, and a light-hearted foil to the central pair of lovers. There is a nice energy between Krief and Yanai, it's fun to follow these two lonely hearts as they move from formal phrases to flirty repartee and the delirium of new love.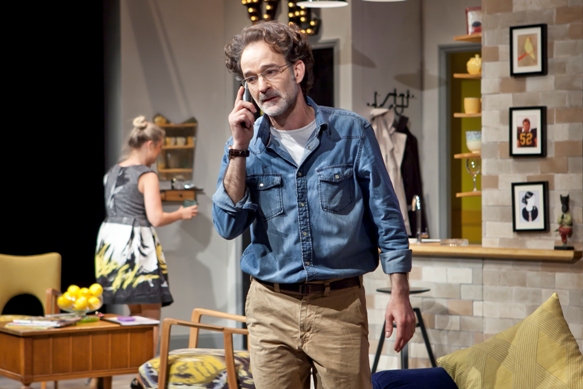 Yet the play focuses most closely on George, one gets to know him far more intimately as this slightly pedantic, shy, bookish fellow dips his toes hesitantly in the dating pool. He is the very picture of pale, over-intellectual neurosis that is not without its own quirky charm. From his first awkward attempts at dating – "I was afraid to get my beard caught in her piercing" – to the boyish enthusiasm with which he tells Leo "I met someone," and the jarring, painful aftershocks of grief that erupt time and again, shattering the shaky foundations of his new life, Krief embodies the character so completely, conveying the sometimes conflicting aspects of George's personality and emotions with every expression, gesture and inflection of his voice. George is caught between a past that cannot be recovered, and a future he does not yet dare imagine; taking the audience with him on this journey of laughter and tears.
Chapter Two
A play by Neil Simon; Translated by Ido Ricklin; Directed by Rafi Niv; Set design: Neta Haker; Costumes: Oren Dar; Lighting: Ziv Voloshin; Choreography: Amir Zamir; Music: Elad Adar; Cast: Jennie Malone – Michal Yanai, Faye Medwick – Adva Edni, George Schneider – Amir Krief, Leo Schneider – Moli Shulman