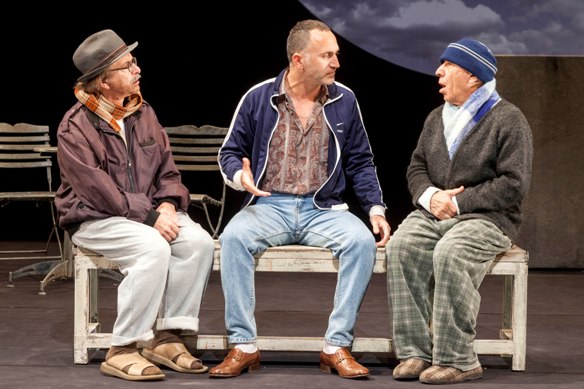 Victor is a player. He has what it takes to attract the women: young, good looking and full of initiative, he runs a very popular pirate cable station in his neighborhood "Gimmel" in Kiryat Yam, a town in the Haifa Bay area. Lovesick on Nana Street, written by Savi Gabizon and directed by Edna Mazya, opens with a view of Victor (Shalom Michaelshvili) in fine form: regaling two elders of the tribe with his rather hilarious sexual exploits. When Michaela (Dana Meinrath), an actress from Tel Aviv, arrives in Gimmel to work at the community center, Victor not only turns on the charm, he falls in love, and suddenly everything changes.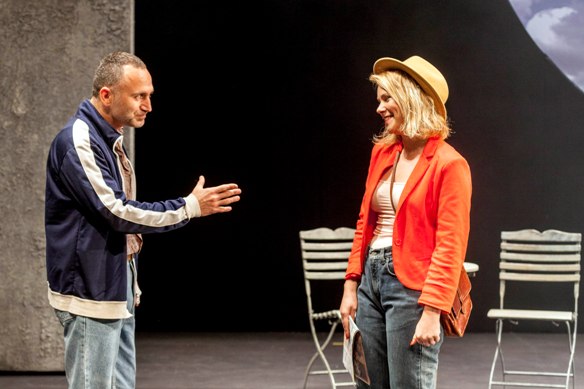 Victor pursues Michaela with single-minded devotion – and why not? She is beautiful, sincere, and kind. There is just one catch: Michaela is not interested in Victor's attentions. The play explores the sometimes obscure boundary between following a dream, and falling prey to a delusion. Victor says he loves Michaela, and he believes that he does, but what is the meaning of that love when he remains steadfastly oblivious to Michaela's feelings and wishes?
A certain romantic genre of movie, the kind that Victor likes to broadcast on his cable station, thrives on this kind of melodramatic mythology: that love and pain are inseparable, that women say 'no' when they mean 'yes,' that true love defies all rules and obstacles in its way, that persistence bordering on insanity will find its reward. Yet standing outside a woman's apartment all night, when she has stated clearly that she is not interested in a man's advances, is not romantic: it's harassment.
The play explores this difficult issue from a unique perspective, one that is full of empathy for Victor, without justifying or affirming his behavior and choices. Shalom Michaelshvili is wonderful in this role, conveying Victor's quicksilver charm and epic-scale emotions. Victor believes his love is real, and while the viewer might question his definition of that concept, it is clear that Victor's pain is real, and Shalom Michaelshvili lets one feel that pain.
Yet Lovesick On Nana Street is not at all a grim or gloomy play, it is suffused with life and laughter, looking at people and relationships with warmth and humor. The play radiates a very strong sense of community, we really get a feel for the neighborhood and for the duration of the play, we become part of this community, their human foibles, their laughter and tears. It's an affectionate view of the neighborhood through rose-tinted glasses; even the local gangsters are rather soft-hearted.
Much of the energy, vitality and emotion is conveyed through the original music composed by Yoram Hazan and Ami Reiss  (both of the rock band Knessiyat Hasechel), and way it is employed. The music is at once poignant and uplifting, with a Middle Eastern spirit and contemporary sound – it takes us there, into the feeling of the moment.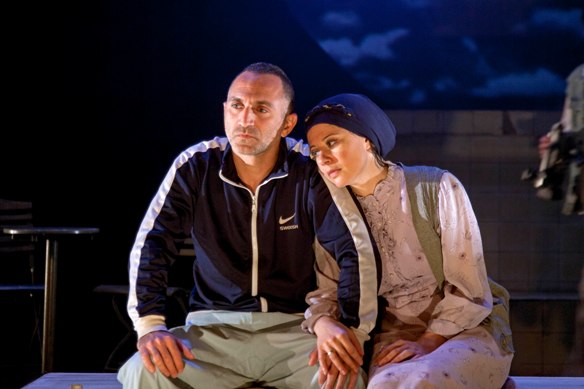 Ola Schur-Selektar's portrayal of Levana takes us to a deep and complex emotional place within the play, her performance is scintillating, edgy, funny and heart-rending.
Lovesick On Nana Street
By Savi Gabizon; Directed by Edna Mazya; Set design: Alexander Lisiansky; Costumes: Orna Smorgonsky; Original music: Yoram Hazan, Ami Reiss; Video: Nimrod Zin; Lighting: Nadav Barnea; Cast: Shalom Michaelshvili – Victor; Ola Schur-Selektar – Levana; Dana Meinrath – Michaela; Yoav Levy – Eliyahu/Watchman; Kobi Farag – Policeman/Harfuf; Ezra Dagan – Nissim/Rabbi Shmuel; Techia Danon – Shuli/Neighbor; Assaf Solomon – Gadi/Dr. Levi; Lior Zohar – David/Pessach; Hagar Danon – Sales girl in video library/Neighbor/Eveline; Ortal Haik – Sales girl in video library/Dalia; Asaf Segev – Avner/Flower delivery boy; Lior Hakoon – Beber/Male nurse; Doron Zafrir – Old listener/Natan, film director.