The diffuse eroticism of summer permeates The Summer of Sangaile, the feel of sun and water on skin, the abundance of light in a world turned green. It's a beautiful film – a luminous, poetic evocation of a young woman coming into her own. Director Alante Kavaite's film is a rare find: an art film that feels good, without ever slipping into the abyss of sentimentality, a film about teenagers that is open, honest, direct, nuanced and intelligent.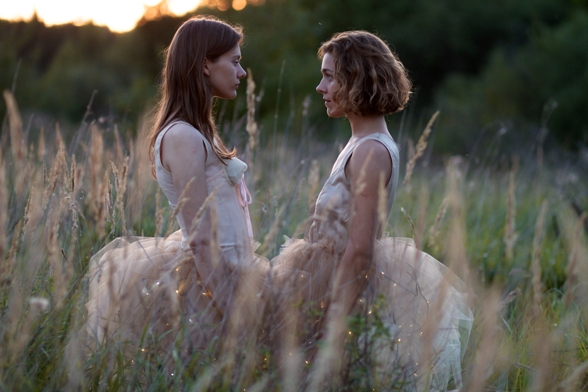 Angular, painfully slender Sangaile (Julija Steponaityte) is spending the vacation with her elegant parents in the minimalist grandeur of their summer home amid the trees. A mirror image of her monastic attic room, she is outwardly colorless and cool, yet she longs to soar. When local girl Auste (Aiste Dirziute) sees Sangaile at the aviation show, she looks beyond the quiet exterior, as if she could sense the desires seething within.
The two teenagers are different in every way. Auste radiates heat and sensuality, her tiny room in a working class apartment building is like a museum of wonders, crammed to the hilt (there's even a chair on the ceiling) with the colors and textures of all she has made and collected. Sangaile, on the other hand, is the image of upper class alienation and repression. Auste easily invites Sangaile into her circle of friends, and director Kavaite recreates the feeling of summer, that summer – of being 16 or so, old enough to wander alone, but still under the parental roof. The heat of a bonfire on the beach; the rush of wind in the trees; a hand resting on a flat, sunlit belly; four legs entangled, first love.
The imagery, sound and pace of the film work perfectly, and both Steponaityte and Dirziute give excellent performances. It's a beautiful coming of age story, one that understands the beauty of our mistakes and weakness and the wonder of our strength; the human imperfection that makes love so magical when it is found; the ability we have to change and grow, and the loss that can come with change.  The Summer of Sangaile transcends definitions and categories – more than a lesbian film, more than a love story, more than a coming of age movie – it's simply a beautiful, moving film.
The Summer of Sangaile will be shown at the Tel Aviv Cinematheque from July 23 – August 19, 2015. Screening dates and times can be found on the facebook event page  and the Tel Aviv Cinematheque site.  Tickets may be ordered online via TLVFest, or call: 03 – 6060800 ext. 9.
The Summer of Sangaile (Lithuania/France/The Netherlands, 90 min, 2015)
Directed, written by Alante Kavaite; Cinematography: Dominique Colin; Editor: Joelle Hache; Music: Jean-Benoit Dunckel; Visual effects supervisor: Alain Carsoux; Visual effects: La Compagnie Des Effets Visuels, Film Factory; Aerobatic pilots: Jurgis Kairys, Eltonas Meleckis; Assistant director, Asta Rizgeliene; Cast: Julija Steponaityte, Aiste Dirziute, Jurate Sodyte, Martynas Budraitis, Laurynas Jurgelis, Nele Savicenko, Inga Salkauskaite. Festivals: Directing Award – Sundance; featured at TLVFest 2015.