Madcap adventures, slapstick comedy, and barnyard mayhem takes a bite out of the big city in Shaun the Sheep, 85 minutes of sheer hilarity, insane pleasure, sight gags, cosmic mishaps, and plentiful moments of both "awww" and awe. Playful imagination meets visual artistry, storytelling wizardry, and colorful characters, to make a seriously fun film!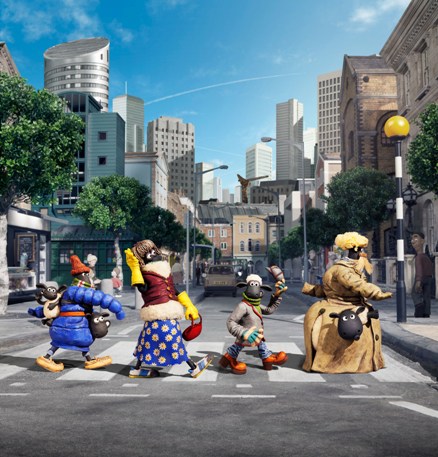 Creative artists – writers, directors, visual artists, choreographers – this is a great film to study for its tightly constructed narrative and clever use of cinema. There is not an extraneous detail in sight, and is communicated almost entirely through image and sound, with perhaps about four words in the whole film. An amazing feat of visual storytelling, a real must-see! And yes, if you know any children that you really, really, like (whether they are related to you or not), you should definitely take them to see it, although be forewarned: this film has the potential to be highly addictive (I've already seen it twice).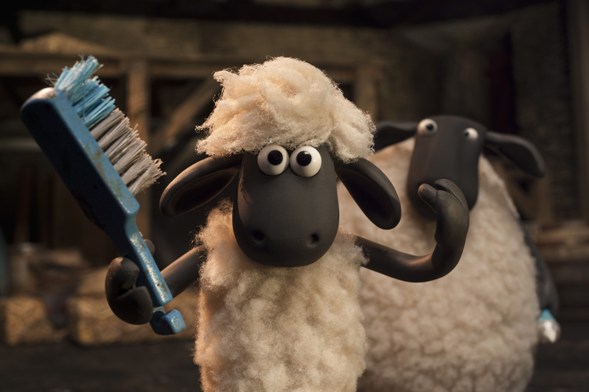 The cuddly-looking Shaun surfaced for the first time in Aardman Studio's award winning short film A Close Shave (1995), when he literally fell off a truck, and wandered into Wallace and Gromit's home. Shaun is a clever little sheep with a penchant for wandering into adventure, and a television series of his own, making him a very familiar and beloved onscreen character. The film is true to the style cultivated by the series, stop-motion animation inspired by slapstick silent film comedies, and stands alone spectacularly. No prior acquaintance with Shaun required to fall madly, deeply, in love. The lack of dialogue makes this film the perfect crossover – even very young children can enjoy the (mostly gentle) story, adults can enjoy the abundant cheeky references (everything from home movies to Silence of the Lambs, Abbey Road, and more), and everyone will laugh heartily. If you see this film and don't laugh, please do let me know, because I am worried about you.
The animals communicate as animals are wont to do, with gestures, facial expressions and sounds, while the adults speak in gibberish. It's fun to hear and invites the viewer to coast along a stream of sensation, a rollicking roller coaster of experience.  Sheep just want to have fun, and Shaun has the bright idea of taking a day off from the daily grind. He pulls it off brilliantly, but then everything goes awry, with one mishap following another, always on the brink of disaster.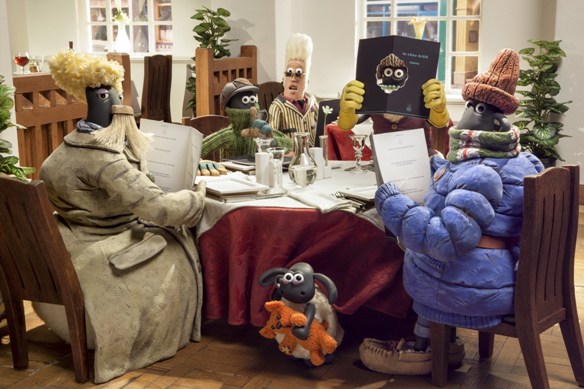 Every single frame of this movie is a delicious treat to be savored, from the home-movie opening montage of life on the farm in the good ol' days, to sheep making pizza in the toaster, vivid city scenes feel just like London, complete with meticulously realistic mud splatter on the wheels of the bus, and outrageously funny food fiascos in a stylish restaurant. The restaurant scene was one of my favorites. Not to give away spoilers, but one hilarious moment followed another, escalating in surreal imagery and culminating in the pianist performing a tribute to silent film chase scenes. One very young viewer in the audience just could not contain himself, he jumped up in his seat and exclaimed: "It's not just funny, it's sidesplitting!" (Hebrew: זה לא מצחיק, זה קורע)
Life is a treat with Shaun the Sheep, especially with the Rizzle Kicks remix!

Shaun the Sheep made its Israeli premiere at the Jerusalem Film Festival 2015, in their stellar children's program, and will be opening in theatres on Thursday, July 23, 2015.
Shaun the Sheep (UK/France, 85 min, 2015)
Directed and written by Mark Burton, Richard Starzak; Cinematography: Charles Copping, Dave Alex Riddett; Editor: Sim Evan-Jones; Music: Ilan Eshkeri; Animation supervisor: Loyd Price; Puppet design: Kate Anderson; Visual effects supervisors: Howard Jones, Carl Chittenden; Visual effects: Axis Visual Effects; Assistant director: Richard Bowen; Cast (voice): Justin Fletcher, John Sparkes, Omid Djalili, Richard Webber, Kate Harbour, Tim Hands, Andy Nyman, Simon Greenhall, Emma Tate, Jack Paulson, Sean Connolly, Henry Burton, Dhimant Vyas, Sophie Laughton, Nia Medi James, Stanley Unwin, Nick Park.