In these days of reckoning, among the many films to be shown at the Haifa International Film Festival, there are two that stand out for me, each with a unique perspective and mode of storytelling, offering, with humor, ample material for contemplation.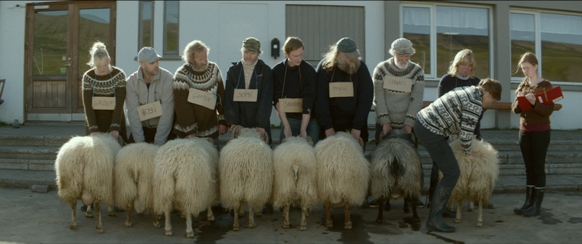 Stark landscapes and long cold winters are the terrain of Rams (Hrútar), as are the mysteries of the human heart. There is an almost Biblical heft, lightened by wry humor, to this tale of two brothers. A simple, homemade fence, easily traversed, separates Gummi  (Sigurður Sigurjónsson) and Kiddi (Theodór Júlíusson), neighbors and rivals, sheep farmers who have not spoken to one another for forty years.  Considering the small, intimate circle of farmers in this rural town, and the solitary state of these bachelor brothers, forty years is a long, long, time. The wedge between them runs deep, yet perhaps deeper still is their connection to one another.
Grímur Hákonarson has written and directed a sensitively observed portrait not only of the brothers, but of a way of life. Drawing on his knowledge of rural life and farming in Iceland, the story unfolds in a richly visual manner, the landscape as much a character in this tale as the two strong, lead actors. One need only gaze at Gummi's face and hands to know his deep affection for his flock, or the hurt and disappointment he feels when Kiddi wins first prize for best ram.
It is an absurd situation, and Hákonarson lets us join in the humor without diminishing one's compassion for either brother. In this intimate and interdependent ecosystem, it is impossible for Gummi and Kiddi to sustain complete separation. The brothers must communicate with one another at times, this is accomplished by passing notes with the cheerful assistance of a sheep dog. Throughout the film, comic moments are at once understated and outrageous, often uniting the potentially tragic with surprising laughter, as in the tractor scene.
Gummi would appear to be the more placid, pragmatic and domestic of the two, enjoying the simple pleasures of a plain, hardworking life; while Kiddi is the hard drinking, shoot-first-think-later type. When their bucolic existence is threatened by an outbreak of scarpie, a highly contagious deadly disease that attacks the brain and spinal cord of the sheep, events unfold in unexpected ways, revealing different aspects of these two men.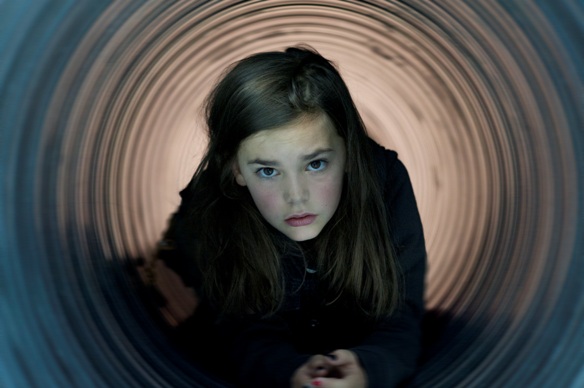 While Rams is a work of subtlety and restraint with a Biblical resonance to its story, The Brand New Testament is anything but restrained or subtle, taking on the Bible with no holds barred. Jaco Van Dormael offers the viewer with a provocative, alternative vision of God and life, presented in a wildly imaginative tale. Forget Eden, the world was created in Brussels, and God is anything but benevolent.
Played with panache by Benoit Poelvoorde, God is a shallow, selfish, brute, who invents horrors and plagues to relieve his boredom. How is this accomplished? Virtually, of course, via the all-powerful computer he keeps locked away in his study. Verbally and physically abusive, he terrorizes his meek wife (Yolande Moreau) and daughter Ea (Pili Groyne). Yet the star of this film in every way is Ea, who in her charming innocence is determined to save the world, with the help of some good advice from her older brother JC. Like any child of this era, Ea is far more adept at the computer than dear old Dad, she sneaks into the study, hacks in, and proceeds to make mayhem.
Beyond the irreverent, yet nonetheless thought-provoking answer to the eternal question "why is there evil in the world?" – The Brand New Testament probes the equally intriguing question of the balance between destiny and free will. Ea launches a program that sends everyone a text message informing them of the precise time, although not the mode, of their death. Cue mayhem. What would you do if you knew exactly how much longer you had left to live? The ensuing adventures are at times extremely bizarre, yet always inventive and visually compelling as Ea tunnels down to earth through a laundry chute (I always thought those contraptions were suspiciously mysterious) to seek out her own apostles and rewrite history as herstory.
The full program of films and screening times may be viewed on the Haifa International Film Festival website.
Rams
Written and directed by Grímur Hákonarson; Cinematography: Sturla Brandth Grovlen; Editor: Kristjan Lodmfjord; Music: Atli Ovarsson; Cast: Sigurdur Sigurjonsson, Theodor Juliusson, Charlotte Boving, Jon Benonysson, Gudrun Sigurbjornsdottir, Sveinn Olafur Gunnarsson, Jorundur Ragnarsson, Thorleifur Einarsson.
The Brand New Testament
Directed by Jaco Van Dormael; Screenplay: Van Dormael, Thomas Gunzig; Cinematography: Christophe Beaucarne; Editor: Herve De Luze; Music: An Pierle; Cast: Benoit Poelvoorde, Yolande Moreau, Pili Groyne, Laura Verlinden, Didier De Neck, Serge Lariviere, Francois Damiens, Catherine Deneuve, Romain Gelin, Marco Lorenzi. (French dialogue)