Sigdiada celebrates Ethiopian culture in Israel with three days of music, dance, and theatre at the Tel Aviv Cinematheque from November 12 – 14, 2015.
The festive mood extends beyond the official program with free outdoor performances:
The Groove Ambassadors on Thursday, November 12th at 19:00 – Peace, love, respect and joy in African rhythms and more than 10 languages: Swahili (from kenya), Lingala (from Congo), Baoule (from Ivory Coast), Zulu (South Africa), as well as in French, English, Portuguese and Hebrew.

Friday, November 13th starting at 10:00 DJ Gili Yosef & all the cool rhythms of Addis Ababa, AvevA Dese  – an Afro-soul ensemble with a Tel Aviv beat, an Ethiopian dance workshop, fashion show, craft, jewelry and food stalls, and in the foyer – a photography exhibit by Ben Lam.
The Sigdiada program:
Thursday, November 12th Opening Night – 20:30 Cin 3
Stand-up comedy by Shmuel Beru – the word on how it feels to be a 21st century young Ethiopian guy in Israel.
Dancer/choreographer Dege Feder with percussionist Elad Neeman – a dance of rhythm and movement.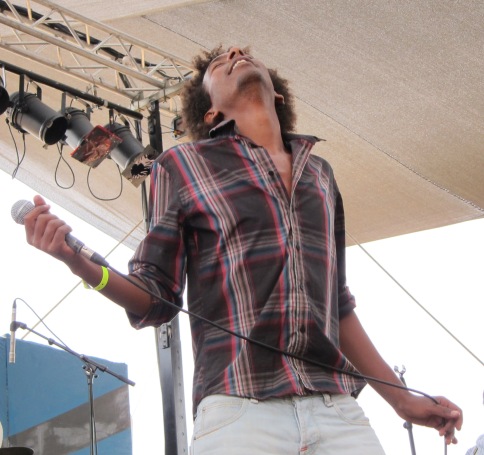 Gili Yalo, soloist of Zvuloon Dub System, has embarked on a solo project that connects with his musical roots. Produced by Beno Handler, the project merges traditional Ethiopian sounds with contemporary music and cutting edge production.
Friday, November 13th
10:30 Cin 1 – The White Keis – Much of the world's lack of knowledge about Ethiopian Jews is due to the fact that for hundreds of years the world was exposed to this community only through the reports of Christian travelers, usually missionaries. This lecture will discuss the history of the Ethiopian Jewish community, its traditions, language, and more.
11:30 Cin 1 – Fresh Paint  – Stand Up Comedy with Shmuel Beru, a comic critique of Israeli culture, Ethiopian culture, his own past and sense of identity…and everything.
14:00 Cin 1 – Jade System  – Nos Zulu – didgeridoo, Eli Larose, Niki – violin, Rudi Bainesay – vocals – Four charismatic women on one stage. hypnotic trance bit, immortal soul classics, tribal didgeridoo rhythms and virtuoso violin playing.
Satuday, November 14th 21:00 Cin 2
Red Leaves (Israel, 88 min, 2014, Amharic, Hebrew with Hebrew subtitles)
Written and directed by Bezzi Getta, the film focuses on Masganeo (Debebe Eshetu), a 74 year old man who immigrated to Israel from Ethiopia 28 years ago. Following the death of his wife, he decides to sell his apartment and live with his grown children, but things do not work out as he has expected. The film depicts the cultural discontinuity experienced by immigrants and the tensions between tradition and assimilation in the surrounding culture, through a very personal and moving story. Following the screening there will be a discussion with the film's director.
Traditionally celebrated seven weeks after Yom Kippur, on the 29th of Heshvan, Sig'd represents the yearning of the Ethiopian Jews (Beta Israel) for Jerusalem. In Ethiopia, the community commemorated Sig'd as a day of fasting, culminating in a procession led by the Kessim (Spiritual leaders) to chosen place on a hilltop to lead the community in prayer, remembering Moses' ascent to Mount Sinai. There they would ask forgiveness for their sins and receive the blessing of the Kessim that they may realize their dream of reaching Jerusalem. Here in Israel it is a time of celebration, and a wonderful opportunity to enjoy the diversity and abundance of Ethiopian-Israeli creativity.
Tickets may be purchased via the Tel Aviv Cinematheque (2 Sprinzak St): 03-6060800 ext. 1 or online.