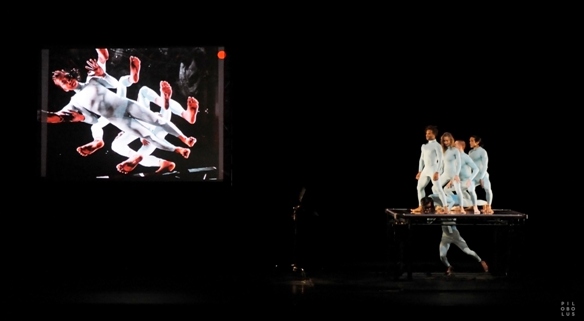 Surreal imagery and kinetic wonders are the signature elements of Pilobolus, as they create fantastic visions onstage with their bodies, athletic and graceful. The dance company will make a welcome return to Israel, following their presentation of Shadowlands in 2013, with performances in Tel Aviv, Jerusalem and Haifa, from January 20 – 26, 2016. The company is also well known for its distinctive collaborative creative process, and featured in the program for this tour is a collaboration with Israeli film director Shira Geffen and writer Etgar Keret – The Inconsistent Pedaler.
Created in 20114, The Inconsistent Pedaler is a collaboration of Shira Geffen and Etgar Keret with Robbie Barnett, Reneé Jaworski, Matt Kent, and Itamar Kubovy. On the occasion of a 99 year old grandfather's birthday, amidst the family gathering there is a special bicycle that can speed up or slow down time.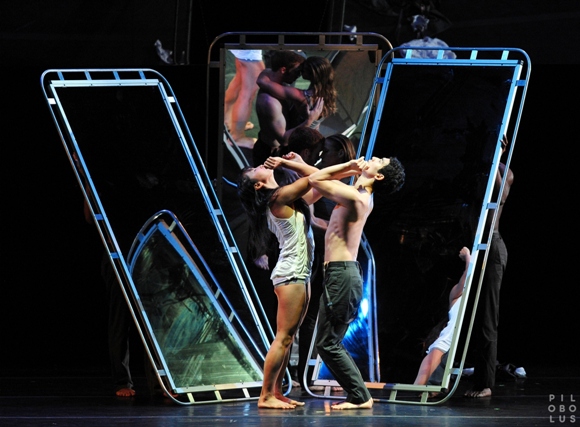 The evening's program will be composed of five short works, and will include:
Automaton (2012)
A collaboration of Reneé Jaworski and noted Belgian choreographer Sidi Larbi Cherkaoui, Pilobolus describes this one as: "a cyborg of a dance that questions the difference between human and machine. Somewhere between Tron and Bladerunner, it takes places in a mirrored world that displays multiple angles at the same time." Sounds very intriguing!
On The Nature of Things (2014)
In this elegant work by Robert Barnett, Reneé Jaworski, Matt Kent and Itamar Kubovy, three dancers balance on a two-foot wide column, exploring "the power of iconic bodies to tell a story about the birth of desire and its intertwined connection to shame and revenge."
All Is Not Lost (2011)
This dance plays with multiple perspectives, gravity, and dimensionality. Created by the alternative band OK Go, Pilobolus and Trish Sie, in collaboration with the dancers Shawn Ahern, Winston Dynamite Brown, Matt Del Rosario, Andy Herro, Eriko Jimbo, Jordan Kriston, Jun KIrubayashi, and Nile Russell.

Megawatt (2004)
This electric work moves to the music of Primus, Radiohead, and Squarepusher. Choreographed by Jonathan Wolken in collaboration with Mark Fucik, Andy Herro, Reneé Jaworski, Matt Kent, Jennifer Macavinta, Manellich Minniefee, and Matthew Thornton.
Pilobolus was founded by Robby Barnett, Lee Harris, Moses Pendleton and Jonathan Wolken, who first met in a dance class taught by Alison Chase at Dartmouth College in 1971. Although the group has seen some changes – Chase joined from 1973 – 2006, Pendleton left to form Momix, Michael Tracy replaced Harris in 1974 – the core group of artistic directors has remained together for a remarkably long time, with Wolken's death in June 2010 a sad loss to the company. It was Wolken who gave the Pilobolus its unusual name, from a fungus he encountered in his work in a biophysics laboratory.
Pilobolus began the International Collaborators Project (ICP) in 2007, inviting visiting artists to create new works with the company. The first collaborators were the Israeli choreographers Inbal Pinto and Avshalom Pollak, and together they created Rushes. The collaborative aspect of their creative process is as unusual on the dance scene as their performances. Working as a collective, the dancer's exploration of movement and improvisation are an essential part of the process, creating a choreographic dialogue – with amazing results. It is not unusual for Pilobolus choreography credits to include a list of several people in addition to one or more main choreographers.
Performances:
Israeli Opera – Tel Aviv Performing Arts Centre
Tickets may be ordered online via this link, or call: 03-6927777.
Wednesday, January 20th at 20:00; Thursday, January 21th at 20:00; Friday, January 22 at 12:00; Saturday, January 23 at 16:00
Jerusalem, Sherover Theater
Tickets may be ordered online via this link, or call: Jerusalem Theater box office 02-5605755; Bimot *6226 or 02-6237000.
Monday, January 26 at 20:30
Haifa Auditorium
Tickets may be ordered online via this link, or call: Garber 04-8418411, 04-8384777, or on the night of the performance 04-8598012.
Tuesday, January 26 at 20:30.
Ticket prices range from 149 NIS  – 299 NIS.