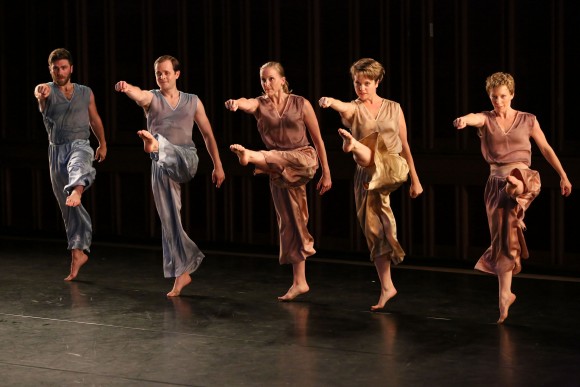 Dance for PD, a free movement class for people with Parkinson's and their families, friends and care partners will be presented by the Mark Morris Dance Group, The Israeli Opera, and Rafi Ben-Jacob in association with Israel Parkinson Association and Brooklyn Parkinson Group on Thursday, February 4, 2016 from 13:00 – 14:30 at the Tel Aviv Performing Arts Center. The class is also appropriate for older individuals, or those with mobility impairments – no prior dance experience necessary!
The class is offered free of charge, and it is a wonderful opportunity to experience this dance program developed by the Mark Morris Dance Group. The class is conducted to live music – provided by the MMDG House ensemble (yes!) and employs different dance styles from classical ballet to modern dance and folk dance to create an experience in movement that can be enjoyed by all.
Dancers know their bodies very well, and Dance for PD utilizes this knowledge to convey to others the aesthetic and sensual experience of movement, while working on stretching and strengthening muscles, and improving balance. Dance for PD began as a collaboration of the Mark Morris Dance Group and the Brooklyn Parkinson Group in 2001. Now celebrating its 15th year, the program offers specialized dance classes to people with Parkinson's, their family, friends and care partners. Classes take place in 6 different locations in New York, as well an affiliate network that spans more than 100 communities in over 14 countries.
The Mark Morris Dance Group will be performing at the Israeli Opera/Tel Aviv Performing Arts Center from February 2 – 6, 2016. Read more about the performance program here.
The workshop is free, but pre-registration is required. To register, write to Maayan Shachrur: sh1maayan@gmail.com. If you are interested in participating, please act quickly, as space is limited! Entrance is from the Tel Aviv Performing Arts Center Stage Door (on the Leonardo Da Vinci St. side of the building).