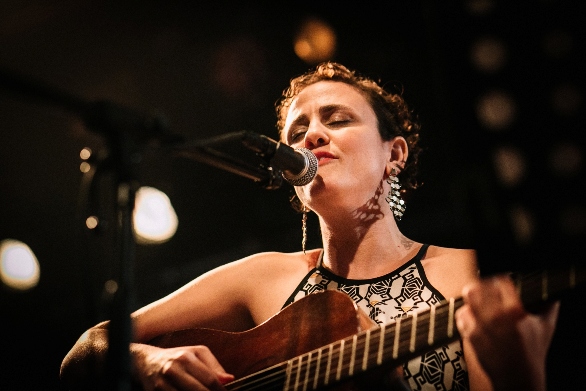 The Holon International Women's Festival will take place from March 10 – 12, 2016, with performances at the Holon Mediatheque, private homes, and the Cartoon Museum as well as free outdoor performances in the Mediatheque square. Produced by the Holon Municipality, the festival's artistic director is Sigal Weissbein-Rosman.
This year's theme is "Identity and Otherness" as expressed by women in theatre, dance, literature, film and music. The festival will present a multiplicity of voices and languages, in works that relate to immigration, and the multiculturalism that composes the Israeli experience – all through the prism of women's perspectives.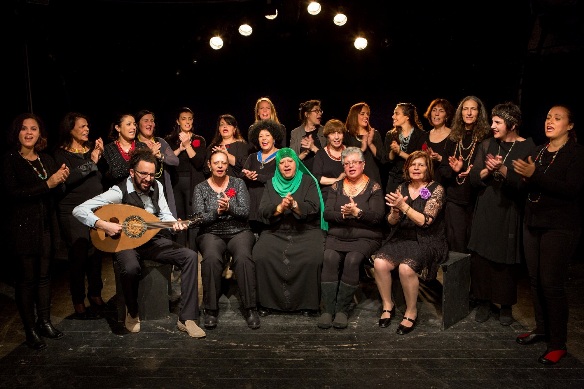 The festival's opening event will take place outdoors in the Holon Mediatheque square with the Rana Choir  – Arab and Jewish women from Jaffa; poet and vocal artist Sigalit Banai; musician Noa Bentor and her band; spoken word poet Noam Partom with musician Yasmin Even, and a collaboration between flamenco artist Adva Yirmiyahu and Spanish singer Alicia Acuna.
March 10th at 19:00, Holon Mediatheque Square – admission free!
The festival will host a tribute to an artist I have always admired, and had the good fortune to meet: Friedl Stern, celebrating the 100th anniversary of her birth. Well known for her caricatures, she was a bold, brutally honest and generous person, who painted delicate watercolors as well as her humorous, lively, caricatures. The evening will include lectures, screening of archival films, and an exhibit of works from the artist's estate, as well as a panel discussion on Friedl Stern's influence.
Thursday, March 10th at 18:30, The Israeli Cartoon Museum, 61 Weizmann St. Holon
Special Festival Projects:
One of the festival's main events is the annual IAUA–Israel Association of United Architects Conference of Women Architects. This year's theme is Urbanism & Architecture in the Developing World Today.
Friday, March 18th at the Holon Mediatheque.
Attention all creative women: the Holon International Women's Festival in collaboration with the Print Screen Festival and the U.S. Embassy in Israel present "Pop Up School for Women in Art and Technology." A workshop providing women with an in-depth look at the interface of art, culture, and new technologies. The first meeting will take place during the festival, with additional meetings in the coming months, culminating in an exhibit of projects at the Print Screen Festival which will take place June 22 – 25, 2016.
More Festival highlights:
Singer-songwriter Kamila, born in Azerbaijan, with her new show Adama (earth). The daughter of a Muslim father and a Jewish mother, this musical performance explores her multicultural roots.
Friday, March 11th at 22:00, HaKufsa Auditorium, Holon Mediatheque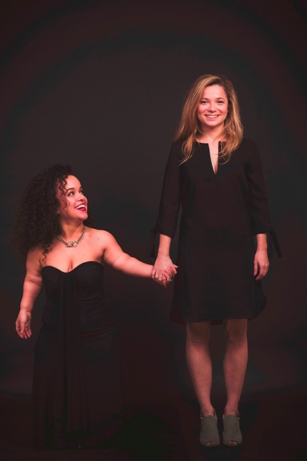 Bat-El Papura and Tamara Klingon (two very talented actors) will perform a musical stand-up comedy show focusing on the issues of second-generation immigrants from Russia.
Saturday, March 12th at 20:00, HaBeitza Auditorium, Holon Mediatheque
The premiere performance of Oneg (pleasure) a musical-theatrical show directed by Dalia Shimko, with actor Esti Zackheim, opera singer Bracha Kol, and Shai Ben Yaakov.
Friday, March 11th at 20:00, HaBeitza Auditorium, Holon Mediatheque
Director Albina Chizik will premiere the play Ein Li Mivta (I Don't Have an Accent) that focuses on four young women who came to Israel from different countries, and prepare a show for Israeli audiences to feel that they belong, and to make their unique voices heard.
Friday, March 11th at 10:30, HaBeitza Auditorium, Holon Mediatheque
Noam Vazana, originally from Beer Sheva and currently living in Amsterdam, will perform songs from her latest album Love Migration, based on her personal experiences as an immigrant living in Europe.
Friday, March 11th at 22:00, HaSifriya Auditorium, Holon Mediatheque
The complete program may be found on the festival website: www.womanfestival.co.il. Tickets for events range from 60 – 110 NIS, and may be ordered online from the festival website, or call: 03-5014950. Check out the festival facebook page here.