Looking for something different to do? Try TUTU, this coming Saturday, February 20, 2016 at 20:00. TUTU is a one-time, ceremonial arts dance happening, brought to you by dancers of the Batsheva Dance Company. Admission FREE!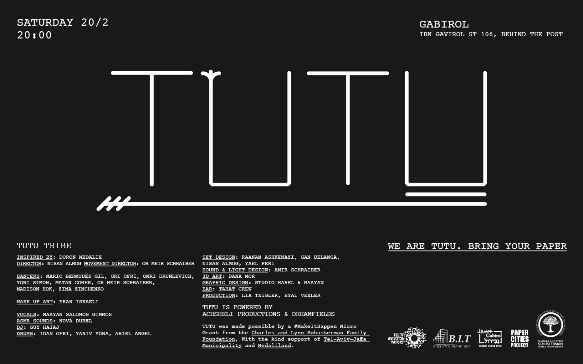 What to expect? TUTU will take place at Gabirol, the cultural center on 100 Ibn Gvirol Street, in the parking lot behind the Bezeq building (so I've been informed). The name is derived, not as one might assume, from the ubiquitous ballet skirt, but from combining the names of two Jewish holidays: Tu Bishvat (which has already passed) and Tu BeAv, the holiday of love which is yet to come.
The ceremony was composed with influences from Native American, African, Indian, Arabic, Hebrew, Brazilian and Persian cultures. At the center will be a tree made of old flyers, an interactive installation made of shredded paper and cartons collected on the streets of Tel Aviv. The ceremony will include rituals and dance, and audience participation is invited.
Led by Batsheva dancers, the ceremony will also be accompanied by drummers and a DJ, and the participants are invited to move, make sounds, drink, paint their faces and join in a sensual, tribal celebration. Sounds enticing!
Want to participate? Here are some recommendations: Wear comfortable clothes, doors will open at 20:00 and there will be some verbal instruction at around 20:30, with the ceremony expected to begin at 20:50. Please arrive on time and bring paper for reuse: flyers, office papers (nothing confidential or top secret), coupons, posters and newspapers. Bring some fresh fruit – apples, pears, dates, olives, kiwi.
If you want to take part in making the tree, a public paper shredding will take place on the second floor of the Tel Aviv Municipal Building on Wednesday, February 17th and Thursday, February 18th. For information, call Nisan Almog: 050-6000684.
TUTU TRIBE
Inspired by: Doron Medalie
Directed by: Nisan Almog and Or Meir Schraiber
Dancers: Mario Bermudez Gil, Ori Ofri, Omri Drumlevich, Yoni Simon, Matan Cohen, Or Meir Schraiber, Madison Hok, Yaara Lapid
Makeup art: Eran Israeli
Vocals: Maayan Salomon Gimmon
DJ: Guy Hajaj
Drums: Idan Ofri, Yaniv Yona, Ariel Angel
ASMR sounds & Body art: Nova Dubel
Live painting: Or Azmon
Set design: Nisan Almog, Gan Delanga
Installation: Raanan Ashkenazi, Yael Peri
Sound & Light design: Amir Schraiber
Costumes & art: Michal Roueff
3D art: Dana Mor
Graphic design: Studio Harel & Maayan
Bar: TAHAT Crew
Production: Lia Tzigler, Eyal Vexler