Theatronetto, the Israeli festival of monodramas, is coming soon! This year, for the first time, in two locations in parallel: April 25 – 27, 2016 in the Old City of Jaffa, and April 24 – 26, 2016 in the Old City of Akko.
Nine one-person plays will compete this year, and present a diverse array of themes and styles. Theatre students of the Kibbutz College will present their annual "Hyde Park" – an outdoor (free) installation/performance that is always creative and provocative; this year's theme will be: refugees.
Plays in Competition: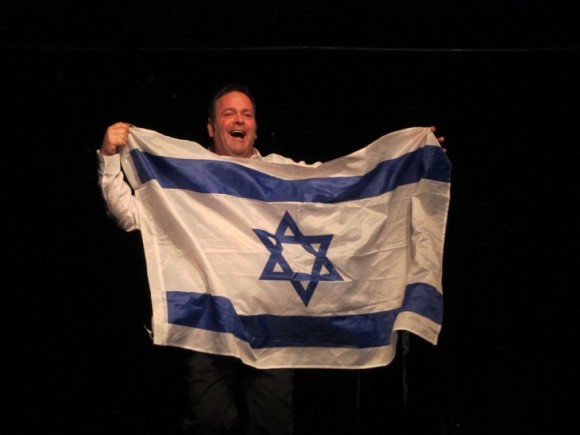 Eikh Oseh Aba (What Does Daddy Do) by Itay Nahmias and Rafi Shragay; directed by Rafi Shragay, performed by Itay Nahmias.
49 year old Itay, an orphan of the 6 Day War, holds a personal, original, memorial ceremony as a way of getting to know his father who was killed in Jerusalem at the age of 25, the father he never met. The ceremony provides a framework for this satiric cabaret, looking at Israel, its ethos and myths, from a comic/bitter perspective.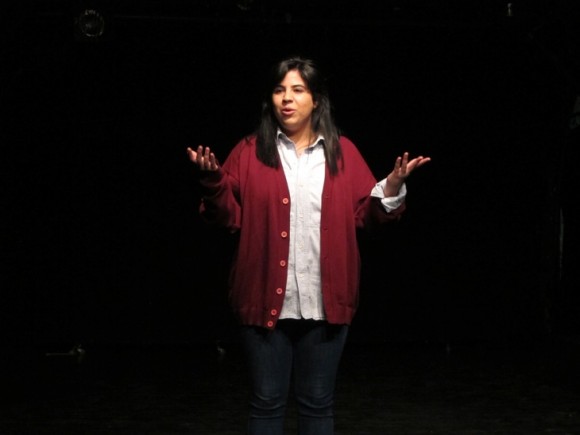 Mahar Nisa LaLuna Park (We'll Go to the Luna Park Tomorrow) by Ilana Bernstein, directed by Noa Wagner, performed by Shir Abramov.
Set in Israel of the early 80s, a single mother on the verge of being kicked out of her apartment, decides to keep a promise she once made to her children to take them to the Luna Park. Yet the family outing turns horrific, as the mother seeks to save her children and release them from the fate of growing up with her as a mother.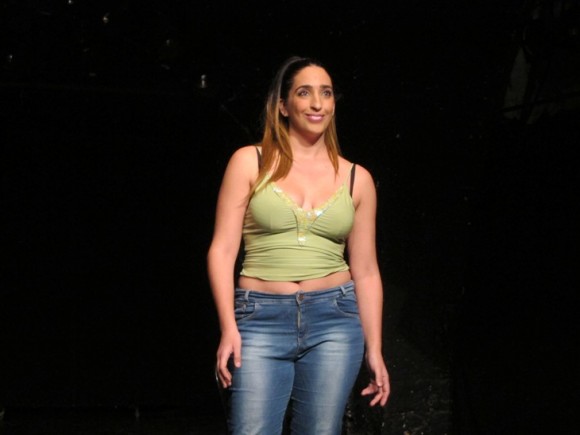 Yoman (Diary) adapted to the stage from Orly Kastel Bloom's story, directed by Itay Flaut and Tamar Goren, performed by Alma Dishy.
"I told myself: I'll just go peek in the trunk, and come back. I had never seen a dead person, and I was dying to see what it looked like. I put on some warm clothes, because it was freaking cold outside. Freezing. I put on gloves, so I wouldn't leave any fingerprints, and went out. It was light outside, but everyone was still asleep. I was trembling with fear, but I'm not the kind who takes her fears to heart…"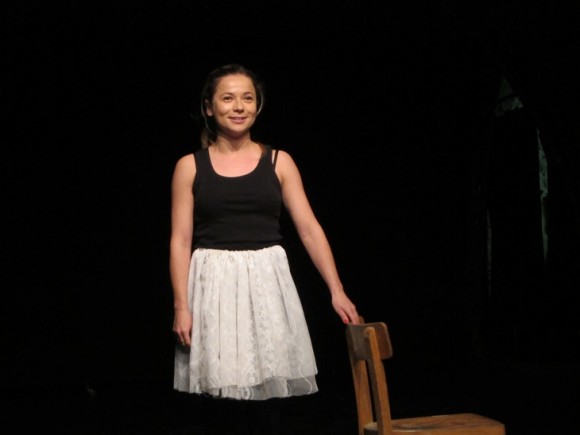 Lihiyot Tamara (Being Tamara) written and performed by Tamara Klingon; directed by Gal Friedman, Efrat Aviv, Tomer Nahir Petluk, Dana Ivgy, Bat El Papura; artistic director: Gal Friedman.
The play is a series of autobiographical childhood stories – from her birth in the Ukraine to her immigration to Israel, all linked by the common theme: how to protect her mentally ill mother. Tamara Klingon is a member of the Tziporela Ensemble. The play is composed of ten stories, with each member of the ensemble directing two stories.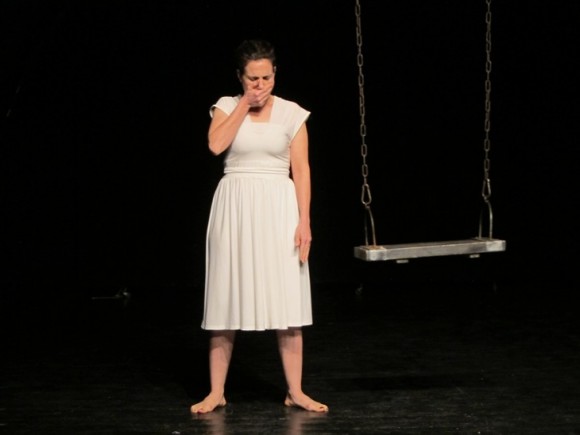 Sipur Sheterem Nolad (A Story that has Not Yet Been Born) – directed by Hisham Suliman; adaptation of text and performance: Rahiq Haj Yahia Suliman; set and costumes: Nardine Sarugi; music: Moin Daniel; lights: Visam Salah; assistant director: Elian Fransh. A production of the Nazareth Fringe Theatre Ensemble and the Multi-disciplinary Center for the care of women who have been sexually assaulted.
Even though she has locked all the doors to her past, a woman remains in the cruel, oppressive grip of the memories. She finds a safe haven in her therapist, a place where she can open her heart and speak the truth. The play was inspired by the true story of a woman who had been sexually assaulted as a child.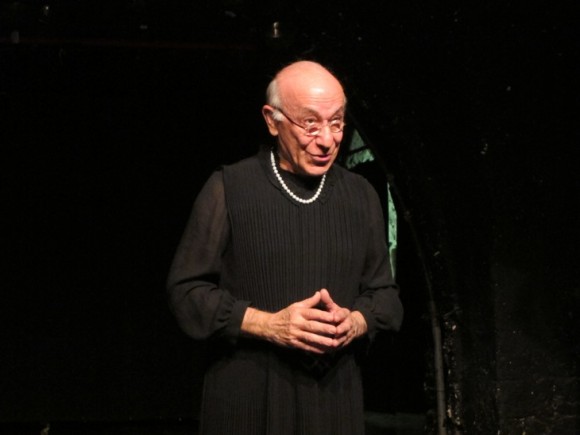 Ani Ishti Sheli (I Am My Own Wife) by Doug Wright; directed by Ella Nikolayevsky; performance: Ezra Dagan; design: Roni Vilozni; music: Omri Dagan; lighting design: Rotem Elroee; translation: Avi Golomb.
Shortly after the fall of the Berlin Wall, playwright Doug Wright met Charlotte von Mahlsdorf, a 65 year old transvestite who survived the Nazi and the communist regimes in East Berlin. The conversations between the two, in correspondence and visits to Charlotte's home, reveal the details of her life.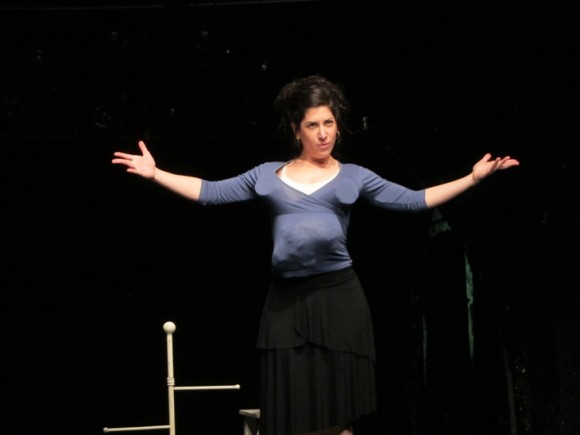 Shnei Kavim (Two Lines) by Nadav Ruziewicz; directed by Galit Tsabari; performed by Shira Natan; producer: Nadav Roziavich.
Chani, a married observant woman, sits on the toilet waiting for the results of her pregnancy test. Despite the strong desire and prayers of her husband, they have no children. Chani is not surprised – she has been taking birth control pills. Struggling with her husband who thinks that children are the "meaning of life," her friends already on their third pregnancy, and her nosy students – Chani has to make some difficult choices.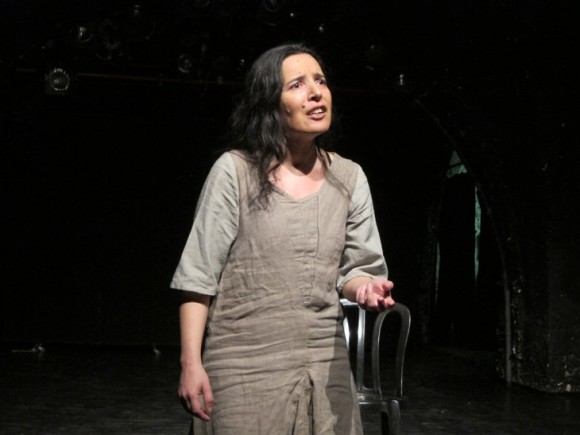 Edut MeHazman SheAhrei (Testimony from the Time After…) – written, performed, and directed by Snait Ben Gaash.
The work grew from encounters with women and men whose lives had been completely altered by war, leaving them with painful memories and questioning the price they have paid. The different testimonies meet on the stage, some as video projections, and some performed onstage. The work looks at the meeting place between documentary testimony and theatre, as well as the act of witnessing that takes place in the audience.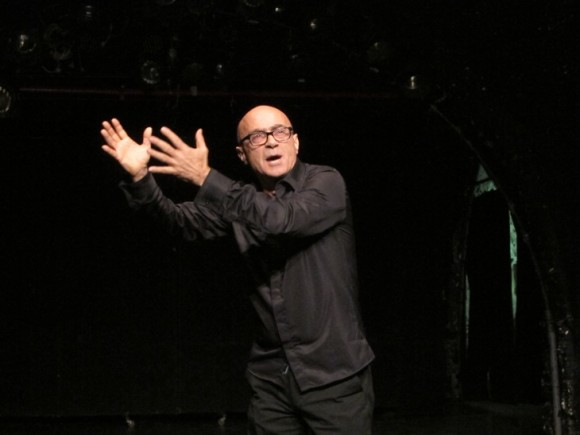 Salim Aleikum – written, directed and performed by Salim Dau; oud – Habib Shadah.
An autobiographical play with memories of home, the village, life as a movie. Veteran actor Salim Dau is well known to audiences from the television series Arab Labor, here he reminisces on his childhood, living under military rule, and how he was saved by Indian cinema. The lively stories are accompanied by Habib Shadah (composer of the music for Eran Kolirin's film The Band's Visit) on oud.
Tickets are 50 NIS in advance/60 NIS at the door, and may be purchased online or call: 09-8945957. Theatronetto on facebook.