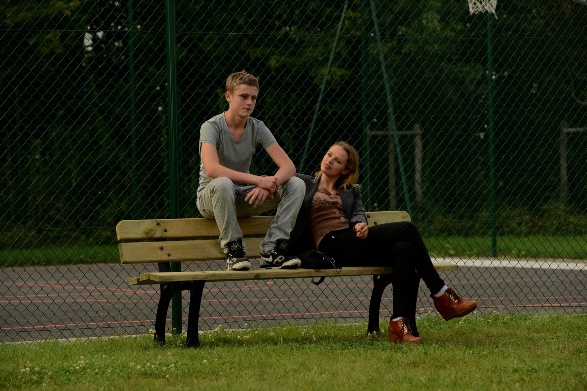 Celestine, a chambermaid in the provinces at the turn of the century, and Malony, a teenager in present-day France who spends more time in juvenile court than he ever did in school, do not appear to have much in common at first glance. The two are protagonists of films to be shown at the upcoming French Film Festival 2016 – Diary of a Chambermaid (Journal d'une femme de chambre) and Standing Tall (La tete haute), and while the era, style and look of the two films is dramatically different, viewing them in close proximity ignites that festival synergy that illuminates the connections between the two. Now in its 13th edition, the French Film Festival will take place from March 19 – April 7, 2016, in the cinematheques of Tel Aviv, Haifa, Jerusalem, Holon, Herzliya and Sderot, as well as the Cultural Center in Savion and Ashdod.
Diary of a Chambermaid, directed by Benoit Jaquot, is based on the 1900 novel by Octave Mirabeau. This is the third film version of the novel, preceded by Jean Renoir's 1946 film starring Paulette Goddard, and Luis Buñuel's 1964 film starring Jeanne Moreau. It's quite a cinematic legacy, yet Lea Seydoux is mesmerizing as Celestine. Seydoux's impenetrable porcelain beauty is the perfect camouflage for Celestine's seething fury and sharp intelligence. One encounters Celestine in mid-career, as it were, just as she is sent a post in a rural area, to serve as maid to the Lanlaires. In a society with a rigid class system, her life was destined at birth to follow a particular course, serving the upper classes. There are no options or alternatives. As Celestine reflects to herself: "We really must have servitude in our blood." And yet, as the film makes abundantly and often very amusingly clear, her mind is her own.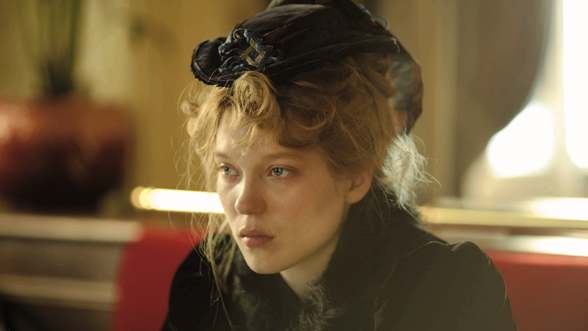 Through her piercing gaze the film offers an intimate and not at all flattering view of the wealthy landowners and respected citizens, such as the local priest. The detailed period costumes and set serve to emphasize the distance between the appearance of elegance and gracious manners, and the cruel and brutish behavior of these denizens of high society. Celestine may not be an educated woman, but she is smart, lively, and savvy. Scenes of Celestine settling into life in this rural village, silently bearing the barbs and bowing to the will of Mme Lanlaire, while dodging the roaming hands of Monsieur, are interspersed with her reminiscences of previous posts, and the occasional internal monologue, reflecting on her life.
The soundtrack establishes a mysterious, rather Gothic atmosphere, very much in line with the narrative of servitude, that sends anticipatory shivers up the spine. Celestine may not have much choice about her situation in life, and she cannot change the order of society, however unjust it may be, yet she can make choices about her own behavior. Whether or not these are good choices, remains to be seen, but one cannot help admiring her strong spirit.
Now jump forward in time, about a hundred years or so, to the present day when everyone has access to education and the opportunities in life are seemingly open to all. Yet like Celestine, Malony is very much the product of his circumstances. Born to a young single mother, who appears to have either an alcohol or substance addiction or both, it should come as no surprise that one's first acquaintance with the six year old boy is in the judge's chambers as she makes the difficult decision to remove him from his home. The next time one sees Malony, he is a rough-edged teenager joyriding without the benefit of a driver's license, so yes, it's back to judge's chambers.
Unlike Celestine, Malony is theoretically capable of changing his situation in life. Modern societies have entire systems in place to look out for the welfare of children, and the film provides a longitudinal view of the system, its well-intentioned practitioners, and the many ways that a boy can fall between the cracks. Judge Florence Blaque (Catherine Deneuve) is perhaps the only constant in Malony's life, he keeps getting into trouble, and each time finds himself back in her chambers, while she tries to figure out the best way to set him back on track.
Standing Tall, directed by Emmanuelle Bercot who will be a guest of the festival, may be well compared to other films addressing similar themes: Céline Sciamma's Bande des Filles (2014), Ken Loach's unusually light Angel's Share (2012), and Destin Daniel Cretton's Short Term 12 (2013). Like Marieme (Karidja Touré) in Sciamma's film, Malony (Rod Paradot) must contend not only with a dysfunctional family and the demands of society that he is ill-equipped to meet, but with his peers, and the system they represent, a parallel world in which all the wrong choices are rewarded by respect, approval, and the feeling of belonging. Unlike Short Term 12, one is not given much insight to the private lives and feelings of the people who work with Malony. One only sees the judge during the hearings in her chambers. Deneuve does an excellent job of conveying the recurring dilemmas of someone who views herself not only as a representative of the law, but as a concerned caretaker of the boy's best interests. Yet although the impact of her decisions is enormous, the extent of her ability to effect change is limited.
At the heart of it all, and carrying the emotional weight of the film is Rod Paradot's spectacular portrayal of Malony. Like Celestine, he's burning with feelings. There is so much he wants and cannot have, so much that he feels yet he cannot find the words to express his anger or his anguish. A pattern of skipping school has left him essentially illiterate, he lacks the tools to analyze and articulate his feelings. Unlike the savvy Celestine, who is a keen and accurate observer of her surroundings, and is able to reflect on her own behavior and that of others, Malony has little or no insight, and no interval between emotion and action. He's full of fury, and that anger erupts without warning, usually harming himself as much as anyone else. As in Angel's Share, love is presented as a possible calming and redeeming influence, but where the latter film careens off into a rather more comic, lighthearted direction (in which crime actually does pay), Standing Tall does not offer any easy answers.
The Diary of a Chambermaid and Standing Tall will be screened in French, with English and Hebrew subtitles. Many of the films to be shown at the festival will have English subtitles in addition to Hebrew. Opening the festival will be Claud Lelouch's latest film Un Plus Une, with the director in attendance as the guest of the festival. The full list of films, as well as screening dates and times, will be listed on the websites of the individual cinematheques.
The French Film Festival is produced by the French Institute in Israel and Eden Cinema, sponsored by Unifrance Films, the Performance Department of the Tel Aviv Municipality and the Israeli Foreign Ministry, as well as Air France, Seyman and Peugot. Festival Artistic Directors and Producers: Caroline Bonet – CEO Eden Cinema, and Bertrand Le Delezir, Audiovisual Attaché, French Institute Israel.
Tel Aviv Cinematheque
Jerusalem Cinemtheque
Haifa Cinematheque
Holon Mediatheque
Herzliya Cinematheque
Sderot Cinematheque