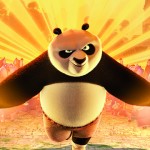 The spirit world is a wonderful place to be if you're in the mood for dazzling 3D visuals, and Kung Fu Panda 3, in addition to being a really fun movie, supplies scenic vistas with that roller-coaster feel in abundance. If you have a fear of sequels and series, there is no need to worry: although there is a nice narrative that runs through the trilogy, Kung Fu Panda 3 is great as a stand-alone film (although after you see it, you may develop an appetite for more).
There's nothing like an animated film to remind one of the way that voice can delineate character and express emotion, and the voice actors in this film are superb. Back to the issue of sequels and  the fear of degenerating in quality, it says something about this trilogy that the same cast of actors has continued with the film: Jack Black – Po the Dragon Warrior; James Hong as his adoptive father Mr. Ping (just have to note here that this talented actor was born in 1929 and still going strong!); Randall Duk Kim as Master Oogway; Dustin Hoffman as Master Shifu; Angelina Jolie as Tigress; Jackie Chan as Monkey; Seth Rogen as Mantis; Lucy Liu as Viper and David Cross as Crane. It's an impressive list and they all bring a saucy sense of humor to this lighthearted, delightful film.
Kung Fu Panda sounds like an oxymoron and it is – that's what's so much fun about this movie. It's a cuddly child-friendly version of a martial arts action-adventure film. Sure, there's a big bad guy, Kai (J.K. Simmons), who knows how to steal a Kung Fu master's Chi, and uses his knowledge for evil. But he's been up in the spirit world so long that no one even remembers his name, tempering the fear element with laughter. So it's not too scary or graphic for younger kids, and there's enough plot and action for older ones, with really beautiful animation for everyone to enjoy.  The entire film is suffused with a sense of child-like enthusiasm, not to mention a fascinating ancient tradition and pointers on how to achieve inner peace.
Full and proper disclosure – I am a huge fan of Jack Black, but you still must believe me when I say that he is fantastic as Po, outrageously funny and poignant all at once. Who else can convincingly deliver lines like "I always felt that I was not eating up to my full potential" with such endearing sincerity?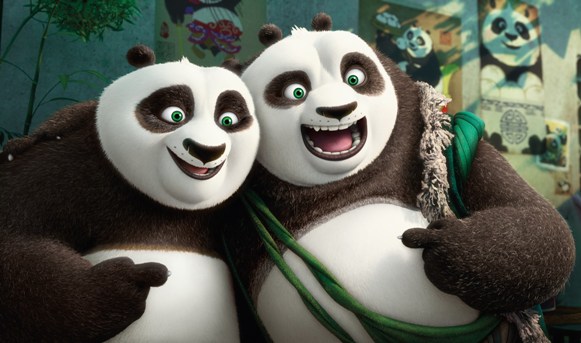 Aside from being a lot of fun, Kung Fu Panda 3 is a film with an extra bonus. What's the bonus? It's a good film to spark conversations with kids about different family situations and the complex feelings involved. Po was adopted as a baby by Mr. Ping, who is a noodle maker par excellence, and a goose. He doesn't look like Dad, and moreover, does not feel drawn to the family business, but instead has opted for a very different path through life. Yet these two love each other very much, a love that is full of mutual respect. These themes are pretty much covered in films 1 and 2, but Kung Fu Panda 3 brings a twist (small not so much of a spoiler alert): Po meets up with his biological father, Li (Bryan Cranston).
So if you are into it, there's lots to talk about: adoption, belonging to a group, identity, individuating from a parent as part of growing up, jealousy, love, and having two dads.
Kung Fu Panda 3
Directed by Jennifer Yuh Nelson and Alessandro Carloni; Screenplay: Jonathan Aibel, Glenn Berger; Editor: Clare Knight; Music, Hans Zimmer; Cast (voices): Jack Black, Bryan Cranston, Dustin Hoffman, Angelina Jolie, J.K. Simmons, Seth Rogen, Lucy Liu, David Cross, Kate Hudson, James Hong, Randall Duk Kim, Jackie Chan.