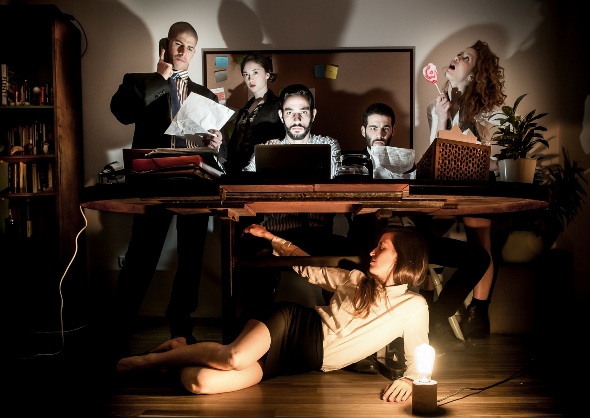 Looking for art and fun in unexpected places? The Tel Aviv Municipality will once more be hosting the multi-arts event "Art in Unexpected Places: One Moment #4" on Thursday, April 7, 2016, with music, theatre, art, discussions, exhibitions and more – in offices, meeting rooms, stair wells and corridors, on all floors of the Municipal building, and expanding out to the Einav Cultural Center and Gvirol Arts Center at 108 Ibn Gvirol Street. It all starts at 19:30… and it's FREE!
So much to see and do! It's fun just to wander around and enjoy, but here are some highlights caught my eye:
YYY – an immersive dance/theatre piece by Or Schraiber and Omri Drumlevich. On the 11th floor, six dancers will move through different rooms and hallways, leading the audience in a story told through movement. Duration: about half an hour, shown in loops at: 19:30, 20:30, 21:30, 22:30. Dancers:  Ori Ofri, Zina Zinchenko, Amalia Smith, Yaara Moses, Or Schrieber, Omri Drumlevich. For the intrepid viewer looking for adventure!

Russo&Weinberg  will be performing in the upper lobby at 23:00. Adi Weinberg and Erez Russo (guitarist of Giraffes) have been performing together for the past three years, and recently released their debut album Stay in July 2015. They will also be opening for Real Estate at the Barby, on May 25th!

Non-stop opera on the second floor, from 19:30 onwards, until the fat lady sings… Soloists of the Meitar Opera Studio of the Israeli Opera will be popping up unexpectedly with fun and favorite arias – from Carmen to The Barber of Seville!
On the 10th floor, watch student films featured in the International Student Film Festival and chat with the directors at 20:30 and 22:00. The event is in Hebrew, moderated by Oron Shamir.
Einav Cultural Center
KZ Radio (HAKATZE – the edge) is celebrating their 4th birthday, and everyone is invited to this 3 hour marathon of music FREE at the Einav Cultural Center! Party starts at 19:30, come early as space is limited. The place to go for alternative music, HAKATZE started out as a radio program on Galgalatz in 1999, edited and broadcast by Quami and Nadav Ravid. Taken off the air by Galgalatz, these intrepid music people took their program to the digital edge, creating an independent internet radio program. Live broadcasts 2 – 5 hours a day, music & past shows available 24/7 on KZ Radio. Here's the link to the facebook event page.
Gvirol Arts Center (Ibn Gvirol 106 – 108)
Performance and exhibitions – featuring Ronit Ziv – open rehearsal in the studio, starts at 20:00, 20:20, 20:40; Yossi Berg & Oded Graf – discussion with the choreographers & video, at 21:00; Sigal Bergman – select scenes from a new dance piece, 20:00. All followed by the One Moment After Party! Here's the link to the facebook event page.